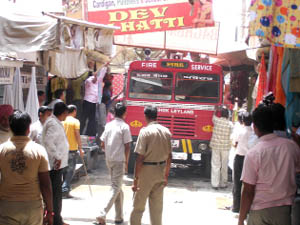 A fire tender is unable to find its way to a showroom in Sadar Bazar, Abohar, where a generator had caught fire. Shopkeepers in the area somehow managed to control the fire. Photo by Raj Sadosh
Rural poll shadow on MC elections
Bathinda, May 9
The ongoing tussle between the Shiromani Akali Dal (B) and the BJP in the run-up to the rural polls has now come out in open and is bound to cast its shadow on the Bathinda Municipal Corporation elections, to be held in June.
Kalia campaigns, Akalis wear a frown
Bathinda, May 9
The ruling Shiromani Akali Dal (SAD) is annoyed over the top BJP leader Manoranjan Kalia today jumping into the campaign for zila parishad and block samiti elections against the SAD candidates. Kalia is a senior minister in the SAD-BJP coalition government .
Teachers on duty, classes affected
Bathinda, May 9
The deployment of a large number of teachers for the ongoing Zila Parishad and Block Samiti polls has become a bane for students.
Cong accuses BDO of foul play, flays govt policies
Harirai Pur, May 9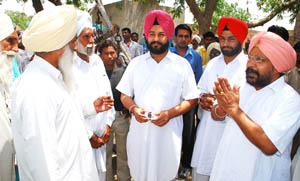 Coming down heavily on Block Development Officer (BDO), Phul, who also holds the additional charge of Bhagta, MLA, Rampura Phul, Gurpreet Singh Kangar and MLA Nathana, Ajaib Singh Bhatti, today alleged, "This particular BDO, Sanjeev Sharma, has harassed Congress workers the most. He was posted at the same place during the previous SAD government as well. All he is doing is helping the Shiromani Akali Dal (Badal) candidate," Kangar said. Congress MLAs Ajaib Singh Bhatti and Gurpreet Singh Kangar campaigning for their party candidates in village Har Raipur. — Tribune photo by Kulbir Beera
Court nod for Congress candidate
Bathinda, May 9
In a major setback to the SAD-BJP combine, the Punjab and Haryana High Court today termed the case of the Congress candidate contesting from Bangi Ruldu seat, whose nomination was rejected, as exceptional and provisionally permitted her to participate in the Zila Parishad elections.
Cong fears rigging
Mansa, May 9
The Congress has expressed its apprehension that the ruling Akali-BJP alliance might use unfair means in the rural bodies elections. 
20 families leave Cong, join SAD
Ferozepur, May 9
Around 20 families switched over their alliance from the Congress to the Shiromani Akali Dal (Badal) in the presence of irrigation minister Janmeja Singh Sekhon, at village Dair Pir under block Mudki here today.
CPI (ML) leaving nothing to chance
Mansa, May 9
CPI (ML) leaders today campaigned in support of party candidates for Zila Parishad and Panchayat Samiti zones.
Guru Manyo Granth Jagriti Yatra
Buta's arrival fuels speculations
Abohar, May 9
Former union home minister Buta Singh's arrival at Sriganganagar last night to receive the Guru Manyo Granth Jagriti Yatra fuelled speculations about his contesting Lok Sabha polls from this constituency, sources said.
Give more water to Abohar: CM
Abohar, May 9
CM Parkash Singh Badal has asked the secretary, irrigation department, to increase the supply of water for the Abohar sub-division without any delay. The CM had arrived here to bless a senior SAD (B) worker Sanjiv Godara on his wedding.
Navodaya Vidyalaya, Mahianwala Kalan (Zira)
Two students still traceless
Ferozepur, May 9
Two students of class X of Jawahar Navodaya Vidhalya, Mahianwala Kalan (Zira), have still been reportedly missing since Wednesday night notwithstanding frantic efforts of the school authorities to locate them.
Electioneering intensifies
Abohar, May 9
MLA Sunil Jakhar visited villages including Dhaani Bashesharnath, Pucca Seed Farm, Kikkarkhera, Kandhwala Amarkot and Khuikhera Rukanpura to mobilise support for the Congress candidates in the Panchayat Samiti and Zila Parishad elections.
Construction of new Judicial Complex
Proposal receives a 'setback'
Fazilka, May 9
The proposal for construction of a new judicial complex at Fazilka has reportedly received a setback due to the alleged row over acquisition of the land for this purpose.
Youths attack girl
Bathinda, May 9
In a bizarre incident, two youths injured a girl and her mother and thrashed her father in the presence of policemen outside their house in Prajapati Nagar, here this morning.