Labourers protest against Amarnath Shrine Board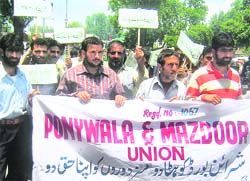 Srinagar, June 7
Taking out a protest demonstration here today, a large number of labourers, ponywallahs and vendors from Baltal said the measures taken by the Shri Amarnath Shrine Board (SASB) ahead of the annual pilgrimage would render them jobless.


Labourers, ponywallahs and vendors from Sonmarg hold a protest demonstration in Srinagar on Saturday. —A Tribune photograph
Omar takes on Mehbooba
Jammu, June 7
National Conference chief Omar Abdullah has reacted sharply to PDP supremo Mehbooba Mufti's recent comments on the issue of the Shri Amarnath Shrine Board (SASB).
PDP forms panel to choose poll candidates
Srinagar, June 7
PDP president Mehbooba Mufti here today appointed a six-member committee to recommend candidates for the ensuing elections to the Assembly.
Govt indulging in malpractice before polls: BJP
Jammu, June 7
The state wing of the Bharatiya Janata Party (BJP) has strongly criticised the state government for appointing Congress loyalists with a view to make gains in the forthcoming Assembly elections.
'Killing' of youth sparks protest
Udhampur, June 7
Alleged killing of an "innocent" youth by the police sparked massive protest in Doda this evening. Carrying the body of the deceased, who was allegedly killed by the police, locals staged a demonstration in front of the office of the deputy commissioner and demanded action against the erring police officials.
Our knowledge economy is distorted: Mattoo
Srinagar, June 7
Jammu University's vice-chancellor Amitabh Mattoo said today the prevailing knowledge economy in the state was "distorted" and they needed to make students employable by equipping them with right knowledge.
School kids made to wait and sweat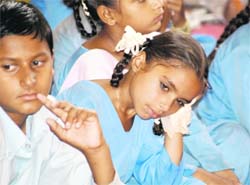 Jammu, June 7
In a clear example of neglect, schoolchildren were made to sit for hours in a jam-packed room as they waited for the chief guest during a function organsied at the Government Higher Secondary School Girls in Shastri Nagar here today.


ENDLESS WAIT: Students were made to sit for hours during a function at the Government Higher Secondary School for Girls in Jammu on Saturday. —Tribune photo by Anand Sharma
Fight with cops lands 3 Armymen in trouble
Poonch, June 7
The police booked three Army personnel and brother of one of them for allegedly assaulting some policemen and creating nuisance inside a court complex in Rajouri yesterday. All the four persons are residents of Jamola village near Rajouri.
Agitation to shift college continues
Poonch, June 7
Continuing their agitation to shift the government college from Buddhal to Koteranka, residents of Kandi, Koteranka, Samote and other adjoining villages held a massive protest at Koternaka in Rajouri district yesterday.


Farmers sow rice with the hope of a bumper season at Handwara in Kupwara. —A Tribune photograph
People oppose transfer of teacher
Udhampur, June 7
The transfer of a teacher allegedly on the directions of the minister of state for education has triggered a massive protest in Kishtwar district. The National Conference (NC) has alleged that the teacher was transferred to teach a lesson to the local people who were supporters of the NC. Angry protesters blocked the national highway and disrupted vehicular traffic in protest against the transfer of a teacher from Government High School, Drubel, in Chatru area.
Melting of Himalayan glaciers not alarming: Expert
Jammu, June 7
While global warming is a matter of great concern for environmentalists the world over, expert working on the Himalayan glaciers has said the situation was not that alarming here.
2 held with ornaments
Jammu, June 7
Two persons were arrested and gold ornaments weighing 366 gm and silver ornaments weighing 5 kg were recovered from their possession yesterday.