Election activity picks up momentum
Gurdaspur, June 7
With the declaration of civic body elections in Punjab, election activity has picked up momentum in Gurdaspur district. Out of the 11 municipal councils, elections will be held in 10 municipalities comprising Pathankot, Dina Nagar, Gurdaspur, Batala, Dhariwal, Qadian, Fatehgarh Churian, Dera Baba Nanak and Ramdas and Shri Hargobindpur. Elections will not be held in the Sujanpur municipality following a litigation pertaining to delimitation of the civic body in the Punjab and Haryana High Court.



'Khalistan' activists related to SAD: Bhattal
Kharar, June 7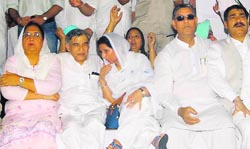 The SAD-BJP government has failed to check resurgence of 'Khalistan' movement in Punjab. Many people, connected with the movement, arrested have turned out to be related to the SAD in one way or the other.




Rajinder Kaur Bhattal, Pawan Kumar Bansal, Perneet Kaur and other Congress leaders during a rally at Kharar on Saturday. Tribune photo: Vicky Gharu

Election of Sarpanch
SAD-backed panch seeking Cong support will be expelled: CM
Killianwali (Muktsar), June 7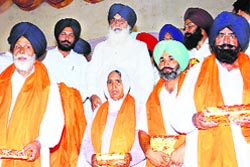 "Any SAD-supported panch seeking support of the Congress-backed panch to become sarpanch in his village, will not be entitled to remain with the ruling Shiromani Akali Dal," announced Chief Minister Parkash Singh Badal here at a function organised to felicitate new members of Panchayati Raj Institutions (PRIs) in his Lambi constituency.

Chief Minister Parkash Singh Badal with winners of the Panchayati Raj Institution elections in the Lambi constituency at Killianwali village in Muktsar district on Saturday. Tribune photo: Kulbir Beera

UN body to promote farm tourism
Chandigarh, June 7
The Punjab government and the United Nations World Tourism Organisation (UNWTO) will jointly promote the state as a global destination for religio-heritage and farm tourism.
Sukhbir flays Centre's economic polices
Chandigarh, June 7
SAD president and MP Sukhbir Singh Badal has lambasted the UPA government for what he calls "passing the buck by asking the states to bear the brunt of its disastrous economic policies".
Mixed response to Takht decision on Wadbhag dera
Amritsar, June 7
The decision of Akal Takht to bring a section of Dera Baba Wadbhag Singh into the mainstream of Sikhism today received mixed response from Sikh masses all over the world.
AISAD wants cleanup in gurdwara management
Chandigarh, June 7
The working committee of the All-India Shiromani Akali Dal (AISAD)has recorded with anguish and pain over the continuous deterioration in the structure and management of Sikh gurdwaras, SGPC and other Sikh institutions and also the ever-increasing corruption and mismanagement of gurdwara funds.
Case of WW II veterans to be presented in UK
Ludhiana, June 7
Col Chanan Singh Dhillon (retd), president, Indian Ex-services League, Punjab and Chandigarh, has been invited by British members of Parliament to present the case of veterans of World War II before them on June 18.
Badal demands wheat bonus
Chandigarh, June 7
Chief Minister Parkash Singh Badal yesterday urged Prime Minister Manmohan Singh to immediately announce a bonus of Rs 100 per quintal on wheat to partly offset the potential loss suffered by farmers of Punjab for not being allowed to export their marketable surplus.
Operation Bluestar — II
I refused to kill militants taken into custody: Gen Jamwal
Amritsar, June 7
Major-Gen J.S. Jamwal (retd), then General Officer Commanding (GOC), 15 Infantry Division, Thursday claimed that he had refused to accept the advice of two senior Army officers to kill the militants taken into custody during Operation Bluestar. Breaking his silence on remarks by certain Sikhs for the first time after 24 years of Operation Bluestar that the Army had killed many Sikh youths after capturing them from the Golden Temple, General Jamwal said he had snubbed them (Army colleagues) by telling them to let law take its course.


Major-Gen J.S. Jamwal (retd)