Rain wreaks havoc in Yamunanagar
Yamunanagar, June 15
The first spell of monsoon, which lashed the district today, played havoc with reports of 250 acres getting submerged in Jagadhri block.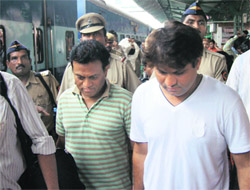 Kidney scam: 2 accused taken to Mumbai
Ambala, June 15
The main accused in the kidney scam, Dr Amit, and his brother Dr Jeevan were taken to Mumbai by the Maharashtra police here today in connection with a case registered against them in a police station in Mumbai.
Dr Amit and Dr Jeevan, accused in the kidney scam, being taken to Mumbai by the police at the Ambala railway station on Sunday. Tribune photo: Kamal Sachar

Man beaten to death
Fatehabad, June 15
A middle-aged man was allegedly beaten to death by six persons at Indachhui village in the district last evening. Old animosity is said to be behind the incident. The deceased has been identified as Leelu Ram.
Power nigam to distribute free CFLs
Yamunanagar, June 15
The Uttar Haryana Bijli Vitran Nigam (UHBVN) will distribute 8.32 lakh compact fluorescent lamps (CFLs) to 6.30 lakh households in Yamunanagar and Sonepat districts free of cost.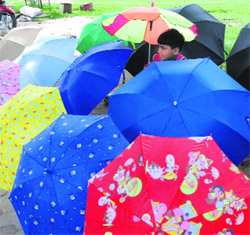 A vendor displays umbrellas of various hues and patterns to attract customers in Karnal on Sunday. Tribune photo: Ravi Kumar

Now, summer school for science teachers
Kurukshetra, June 15
Launching the first summer school of the University Grants Commission at the faculty lounge of Kurukshetra University here on Friday, the vice-chairman of the UGC, Prof Mulchand Sharma, expressed concern over India's contribution towards science research publications, which has been constantly on the decline over the past decade.
Woman strangled, in-laws booked
Jhajjar, June 15
A woman was allegedly strangled to death by her in-laws in Dubaldhan village of the district last night. The brother of the deceased has lodged a complaint in this regard at the Beri police station.
3 youths killed in mishap
Rohtak, June 15
Three motorcycle-borne youths were killed when their vehicle collided with a tempo near Meham township in the district last night. The deceased have been identified as Manoj, Satish and Samunder Singh of Bhaini Maharajpur village in the district.
Dept digs up roads in 'illegal' colony
Kaithal, June 15
Officials of the town and country planning department accompanied by a heavy police force dug up roads constructed in an alleged illegal colony, Ashok Vihar, on the Kaithal-Patiala road here today.
Rezang La martyr's statue unveiled
Rewari, June 15
Lt-Gen Jai Bhagwan Singh Yadav (retd) unveiled a statue of Sepoy Shri Chand Yadav, a martyr of the historic battle of Rezang La, at his native village Rampuri, 25 km from here, today.