PUNJAB

HARYANA

JAMMU & KASHMIR

HIMACHAL

REGIONAL BRIEFS

NATION

OPINIONS

LETTERS

BUSINESS

SPORTS

WORLD
Saturday, June 28, 2008, Chandigarh, India
Updated at 3:00 am (IST)


Oil boils, inflation soars


Sensex falls 619 points
Mumbai, June 27
Overnight oil worries that caused the Dow to sell off had their repercussions in the Indian markets as well with the Sensex plunging on large-scale investor offloading. The benchmark index tumbled 619 points to close at 13,802 points. In the broader markets, the Nifty closed 179 points or 4 per cent down at 4,136 points.

Food costlier
New Delhi, June 27
The headline inflation rate for the week ended June 14 continued to soar and reached 11.42 per cent as compared to 11.05 per cent for the previous week. The government and RBI have already taken measures to control inflation, the finance minister P. Chidambram said, adding that if necessary we will not hesitate to take more fiscal and monetary measures.

Global stock jitters as oil reaches $142
London, June 27
Oil extended its rally on Friday to a new peak above $142 a barrel while global stocks slumped to three-month lows as investors became increasingly worried about the outlook for corporate profits and inflation. (Details on Business page)

CAST YOUR VOTE
Should there be a right to recall elected officials?

Advt
ASTROLOGER GANJAWALA
Marriage, Job, Immigration, Foreign Tour, Business, Solve with Sidh Hindu Remedies.
+91-98155-95108 (INDIA)


CHANDIGARH

LUDHIANA

BATHINDA

JALANDHAR

DELHI

HIMACHAL PLUS

HARYANA PLUS

JALANDHAR PLUS

AMRITSAR PLUS

LIFESTYLE

BRIDES WANTED

GROOMS WANTED

OTHERS

HOW TO PLACE ADVTS
In Real Estate today
In Amritsar Plus today
Manekshaw laid to rest
Udhagamandalam (TN), June 27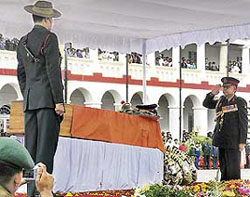 Iconic former Army chief Field Marshal Sam Manekshaw was given the final salute in a state funeral and laid to rest with full military honours. As a 17-gun salute boomed, the body of Manekshaw (94) was buried in a Parsi graveyard.

Lt-Gen Milan Naidu, Vice-Chief of the Army Staff, salutes the coffin of Field Marshal Sam Manekshaw in Wellington on Friday. — PTI photo

His spirit lives on in Amritsar
Amritsar, June 27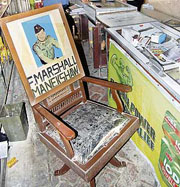 Field Marshal Sam Manekshaw, who was born on April 3, 1914, was the last Amritsar-born Parsi. Tehmi Bhandari, a Parsi woman who was Manekshaw's childhood friend, had died on August 26, 2006, at the age of 101.
Sur Babu and Company, founded by Field Marshal Manekshaw's father, Dr Manekshaw, continues to keep his chair vacant. — Photo by Vishal Kumar

Editorial: Bahadur Sam
| | |
| --- | --- |
| | PUNJAB: Rs 986.82 cr to be waived |
| | HARYANA: Accused cop dismissed |
HOROSCOPE
In Sports Tribune today


E - Revolution 2005:
A Two-day IT conclave

Assembly Elections - 2005

Turbans

Chandigarh is 50

125 Years of The Tribune
India: The Tasks Ahead

India at Sixty
A Tribune Supplement

EARLIER FEATURES

Amarnath Land Row
Day-long protests in Srinagar
Srinagar, June 27
Protests in the valley seem to be taking deeper roots today as thousands of people from different parts of the capital took out many daylong processions. The main city square, Lal Chowk, hosted a massive rally that resonated with anti-government and pro-freedom slogans. The valley witnessed a complete strike.
Edit: Pilgrims' progress


Summersault
An ice-free North Pole?
It seems unthinkable, but for the first time in human history, ice is on course to disappear entirely from the North Pole this year. The disappearance of the Arctic sea ice, making it possible to reach the Pole sailing in a boat through open water, would be one of the most dramatic - and worrying - examples of the impact of global warming on the planet. Scientists say the ice at 90°N may well have melted away by the summer.
Beig, Omar ask Guv to revoke order
June 27, 2008
UPA, Left give more time to N-standoff
June 26, 2008
Repo rate, CRR hiked
June 25, 2008
No polls, please: Allies
June 24, 2008
Don't be passive spectator
June 23, 2008
The day after, Maya deflates UPA
June 22, 2008
Inflation at 13-yr high, Sensex lowest of '08
June 21, 2008
Pak firing again
June 20, 2008
Uncertainty over N-deal deepens
June 19, 2008
Gujjars, govt strike deal
June 18, 2008