Medicinal mushrooms in Sonepat
Sonepat, June 26
After popularising various varieties of mushrooms such as white button, milky and elister in the state in general and Sonepat district in particular, the research and development centre of the Haryana Agro Industries Corporation (HAIC) at Murthal, has taken up the task of cultivation of Genoderma lucidum (reishi) which is regarded as medicinal crop and locally known as red mushroom.
ADULT LITERACY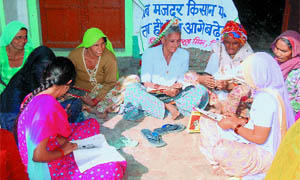 It's never too late to learn
Sirsa, June 26
Education is lighting up every village in the district and taking literacy to every household. Swaran Kaur, sarpach, Abutgrah, is a happy woman. She brings out a copy to show she can read, write and do her calculations without any help.

A class in progress in a Sirsa village where the district administration is promoting adult literacy. — A Tribune photograph

Inside Babudom
Officials resort to 'additional-charge' tactics
Chandigarh, June 26
Postings and coveted postings seem no longer enough to retain officials seeking Central deputation. The recent exit of PK Chaudhary, holding the charge of financial commissioner and principal secretary, IT and Industries, is a case in point. Despite holding important postings ever since the Congress government assumed power in the state, he opted for Central deputation.
Women Commission draws flak
Fatehabad, June 26
The Haryana State Women Commission has come in for sharp criticism from women organisations for its role in the wake of the Sarita episode. Sarita, allegedly raped by two policemen, had to commit suicide at the police headquarters as she failed to get the guilty brought to books.
Police to launch NGO for women in distress
Gurgaon, June 26
In the backdrop of the shocking case in which a Rohtak-based rape victim
recently committed suicide after
the failure of the police to bring
the guilty to the book, the Gurgaon
police, as a very laudable and first of its kind move in the state, is going to launch an NGO for women.
Punjabis have their own dharamshala now
Kurukshetra, June 26


Following the inauguration of a Punjabi dharamshala on the southern bank of Sannihit Sarover here on April 13, one more dharamshala was added to Dharamkshetra- Kurukshetra, the holy land of the Gita. It was a dream project of the Indian National Lok Dal (INLD) state president and former Haryana minister, Ashok Arora.
NDRI wants more funds for research
Karnal, June 26
Director of the Karnal-based National Dairy Research Institute (NDRI) has favoured more allocation of funds to carry on efficient agriculture-based research work in the country.
Best is yet to come for this maestro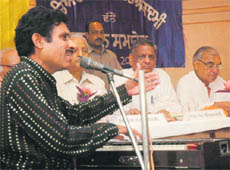 Winner of Haryana Punjabi Sahit Akademy Lokgayak award
Chandigarh, June 26
Credited with playback singing in 58 Bollywood films, including award winning Punjabi hits and 13 TV serials, the acclaimed music maestro, Vinod Sehgal, remains the pride of Haryana in the realm of folk and film music.


Vinod Sehgal performs at a function organised by the Haryana Sanskrit Akademy. — Photo by Parvesh Chauhan

Where CD piracy is a big business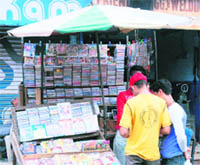 Panipat, June 26
The sale of pirated CDs seems to be a big business in this industrial city where those involved in the same are making huge profits out of it. Despite the best efforts being put in by the recording and the film industry to thwart the practice, the sale is rampant, causing huge loses not only to the producers, but also to the government, in terms of revenue.


A hawker openly selling pirated CDs in Panipat. — Tribune photo by Ravi Kumar

Hookah losing its sheen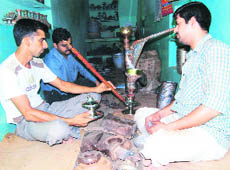 Sirsa, June 26
Once a symbol of culture, hookah no longer charms the youths. Hookah might have originated in Arabia but for the Haryanvis, it has always been a symbol of culture, camaraderie and hospitality. It was not long ago that hosts used to offer hookah as a gesture of hospitality towards their guests. However, with the passage of time, needs and priorities have changed. Youngsters feel hookah is only meant for the old and thus the sale has come down considerably, rued Manhoman, a young hookah maker.
Citizens' Grievances
Two more bogies for the PL
Daily passengers demand that more bogies should be attached to the PL train. This local train runs between Panipat and Ludhiana, which are the two big industrial cities of Punjab and Haryana.