Governance

Water problem plagues schools
Yamunanagar, May 29
Thousands of students of 161 government primary schools of the district are being forced to carry water bottles or consume 'unsafe' water of hand pumps as water supply and sanitation department is yet to lay water pipelines in the schools.

WATER WOES: One of the government schools with no potable water supply.

Need for courses in manuscriptology stressed
Kurukshetra, May 29
Kurukshetra University, which started as an institution to propagate Sanskrit and Indic studies, ought to give some space to manuscriptology and paleography in its postgraduate curriculum.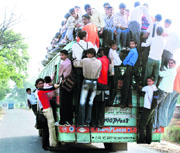 Double-deckers cause double trouble
Karnal, May 29
With the onset of pilgrimage season in nearby hill states, improvised double-decker trucks continue to risk scores of lives on the busy roads across the state.



DANGER ZONE: The improvised double-decker trucks continue to risk precious lives on the roads. — Tribune photo by Ravi Kumar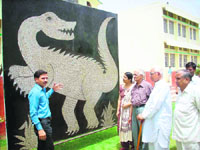 Creativity at its best
Fatehabad, May 29
An artist par excellence, Rajesh Kumar has made several pieces of fine art out of waste household material and waste crockery and won several accolades for work.


Rajesh Kumar with his creation, a dinosaur, made of used blades. — Photo by writer

Inside Babudom
Direct recruits get their due
Chandigarh, May 29
It is a growing brigade of young officers at the helm of affairs in the districts and the latest addition comes by way of Ajit Balaji Joshi's posting as deputy commissioner of Karnal following orders of the Election Commission to remove BS Malik during the by-election.
Farmers blamed for fire
Karnal, May 29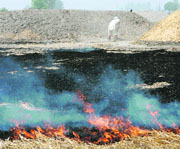 Following a spurt of fire incidents in the fields of the district and adjoining areas in the recent weeks, the villagers now blame certain negligent farmers for
burning the crop residue and later misleading all by terming the incidents as "accidental fires" to avoid any community action.

Posing serious threat to the lives and vegetation in the adjoining areas, a farmer near Manchuri, works casually after burning wheat straws in his field. — Photo by writer

Fire safety standards need a boost
Hisar, May 29
Fire safety standards in the town are among the poorest in Haryana with the local fire brigade having only three normal fire engines and a jeep mounted smaller fire fighting vehicle for narrow lanes.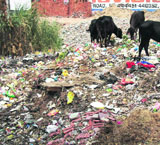 Drive to make city garbage-free
Ambala, May 29
Around two decades back, Ambala city was declared the dirtiest city of Haryana by a survey team, which had come to review the cleanliness condition of various towns and cities of the state.


The overflowing garbage in the city is definitely an eyesore. — Photo by Kamal Sachhar