Positive trend in laggard districts
Chandigarh, April 10
The sex ratio, finally, is beginning to show a "fair" trend in districts where the scales were tilted against the girl child. The overall sex ratio, however, has improved only negligibly by 0.3 per cent in the entire state despite all schemes introduced as incentive to check female foeticide.
e-governance initiative falls flat
Jhajjar, April 10
Haryana has slipped from 10th place last year to a poor 18th rank this year among the 20 Indian states in e-governance initiative, indicating that the state has failed to meet the expectations of the people.
'Surplus' wheat in jails raises many an eyebrow
Panipat, April 10
Questions have been raised on numerous occasions regarding the rights of prisoners in the Haryana jails. The question continues to haunt the officials and relatives of scores of the inmates after the state prisons authorities once again unearthed discrepancy in the stock of wheat recently.
Fall in barley output raises concern
Faridabad, April 10
The consistent fall in the production of barley in Haryana, which was once its forte, has raised several concerns.
Drug Trafficking
Police apprised of laws to curb menace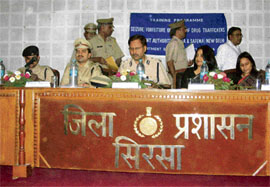 Sirsa, April 3
The illicit trade of poppy husk and other narcotic drugs has been the bane of Sirsa and Fatehabad districts since long. Besides finding peddlers and end users in villages of the two districts bordering Punjab, the drug traffickers have been using the area as a route for smuggling the contraband from Rajasthan, where it is freely available, to neighbouring Punjab where the narcotics are good demand.
(From left) Fatehabad SP Saurabh Singh, Sirsa SP Vikas Arora, Hisar IG A. K. Dhull, competent authority and administrator Archana Ranjan and additional commissioner Priya Sahu during a seminar in Sirsa. Photo by writer
Inside Babudom
A modest win for Dalit officers
Chandigarh, April 10
Dalit IAS officers of Haryana have scored a modest victory on the bureaucratic turf. Next time a panel is sent for appointment as Chandigarh home secretary, it is certain to have one Dalit civil servant among the three probables.
Separate Gurdwara Panel
Sikhs approach Rahul, talk tough
Chandigarh, April 10
Sikhs of Haryana, fighting for a separate gurdwara management committee, have now knocked at the doors of the "crown prince" Rahul Gandhi. Earlier, they had met Prime Minister Manmohan Singh and Congress President Sonia Gandhi, but their efforts remained unsuccessful. All they got was a lukewarm response or at best empty assurances.
Free-ration protest backfires on Bishnoi's party
Hisar, April 10
The Haryana Janhit Congress (BL) appears to have bitten more than what it could chew by choosing to distribute free ration packets to the poor as a protest against rising prices of essential commodities.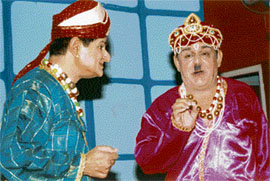 'Gadhe Ki Baraat' going places
Rohtak, April 10
When a show of "Gadhe Ki Baraat", a satirical play directed by Rohtak-based insurance executive Vishav Deepak Trikha, was staged at Lawrence School, Sanawar, it was an achievement in more ways than one.


A scene from Gadhe Ki Baraat. A Tribune photograph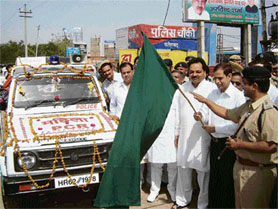 All-women PCR in Fatehabad too
Fatehabad, April 10
Crime in the society is as old as the society itself. And crime against women is quite common in our society. Many women who are wronged go to the police stations to bring the guilty to books, but many more cannot muster courage to go to a police station and hence, many such crimes remain unreported.
Deputy commissioner O.P. Sheoran flags off an all-women PCR in Fatehabad. — Photo by writer
Citizens' Grievances
Poor roads in Panchkula
The road falling in Panchkula on the Zirakpur-Kalka highway is in a bad shape. Right at the entrance to the state one experiences a rough ride. The road is full of potholes with zero maintenance. At some places the pitfalls are as much as 2 ft deep. All this just below a signboard that welcomes visitors to the state is unfortunate. Similar is the condition of several internal roads of Panchkula, which cry for maintenance but nobody seems to bother.