Staff shortage hits Panipat hospital
Panipat, January 3
Bhim Sain Sachhar Civil Hospital here is a glaring example of pitiable healthcare facilities in the state.Notwithstanding the tall claims of the state government about several healthcare schemes, the only government hospital located on the GT Road in the state is being run by just two medical officers.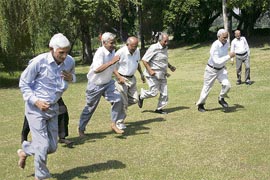 Life begins at 60
Rohtak, January 3
At an age when the majority of people tend to adopt a laidback approach towards life, a group of senior citizens here has decided to take up the cause of their lesser-privileged brethren. These enthusiastic elderly residents have now got their group registered as Senior Citizens Council.
THATíS THE SPIRIT! Elderly residents take part in an athletic contest organised under the aegis of the Senior Citizens Council in Rohtak. ó A Tribune photograph

Political battle cries to get louder
Hisar, January 3
The New Year will see political battles that began in 2007 develop into full-scale wars as different political parties and personalities try to consolidate their respective positions in the penultimate year of the Congress governmentís term.
Power utility plans big with small transformers
Jind, January 3
Even as the district tops the line losses list in the state, the Uttar Haryana Bijli Vitran Nigam (UHBVN) has announced to replace the existing large-sized transformers with smaller ones to contain the problem of snags in the supply system. Jind alone accounts for 78 per cent of the stateís total line loss.
Saroj sets her aim at rifle shooting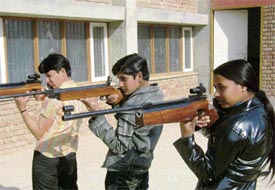 Fatehabad, January 3
Saroj Chauhan, a student of BA final year of the local Government College for Girls has made Fatehabad proud by exhibiting excellent performance in the intervarsity rifle shooting championship that concluded recently at Yamunanagar. Kurukshetra University, the team that Saroj represented, got silver medal by securing second position in the championship.

Saroj Chauhan takes aim with her rifle at the Government College for Girls, Fatehabad. ó Photo by Sushil Manav

Safidon emerges as hub of paddy cultivation
Jind, January 3
Safidon, a little-known subdivision of the district, has emerged as a hub of paddy growers and rice exporters over the past few years.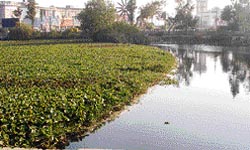 Ambala City parks repel visitors
Ambala, January 3
Most of the parks in the city either located in HUDA sectors or in municipal councilís periphery are in such bad shape that nobody relishes the visit there. Around one lakh residents of the urban area do not have any recreational place where they could spend their leisure time.
The Municipal Park lake covered with wild growth and weeds. ó A Tribune photograph

Kaithal village shifts to CFL
Kaithal, January 3
Dherru village has become the first village in this district to switch over to 100 per cent CFL. This village is among the 10 cluster villages selected under the IREP programme where the power-saving scheme of the state renewable energy department is being implemented.
Cancer institute revs up hope of poor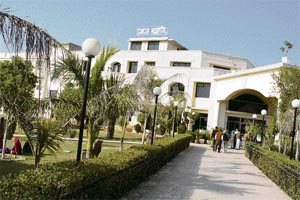 Rewari, January 3
With its several vital specialties as well as cost effective, comprehensive and qualitative treatment, the Dr S.S. Yadav Ram Bhagwan Charitable Institute of Cancer Management and Research, Mirpur (Rewari), has proved a boon for poor cancer patients and patients having complications and other bone deformities and diseases.

A view of Dr S.S. Yadav Ram Bhagwan Charitable Institute of Cancer Management and Research, Mirpur, Rewari district. ó A Tribune photograph

Inside Babudom
2 DCs may get commissioner status
Chandigarh, January 3
Administrative reshuffle in Haryana is on the cards in the wake of two deputy commissioners attaining the seniority of commissioners. Panipat deputy commissioner Mohinder Kumar and Sonepat deputy commissioner D.P.S. Nagal are both ready for postings in commissioner-level assignments.
Suri for Punjabi as second language


Yamunanagar, January 3
Following in the footsteps of his father, octogenarian writer Dr Kartar Singh Suri has dedicated his life to the Punjabi language. He has penned several collections of short stories, besides memoirs and research books and still working on more creative writings. Dr Suri, who started his career as a lecturer of Punjabi at Panjab University, Chandigarh, has won several accolades for his writings.