Animals play hide-and-seek at Kalesar National Park
Yamunanagar, November 22
Thirty-five children from different parts of the state on their two-day visit to Kalesar National Park here could not see any wild animal. They had to remain satisfied with the pugmarks of the animals.


Visitors ride an elephant at the Kalesar National Park in Yamunanagar
Sirsa to see stone-laying spree
Sirsa, November 22
The much-awaited development projects in the district are expected to be given a go ahead on December 8 during the visit of Chief Minister Bhupinder Singh Hooda here. Among other projects, Hooda would lay the foundation stone of the railway over bridge, which is to be constructed with the cost of Rs 50 crore.


Traffic hurdles turn death traps
Jhajjar, November 22
The iron poles erected as traffic hurdles by the administration with a view to stop the entry of heavy vehicles at various points in Bahadurgarh have instead become death traps. Far from serving the purpose, these poles have made things worse for the already chaotic traffic, particularly at the entry points of the main bazaar and railway road.
Roadways buses defy court orders
Ply without first-aid box, fire safety
Bhiwani, November 22
The apathy of the government departments towards the safety of the people can be seen the way Haryana Roadways buses ridiculing the directives of the Punjab and Haryana High Court.
Haryanavis don't spare seats meant for women
Reservation in roadways buses
Yamunanagar, November 22
The Haryana Roadways has recently reserved some seats (number 6-20) for women, but in most of the buses men could be seen occupying the reserved seats while the women keep standing.
Delay in work on Badarpur flyover
Opposition politicises issue
Faridabad, November 22
The delay in work on the proposed Badarpur flyover on the national highway no. 2 at Delhi-Badarpur border has given an issue to the opposition parties to corner the Congress government in the state.
Bhiwani Congress ticket up for grabs
Bhiwani, November 22
With sitting MP Kuldeep Bishnoi practically out of the Congress, the party ticket for the Bhiwani Lok Sabha seat is up for grabs. Since 1977, the erstwhile pocket borough of former Chief Minister Bansi Lal's family, Bhiwani saw the win of Bansi Lal himself thrice in 1980, 1984 and 1989.


Experts for moong as additional crop
Karnal, November 22
The Krishi Vigyan Kendra of the National Dairy Research Institute is engaged in conducting farm trials to identify and establish sustainable farming system that could use less irrigation and improve soil health.

Dr Dalip Gosain, head, KVK, NDRI, Kamal, with farmers Jaspal Singh (centre) and Gurdayal Singh (right) in Nagla Rodan village of Indri block. — A Triune photograph

Jind farmer sets record in mushroom cultivation
Jind, November 22
The district has emerged as a frontrunner in several areas of agriculture and its related fields due to hard work and entrepreneurial approach of local farmers. Japan Singh (54) of Shanpur village of Safidon subdivision is one of them.

Japan Singh (left) shows mushrooms grown by him. — A Tribune photograph


BKU threatens stir on paddy bonus
Karnal, November 22
A meeting of the district wing of the Bharatiya Kisan Union was held at the Kisan Bhavan here yesterday. Farmers expressed displeasure at the late announcement of the Rs 50 bonus per quintal of paddy crop by the Central government.
State's first
Manesar to have labour housing colony
Gurgaon, November 22
The Haryana State Industrial and Infrastructure Development Corporation has initiated a pilot project for the construction of a labour housing colony at Manesar to create residential complexes for the workforce to meet increasing demand.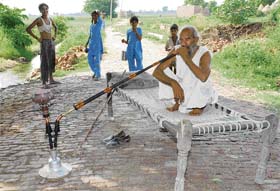 An old man takes a drag on his hookah in Budhanpur village of Panipat district. — Tribune photo by Ravi Kumar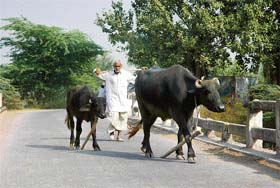 An old man takes his buffaloes for grazing near Indri in Karnal district. — Tribune photo by Ravi Kumar
10 pc of Ambala students suffer from eyesight problems
Ambala, November 22
The Sarv Shiksha Netra Abhiyan, whose implementation began in the state from Ambala district, has proved to be an eye-opener. The programme, which is being run to test eyesight of students of government schools, has shown that all is not well.
Nursing a grudge over discrimination
Rohtak, November 22
Nurses serving at various government hospitals in Haryana have alleged that the state authorities are discriminating against them. They assert that while the nurses working at the Post-Graduate Institute of Medical Sciences at Rohtak are being given certain facilities, others working in the field are being denied the same.
A tribute to Sir Chhotu Ram
The legendry Jat leader from Haryana, Chhotu Ram, whose birth anniversary falls on November 24, played an important role in the politics of Punjab during the colonial period from 1923 to 1945. He was a great advocate of the unity of Punjab and regarded it essential for the unity of India.
Inside Babudom
Post of special secy may go
Chandigarh, November 22
A move is underway in Haryana to do away with the post of special secretary and designate as secretaries all those who are now special secretaries. The post of special secretary, which figures below the post of secretary and principal secretary and above joint secretary, is a creation of the state government.
37,403 cases settled in Lok Adalats in Jind
Jind, November 22
A total of 37,403 cases of various nature have been settled through Lok Adalats in the district so far. While 120 Lok Adalats have been held, a compensation amounting to Rs 8.56 crore has been given to the victims.
Citizens' Grievances
HUDA refund not received
I had applied for a plot in Urban Estate, Dharuhera, Sector 6, Part-II, vide application no. 1054508 and regd. no. BHDRO49662 and paid Rs 26,163 on 20.03.2006 as application money. I have written several letters to HUDA, but until now I have neither received refund nor any allotment letter, though the draw was held at HUDA, Rewari, on 31.08.2006. I request HUDA to refund the money along with interest.
Seminar on Sufi poet from today
Chandigarh, November 22
The Haryana Urdu Akademi in collaboration with the Iranian Embassy and the Department of Persian of Delhi University will organise a two-day international seminar on 800th birth anniversary of great Sufi poet and thinker Maulana Jalal-ul-Din Rumi from November 23 at Haryana Raj Bhawan here.


Movies This Week
Dhan Dhana Dhan Goal
Director: Vivek Agnihotri
Producer: UTV Motion Pictures
Cast: John Abraham, Bipasha Basu, Arshad Warsi, Boman Irani, Raj Zutshi, Kushal Punjabi
Music: Pritam Chakraborty


John Abraham and Bipasha Basu in 'Dhan Dhana Dhan Goal'