No check on water supplied in HUDA sectors
Rohtak, November 15
The HUDA authorities are perhaps oblivious of the WHO report, which stated that contaminated drinking water is behind a majority of diseases. This is evident from the fact that the authorities have adopted a callous attitude towards the cleanliness of its water tanks here.

A view of a water tank of the HUDA waterworks covered with a thick growth of wild vegetation.—Photo by Manoj Dhaka
Now, CCTVs at SDM's office
Ambala, November 15
Closed-circuit TV cameras will now keep a vigil on the functioning at subdivisional magistrate's office here.
All set for Rezang La Diwas on Nov 18
Rewari, November 15
Over the years, Rezang La Shauriya Diwas Samaroh has become a major festival of the Ahirwal region, which is held annually here on November 18 to commemorate the sacrifice of Ahir martyrs in the historic battle of Rezang La. The battle has gone down in the annals of the world history as a saga of supreme sacrifice and gallantry of Ahir Jawans.


The war memorial raised at Ahir Dham in the Rezang La area.
Poor sanitation, traffic bane of Bhiwani
Bhiwani, November 15
The city with a population of about 2 lakh has been reeling under several problems, especially poor sanitation and traffic chaos.
Inside Babudom
Wanted! A boss for Khemka
Chandigarh, November 15
The state government is in search of a boss for this babu. Though the intelligence of this IAS officer, Ashok Khemka, is widely acknowledged, not many want him as their junior. Many senior officers dread him and would not mind telling the Chief Minister to post them anywhere but not as the boss of Khemka.
Fire safety
State remains as vulnerable as ever
Hisar, November 15
Despite having witnessed one of the worst ever fire tragedies in Dabwali in 1995, Haryana continues to be the most unsafe state from the fire hazard angle. Even as the government is levying a tax for fire services in the urban areas, the firefighting machinery in the state is in a shambles.
US college delegation visits MDU
Rohtak, November 15
A delegation from Montgomery College at Rockville in Maryland, US, visited Maharshi Dayanand University (MDU) here yesterday to explore the possibilities of academic collaboration, joint academic programmes and setting up a community college at Manesar (Gurgaon).
Political rallies talk of the town
Fatehabad, November 15
With the date of rebel Congress MP Kuldeep Bishnoi's much-publicised Rohtak rally drawing near, campaigning for the rally has picked momentum in Fatehabad Assembly constituency.

A hoarding of Kuldeep Bishnoi's rally on the national highway at Fatehabad. —Photo by Sushil Manav
More powers for Wakf Board CEO
Chandigarh, November 15
The Haryana Wakf Board has entrusted its chief executive officer (CEO) Hanif Qureshi with sweeping powers to safeguard the interest of the board and to ensure the smooth functioning of the organisation. This decision was taken recently at a board meeting held at Ambala where members expressed concern over the repeated attempts by undesirable elements to usurp the board's properties and interfere in its functioning.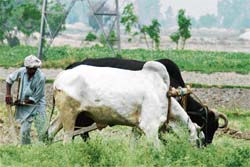 In this age of modernisation, traditional methods of ploughing are still popular in rural Haryana. This picture was taken by Ravi Kumar in Pundri village, Kaithal district.
Shrinking green cover
Encroachments, govt apathy to blame
Faridabad, November 15
The town's growth and modernisation has its direct bearing on the environment-related issues.
HIFA vows to preserve state's culture
Karnal, November 15
As the cliché goes, the only culture in Haryana is agriculture. This might be true to a large extent, but the state has been a melting pot of different cultures since time immemorial and this rich heritage is, sadly, losing out to modernisation and an indifferent attitude of successive governments who have done little to preserve this unique legacy. Hence, agriculture will be the only culture left in the state.
Scheme launched to help farmers
Kaithal, November 15
The state agriculture department has launched a scheme to set up an agricultural technical management agency with a view to strengthen the economic base of the farmers. This scheme has been launched to motivate the farmers for adopting diversification of crops, dairy farming, fish farming and horticulture and increase their per acre yield.
Kaithal's Jawahar Park cries for care
Kaithal, November 15
The only park in old Kaithal town, Jawahar Park, lies in a state of neglect. Situated in the heart of the town and once considered a prestigious place, this park has lost its glory.

Jawahar Park in Kaithal, which was once a hot spot, lies in a state of neglect. —Photo by Satish Seth
Faridabad's Sector 55 lacks basic amenities
Faridabad, November 15
Residents of about 3,000 houses in Sector 55 Housing Board Colony have been struggling for a decent living, but in vain.
Sonepat poised to become educational hub
Sonepat, November 15
The district is set to become an educational hub with the opening of several educational institutes of international standards.
Wooing villagers isn't easy for Chautala
Jhajjar, November 15
The INLD is on the look out for an opportune political issue that could help it in mobilising people against the incumbent government. The recent three-day tour of several villages by former Chief Minister Om Prakash Chautala, failed to make an impression, as was evident in the public meetings in the villages.
Admn gears up for Kapal Mochan fair
Lakhs expected to take dip in holy sarovar
Yamunanagar, November 15
The district administration is busy making preparations for the annual four-day fair at Kapal Mochan in Bilaspur here starting November 21. Over the years, the fair has become a symbol of composite culture as people from all faiths converge in lakhs to take holy dip in the sacred sarovars.

The Gau-baccha temple at Kapal Mochan, Bilaspur, in Yamunanagar district. — A Tribune photograph
Haryanavi lads excel in football
Fatehabad, November 15
Local boys Manandeep and Vivek Kumar have done India proud by displaying exceptional talent in the recently concluded Asian Football Confederation Group C qualifiers held at Dammam, Saudi Arabia.
Sonia to unveil Surender's statue
Bhiwani, November 15 Congress president Sonia Gandhi will address a rally here on November 28, which is being organised to commemorate the memory of the late Haryana Minister Surender Singh.
Huge funds fail to lift Jind roads
Jind, November 15
Some of the important roads in the town continue to remain in bad shape, despite the state government allocating huge funds for repairs and reconstruction of the roads.
CITIZEN FIRST
HCS selection process flawed
The rules governing the appointment of civil judges in Haryana, PCS (Judicial Branch) Rules, 1951, are not being fully complied by the selection committee entrusted with the task of conducting special recruitment to fill 34 posts in the cadre of HCS (judicial branch). Contrary to the rules, the committee permitted final year law students to appear for the exams.