Modern industrial estate for Rohtak
Rohtak, September 20
With a view to providing better facilities to the local industry, the Haryana government has decided to hand over the 30-year-old Industrial Development Centre (IDC) here to the Haryana State Industrial Development Corporation (HSIDC). The move is expected to give an impetus to the small-scale industry.
State's musical past out of tune
Jind, September 20
Haryana may be a leading agricultural state in the country with a majority of population still dependent on farming sector, but a very few know that the farming community here had another heart which was fond of music and cultural feast.It is for this reason that several villages in Jind district had been named after "ragas" and musical instruments.

A view of traditional musical instruments on display at Jayanti Archaeological Museum in Jind.— Photo by writer
Website on Panipat rural belt soon
Panipat, September 20
Aimed at bringing about transparency in the allocation and disbursement of development funds to the tune of crores of rupees meant for the rural areas of the district, the Panipat administration has initiated a maiden project to offer online information without any charges.
citizen first
Stinking bus stands
The sanitary conditions of the bus stands in the state are pathetic. The urinals and toilets are not properly maintained and stinking at most of the bus stands. The hygiene standards at the footstalls and tea stalls are worst.
Inside Babudom
Archives dept remains neglected
Chandigarh, September 20
Chief Minister Bhupinder Singh Hooda has rightly revoked the suspension of IAS officer Harbakhsh Singh, commissioner, archives department. The Chief Minister made it clear yesterday that he had already forgotten the incident of the officer's absence in an important meeting. "His niece was ill, you see", Hooda said.
Shortage of doctors plagues hospitals
Jind, September 20
The shortage of qualified doctors in government hospitals here is hitting poor patients hard. As many as 52 posts of doctor are lying vacant in the district. However, health officials claim that despite the shortage, the work is going on smoothly.
Yoga boy owes his flexibility to fixed regime
Yamunanagar, September 20
A 22-year-old local lad has become famous as "rubber boy" in the region for his skills in yoga.Subhash, who is doing post graduation in physical education from Guru Nanank Khalsa College here, has won several gold medals at national and international levels."He has a great flexibility in his body which is quite amazing," claims B.S. Dhillon.

Subash demonstrates his skills in yoga
Plantation drive turns into mass movement
Yamunanagar, September 20
The Haryana Environmental Society (HES) has been successful in involving more than 10,000 people from all walks of life in its tree plantation drive during the past 12 years. Today, there are more than 30,000 grown up trees of more than 60 varieties in the district planted under the aegis of the society.

Trees planted by the Haryana Environmental Society on the Buria station road in Yamunanagar.— A Tribune photograph


No takers for govt's dairy shifting scheme
Ballabgarh (Faridabad), September 20
The government's scheme to shift dairies out of this town to ensure its cleanliness has run into rough weather as the dairy owners have turned their back to it.


Citizens' Grievances
Building plan not approved
The state government has been stressing upon and asking the plot holders to construct houses. I own plot no. 1008 in Sector 23-A, Gurgaon, and wanted to start construction at the earliest. I submitted the building plan with HUDA office, Gurgaon, in November 2006, but despite follow up time and gain, I could not get the plan approved. While the district town and planning department blames HUDA for not providing the required information, HUDA officials fail to give any satisfactory reply.



Title deeds not released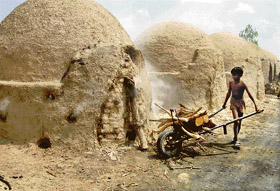 A hard day: Twelve-year-old Arif works at a kiln in Balina village on the Hisar road near Pehowa.— Tribune photo by Karam Singh
Pension plan boon for poor
Rohtak, September 20
The state government's Rajiv Gandhi Family Pension Scheme is proving to be a boon for the poor people, especially for the below poverty line (BPL) families. Under the scheme, an amount of Rs 1 lakh is given to the family in the event of accidental death of its earning member.
Poor storage eats up 30 pc of food
Gurgaon, September 20
The state governments should promote food-processing units in special economic zones (SEZs) for improving the financial position of the farmers and utilise the bumper produce during the peak season when prices of the crops fall steeply.
Dhabas catch fancy of Hisar residents
Hisar, September 20
The dhaba culture is finally catching up with the people of this area as the past few months have seen coming up of several sprawling new dhabas on the outskirts of the city. Till now, there were a few small traditional dhabas on the Sirsa and Rohtak roads (NH-10). There were almost no such eateries on roads leading to Rajasthan.


A Rajasthani dhani-type dhaba on the national highway near Hisar.—Tribune photo by P.L. Munday
Ancient site lying neglected
Kurukshetra, September 20
The mound, containing 3,500-years-old archaeological relics of the disappeared Aadi Markanda river, situated on the western side of the GT Road near Teoda-Teodi village in Shahabad Markanda block of this district, is lying in a state of neglect.
Stray cattle pose threat to motorists
Fatehabad, September 20
The menace of stray animals is continued to haunt the residents of Fatehabad town. Though all kinds of stray animals, including dogs, pigs and donkeys, are seen on the streets and roads, cows are found in abundance.
Bulbs replaced with CFLs
Hisar, September 20
Employees of the Dakshin Haryana Bijli Vitran Nigam (DHBVN) today succeeded in replacing all traditional incandescent bulbs with compact fluorescent lamps (CFLs) in the area fed through 11 kV PNB feeder in Faridabad.
Nothing urbane about Panipat's urban estates
Panipat, September 20
It is an endless wait for the residents of various urban estates of this township to experience driving on smooth roads. Potholed and "kutcha" roads filled with stinking water speak volumes of its utter neglect by the HUDA authorities. Due to poor infrastructure in planned sectors, Model Town has become a preferred place for the residents.

A view of potholed roads in the Urban Estate area in Panipat.— Tribune photo by Ravi Kumar
Rohtak, September 20
A glance at the scene at any busy bus stop in the town around "chhutti" time of schools would stun even the most capable action directors of Hollywood.Running after the speeding roadways buses amidst heavy traffic, hopping onto a moving bus, traveling on the rooftop in scorching sun as well as chilly winter, these brave Haryanavi boys can definitely be termed as "real life heroes". Boys chasing buses and getting onto the roof of moving overcrowded ones has become such a common sight for the local residents that they hardly bat an eyelid while passing by such a situation.





Schoolchildren cling dangerously to an overcrowded bus in Hisar.—Tribune photo by Ravi Kumar

Survey to check illegal water users soon
Yamunanagar, September 20
Consumers of water supply in Yamunanagar town availed the 'waiver of surcharge' scheme on pending bills and paid dues to the tune of Rs 7.5 lakh. However, a large number of defaulters did not avail the scheme and the outstanding on them was more than Rs 9.5 lakhs.
Autorickshaw ride comes cheap, life doesn't
Ambala, September 20
Though autorickshaws have turned out to be the common man's transport, its hazards on the road cannot be ignored. There has been a significant increase in the number of accidents involving autorickshaws. A number of such accidents have taken place on the national highway as well as on the internal roads of Ambala Cantt and Ambala city.

LIFE IS PRECIOUS, BUT WHO CARES? An autorickshaw overloaded with schoolchildren in Ambala.—Tribune photo by K. Sachar
Sirsa youths take to smack
Sirsa, September 20
After poppy husk and opium, now a large number of youths from the district are addicted to smack with its easy availability in the towns of border areas with Rajasthan and the city. Even youths from neighbouring districts of Punjab reach here for drugs.
Working for people's cause
Kaithal, September 20
The Om Prakash Jindal Gramin Jan Kalyan Sansthan, set up by Naveen Jindal, Kurukshetra MP, in the memory of his late father and former state power minister O.P. Jindal former, has earned a name in the field of social work. Giving details of various projects undertaken in Yamuna Nagar, Radour, Shahbad, Thanesar, Pehowa, Kaithal, Pai, Pundri and Gulha, Ravi Wadhawan, secretary to Naveen Jindal, said the activities of sansthan included organising free medical check-up camps.
Groundwater depletion
Panipat no exception
Chandigarh, September 20
The groundwater level in Panipat district is falling at an alarming rate. Excessive pumping of water for drinking and irrigational purposes and wrong urban planning are putting aquifers under stress.
25 yrs on, Nagina college is where it was
Nagina, September 20
The state that boosts of imparting quality education to its youth has failed to provide even basic infrastructure in some of the colleges of the Mewat area.