Ditto for B.Ed colleges
Rohtak, October 18
A number of privately managed colleges of education (B.Ed colleges) all over the state are charging excess fee from students, especially fresh admission seekers, with impunity. Repeated warnings issued to the college managements by the authorities concerned have proved grossly ineffective.
Festive Season
Beware! Spurious spices may spoil taste
Faridabad, October 18
Think twice before salivating on the aroma of spicy and pungent food in the wake of the large-scale sale of spurious spices in this city.
Inside Babudom
Of widow pension and remarriage
Chandigarh, October 18
The Delhi office of this paper recently received a letter signed under a woman's name and claiming to have been sent "on behalf of the wives of IAS officers of Haryana cadre". The subject matter of the letter is the illegal drawing of pension by the widow of an IAS officer after her alleged remarriage to another person.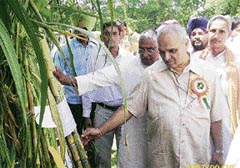 Low agricultural yield
Use scientific methods, say experts
Kaithal, October 18
A paddy-wheat annual mela was organised by the Krishi Vigyan Kendra, Kaithal, and the Rice Research Station at Kaul in the district recently.



Dr J.C. Katyal, vice-chancellor, HAU, Hisar, inspects sugarcane varieties at the kisan mela at Kaithal recently. — A Tribune photograph
Brass industry battles govt apathy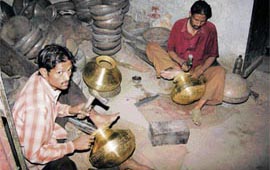 Rewari, October 18
The traditional brassware industry of Rewari has been facing heavy odds, thanks to the persistent government apathy towards the utensil makers' longstanding demands, which includes the abolition of sales tax on brassware, supply of subsidised raw material and appropriate marketing facilities for their products.
Brass utensil makers at their workshop in Rewari. — Photo by writer
Rural education
Village committees defy purpose
Mewat, October 18
The endeavour of the state government to reduce the dropout rates and improve the management in schools by constituting village education committees (VECs) does not appear to be yielding results, as there is no regular monitoring of their functioning.

Where legacy of IAF pioneer lives on
Santokh Majra (Kaithal), October 18
At first instance, it seems to be a routine sleepy hamle in the heart of Jatland. But Padri Khera, now known as Santokh Majra, has a glorious past with its name etched in the history books as it has given the state its first breed of gutsy air warriors.

Former Squadron Leader Clement Martin Chauhan was among the first flight engineers of the nation who flew the first Prime Minister of the country
Move to turn park into mall draws criticism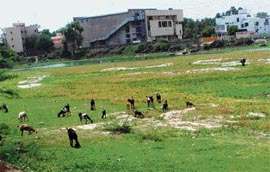 Panipat, October 18
Failed to develop sufficient green belts in this industrial township, the local cash-rich Municipal Council is now eying the existing available open space to exploit them commercially. Though the sectors developed by HUDA have poorly maintained open spaces, residents of this fast polluting township feel insecure for losing the green covers in the old locality as well.
A view of Haali Park, the largest green belt of Panipat, where the MC plans to build a shopping mall. — Tribune photo by Ravi Kumar
CITIZEN FIRST
Set up family courts
Although it has been 15 years since the provisions of the Family Courts Act, 1984, were brought into force in Haryana (November 1992), the government has failed to establish even a single family court in the state for the reasons best known to it.
Sow wheat by mid-Nov, says dept
Chandigarh, October 18
The state agriculture department has advised farmers to sow their wheat crop in the rabi season by November 15 as the right time for sowing the crop is from October 25 till November 15.
Citizen's Grievance
Poor after-sales service
I purchased an air conditioner from M/s Samta Electronics shop no. 3-4, Red Cross Shopping Complex, GT Road, Panipat, vide cash memo no. 875 dated 25.5.2007.
VIP functions
Relief for schoolchildren
Kurukshetra, October 18
Deputy commissioner Pankaj Aggarwal has banned making schoolchildren stand for long periods to welcome VIPs at government functions.
'Open darbars' by admn
Kurukshetra, October 18
To solve the complaints and problems of common people, the district administration has decided to organise 'open darbars', in which all district officers under the chairmanship of deputy commissioner Pankaj Aggarwal will settle public complaints on the spot.