Stray cattle menace
Ambala residents blame administration
Ambala, October 11
The menace of stray cattle in Ambala City continues to haunt the residents, who are upset over the indifferent attitude of the authorities in this regard.
From left: Stray cattle and vehicles vie with each other for space on Ambala roads. — A Tribune photograph; LAW OVERTURNED: The overloading of vehicles continues in Haryana in the absence of regular police action against the violators. As a result of this practice, the sight of overturned tractor-trailers is not uncommon on the highways in the state. The photo of an overturned tractor-trailer was taken near Ambala by Karam Singh.
Mobilisation for 'bijli rally'
Empty buses may put Jindal in a spot
Hisar, October 11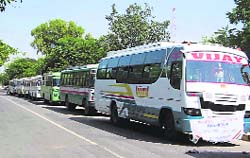 Congress leader and state housing minister Savitri Jindal may have to explain the party leadership about under-utilisation of resources for the October 7 "bijli rally" at Jhadli, which was addressed by Congress President Sonia Gandhi.
Empty buses lined up at Hisar on October 7 due to the lack of passengers. These were supposed to ferry local Congressmen to attend the "bijli rally" at Jhadli in Jhajjar district. — Tribune photo by P.L. Munday
Mid-term poll talk
BSP in consolidation mode
Chandigarh, October 11
The state unit of the BSP had three good "catches" during this week, a former MP, a former MLA and a son of a former MLA.
Case against town planner
Chandigarh, October 11
If you are holding a high office, think twice before you make tall claims about your achievements, leveling allegations against citizens in the process! A hurt citizen may haul you to the court for defamation where you will have to defend yourself on your own, as the government does not provide legal assistance to an officer facing criminal charges.
Relief for juvenile home inmates
Sonepat, October 11
The shifting of some of the inmates of local Bostel Jail (observation home) to Faridabad has come as a relief for the overstuffed inmates as they can now hope of better living conditions after a long wait.
Sirsa safe haven for drug smugglers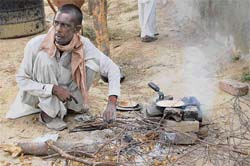 Sirsa, October 11
It is the geographical spread and location of the district that makes it a safe haven for drug smugglers, challenging the law enforcing agencies to control the menace prevailed here.
A 35-year-old farmer, Tarshem Singh, who had taken drugs for eight years, is now struggling to get rid of the drug habit at a de-addiction centre in Sirsa. — Photo by Kiran Deep
Triple murder case
Villagers accuse police of inaction
Sirsa, October 11
Even after 60 years of Independence, the police seems to be taking care of only the rich and influential while the lower class still have no access to justice even if their family members are raped or murdered, rued the villagers of Keshupura village where two minor girls and a woman were raped and then murdered about five years ago. The triple murder case is still listed in the police files as "untraced".
More funds for social welfare
Chandigarh, October 11
If figures had muscles, then these figures would have stood out as singularly conspicuous. The Rs 986 crore allocation on social welfare front by the state government for 2007-08 can certainly claim itself to be a beauty.
Welfare schemes galore for children
Chandigarh, October 11
To reach out to the lowest strata of society, the state government has earmarked Rs 1 crore for the financial assistant scheme for destitute children (FADC) that will enable them to get a special allowance for education.
Reality music shows
Pt Jasraj shows the real picture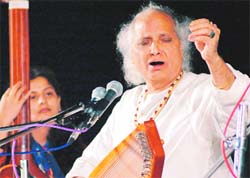 Fatehabad, October 11
Classical vocalist pandit Jasraj feels that the music reality shows being conducted by various entertainment channels hardly do any good to music. In an exclusive interview with The Tribune, India's greatest exponent of Mewati Gharana said the so-called stars created by these shows were like bubbles that fade away soon after the programme ended. He said a very few people remembered who was the first "Indian idol" and even fewer remembered the name of the second winner.
From agrarian state to IT destination
Chandigarh, October 11
Haryana is emerging as a frontrunner in implementing the e-governance programme with the state touting itself to be a major information technology destination.
Dr Vidyarthi honoured
Chandigarh, October 11
Regional director of DAV institutions and principal of DAV Public School, Thermal Colony, Panipat, Dr Dharam Dev Vidyarthi has been awarded "Shiksha Ratan Puraskar-2007".
Morni comes alive with adventure camp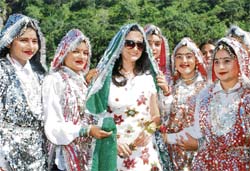 Morni, October 11
The serenity of the silent waters of Tikkar Tal cradled in the hills, the picturesque landscape of open green spaces meeting the blue skies, nature is at its pristine best at Morni. And playing in this lap of nature is a burst of enthusiasm, a dash of excitement and the ceaseless giggle of girls here to attend the first adventure camp organised jointly by the Haryana Tourism, sports and forest departments.
Minister of state for tourism Kiran Choudhary with girl students at an adventure camp at Morni. — A Tribune photograph
Lecturers' selection criteria 'flawed'
Rohtak, October 11
The recent approval granted by the state government for the appointment of lecturers in privately managed government-aided colleges has evoked a mixed response from the youth aspiring for the lectureship.
Inside Babudom
Mystery behind late-night transfer orders
Chandigarh, October 11
The state government recently gave additional charge of finance secretary to A.S. Prashar, irrigation secretary, during the absence of regular finance secretary S.P. Sharma, who is reported to have gone to Singapore and expected to be back on October 15.
CITIZEN FIRST
Housing problem in Gurgaon
The youth, particularly girls, working in and around Gurgaon is suffering due to the acute paucity of residential accommodation at affordable rates in Gurgaon. With a salary of about Rs 6,000-10,000 per month, they cannot pay high rents or travel daily long distances from their hometowns. Like us many girls are using bed accommodation provided at affordable rates at basements of shops by some owners who are now being hauled up by the HUDA authorities for its misuse for commercial purposes. The authorities are even threatening to seal their premises. In case the threat is carried out, the girls will be thrown on the road and may have to lose their jobs ultimately.