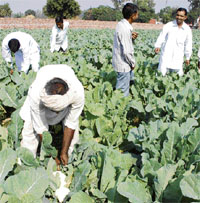 Shedding paddy-wheat cycle proves profitable
Daha Jagir (Karnal), November 8 Paddy-wheat rotation which provided healthy profits to farmers in this region not long ago, has started taking its toll not only on the marginal and small farmers but also on the environment in the form of receding water table, pollution and declining soil health.




Satish (extreme right), a farmer of Daha Jagir village, on his farm. — Tribune photo by Ravi Kumar

Plan to set up biogas plants at gaushalas
Gurgaon, November 8
The Animal Welfare Board of India (AWBI) has proposed to set up biogas plants at gaushalas (old cow homes) across the country to make them financially self-sustainable.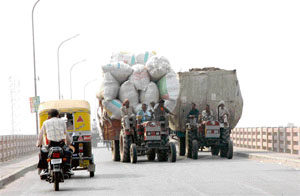 An overloaded tractor-trailer overtakes another on a flyover in Panipat. — Tribune photo by Ravi Kumar
Inside Babudom
Officers warned against turning hostile in court
Chandigarh, November 8
The state government has warned all babus against enacting the hostile witness phenomenon during court appearances.
Stray cattle menace
Residents' initiative yields results
Fatehabad, November 8
Zebra crossings are used to slow down traffic all over the world. But in Haryana, zebra's less wild counterparts, stray cattle, slow down the traffic a lot more.
Polluting Units
Residents suffer due to MC laxity
Faridabad, November 8
A large number of industrial units are functioning from the residential areas within the municipal limits of the town. Many of them are either polluting units playing havoc with the environment or industrial accident hubs.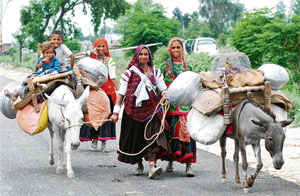 A family of nomads in search of greener pastures at Kundli in Sonepat district. — Tribune photo by Ravi Kumar
Safidon's kheel industry faces extinction
Jind, November 8
Kheel (flakes of paddy) has been an important ingredient for a large number of households in the country during the festive season as it is considered auspicious. Priced moderately, everyone wonders from where kheel comes and how it is prepared.
Plan to dispose of old IT equipment
Chandigarh, November 8
The state government has announced a new procedure/policy for the disposal of old and obsolete electronic items and information technology (IT) products in keeping with the Companies Act and the Income Tax Act that allows substantial depreciation on electronic and IT products.
CITIZEN FIRST
Needless fret over Hindi
Several teachers and scholars of Haryana have written about the declining popularity of Hindi language. The fear is baseless and uncalled for. English has been spoken in India since the advent of the British rule and the language is flourishing even after their exit.
Ahirwal sees hectic political activity
Rewari, November 8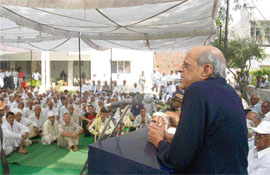 Though the fear of mid-term Lok Sabha election has receded, the political scene suddenly warms up in Ahirwal region. The region comprises Mahendergarh parliamentary constituency, which consists of nine assembly segments of Narnaul, Mahendergarh, Ateli (Mahendergarh district), Bawal, Rewari, Jatusana (Rewari district), Pataudi, Gurgaon and Sohna (Gurgaon district).


A former union minister, Col Ram Singh, addresses a conference of his supporters at Rewari recently. — A Tribune photograph

Diwali shopping undergoes marked change
Jhajjar, November 8
The trend of exchanging gifts like sweets and dry fruits on the eve of Diwali registered a decline this year as the middle class families went for products of long-term use instead of spending on immediate consumable goods.
Ambala bus stand runs from tin shed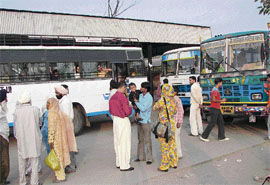 Ambala, November 8
The main bus stand of Ambala City has been running under a tin shed for the past four years. The transport department has principally decided to shift the present bus stand to a place near the GT Road, but the exact location could not be identified so far. The present bus stand is located in the middle of the city, proving a traffic hazard.



A view of the Ambala City bus stand which functions from a tin shed, as its shifting has been hanging fire for several months. — A Tribune photograph

Sugar industry in crisis
Product diversification holds key, says expert
Karnal, November 8
The platinum jubilee celebrations of the Sugarcane Breeding Institute, Regional Centre, Karnal, set up in 1932, started recently with an inaugural function. Dr Mangala Rai, secretary, Department of Agriculture Research and Education, and director-general, Indian Council of Agriculture Research, New Delhi, was the chief guest.
Solar lights fail to light up Rohtak
Rohtak, November 8
Nearly 100 solar lights installed between Chhotu Ram Chowk and Model Town here more than a year ago have remained nonfunctional. Most of the lights failed within the first few days of its installation.
Rs 50 cr to spruce up streets
Rohtak, November 8
Here is something for the residents of this town to cheer up this festive season. The state government has decided to spend nearly Rs 50 crore for the repair and renovation of the streets of the town.