MDU shifts distance education wing
Approvals delayed, staff inconvenienced
Rohtak, December 13
This is a classic case of putting the cart before the horse. The recent shifting of the Directorate of Distance Education (DDE) at Maharshi Dayanand University (MDU) here defies logic, apart from exposing the lackadaisical working style of the university system.
Talk of renewable energy has her charged up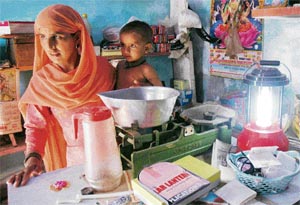 Chandigarh, December 13
For Sumita Misra, popularising this alternative source of energy has been a mission rather than just another assignment. The laurels bagged by the Haryana Renewable Energy Development Agency (HAREDA) at the national level vouch for her zeal which has furthered the cause of energy conservation.
THE LIGHT OF HER LIFE: A woman uses a solar lamp in a hamlet in the Morni hills. With the Haryana Renewable Energy Development Agency supplying subsidised solar equipment, such lamps come in handy in places where there is a power shortage, particularly in the rural areas. — Tribune photo by Manoj Mahajan

Inside Babudom
13 IAS officers set to retire next year
Chandigarh, December 13
If the proposed move to increase the retirement age of Central government employees and members of the all-India services does not come through soon, Haryana will be deprived of the services of at least 13 IAS officers of its cadre in 2008.
Citizens' Grievances
IT refund awaited
I fled my IT return for the financial year 1999-2000 on 28.6.2000 showing a refund of Rs 1,573 and for the year 2000-01 on 18.6.2001 showing refund of Rs 1,123. In spite of a number of reminders I have not received any communication from the Income Tax Department nor did I get the refund amount.
Amenities in a mess in HUDA sectors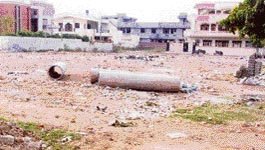 Ambala, December 13
Residents of various sectors of HUDA in Ambala City are facing a lot of hardships and their dream of residing in a well-developed residential colony seems to have been shattered due to official apathy.


A view of the poor sanitary conditions in front of Sector 7 of HUDA in Ambala City. — Photo by Pradeep Masih

Registration of society flats
'Owners will cease to get group housing benefits'


The recent notification by HUDA regarding the registration of apartments in the cooperative housing societies under the Haryana Apartment Ownership Act, 1983, by the payment of stamp duty has stirred a hornet's nest. The cooperative societies are up in arms against the decision. The two-month reprieve to the allottees by the Punjab and Haryana High Court would not bring about a permanent solution until all stakeholders sit together to evolve a consensus on the issue. B.K. Sanghi
Raina challenges farming theories, reaps dividend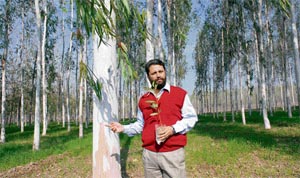 Salimpur (Shahabad), December 13
In the quaint hamlet of Salimpur, Ranjit Raina, a progressive farmer, is boldly treading a path taken by a few and in doing so challenged many set theories and perceptions about the farming culture prevalent in the region. Ranjit, an alumnus of Lawrence School and Panjab University, is an agro-forester. He is growing eucalyptus trees, not the normal variety but a revolutionary new strain called clonal eucalyptus.
Ranjit Raina, a progressive farmer, shows saplings of eucalyptus trees in Salimpur village. — Tribune photo by Ravi Kumar