Land records all set to enter computer age
Chandigarh, November 29
Land records in Haryana are set to enter the computer age with a little help from Raja Todar Mal, finance minister of Mughal emperor Akbar.
Magic: The dying art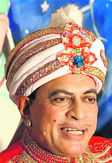 Sirsa, November 29
The concept of entertainment has changed these days. People like watching television shows, surfing Internet and enjoying other modes of entertainment. Therefore, magicians are struggling hard to keep this art alive and it has become difficult for them to run their shows. A famous magician, Samrat Shankar, told The Tribune that though they were inventing new tricks to catch people's attention but the government should intervene to preserve this ancient art of India. He was here to exhibit his skills in a show organised by him.
Cops get tips on English
Fatehabad, November 29
The police has to deal with crime and criminals on daily basis. In the course of their duty, they have to refer to the Indian Penal Code (IPC), Criminal Procedure Code (Cr PC) and many other local and special laws, most of which are written in English.
A ramshackle record room
Century-old revenue, judicial records in danger
Ambala, November 29
A century-old record room, which stores important revenue and judicial records of the three districts, including Panchkula, Ambala and Jagadhri, located at the court complex in Ambala City can collapse anytime. The PWD Department has also declared it unsafe.
Feigning indifference, Cong anxiously watches Rohtak rally
Chandigarh, November 29
Senior Congress leaders in Haryana may be feigning indifference to the December 2 Rohtak rally being organised by former Chief Minister Bhajan Lal and his son Kuldip Bishnoi, but in reality all eyes and ears are focused on the big event that is being planned for the past two years.
Child Labour
Labour dept tosses out report
Panipat, November 29
The top brass of the state labour department has disapproved the "unconvincing" survey report submitted to it after ascertaining the cases of child labour in Gurgaon and Faridabad districts.
Now, special camps with khula darbars
Chandigarh, November 29
Khula darbar by the deputy commissioner at Panchkula will not be confined merely to receipt and redressal of complaints. In fact, the darbar will come as a package deal coupled with a check-up camp and an awareness camp about various social welfare schemes initiated by the government.
NHAI to hold public hearing from today
Chandigarh, November 29
Having identified encroachments along the national highway stretch from the Panchkula-Zirakpur boundary to the Kalka-Parwanoo barrier, the district administration is going full steam on clearing the highway to facilitate the beginning of the four-laning process.
Under-rail bridge's construction delayed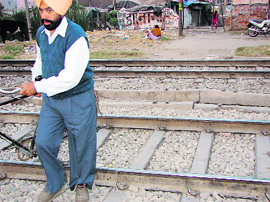 Ambala, November 29
The construction of an under-rail bridge on the Ambala-Ludhiana section near Aggarsain Chowk at Ambala city has not be started so far whereas the state government has already deposited Rs 1.72 crore with the Ambala railway division around 20 months back for its construction.


A cyclist crosses the railway lines in Ambala where an under-rail bridge has to be constructed. — A Tribune photograph

Readying women to take on the world
Islamnagar (Karnal), November 29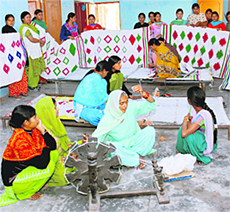 Women empowerment has taken off in Islamnagar village, which is located in the interior of Karnal district. Girls, who would have been otherwise consigned to their homes waiting to be married off, are in the process of making something out of their lives and gaining in confidence to take on the world. Under the guidance of the Nehru Yuva Kender (NYK), Karnal, a centre was set up in the village exclusively for rural girls, Nari Yuva Kender, about four years back to teach them carpet making, beautician courses, fruit preservation and using a charkha.
Women make durries at Nari Yuva Kender in Islamnagar village in Karnal. — Tribune photo by Ravi Kumar

Traffic violators in Ambala face tough action
Ambala, November 29
In view of the rising number of traffic violations, the district administration has developed a synchronised strategy for taking stringent action against the violators here.
Police struggles to catch pimps
Yamunanagar, November 29
The police is finding it tough to keep a tab on the activities of those involved in flesh trade as pimps have changed their way of functioning.
Hybrid chillies flavour of Sonepat farmers
Sonepat, November 29
After making progress in the areas of crop diversification like growing of mushrooms, adoption of floriculture and organic farming, the district has been chosen for the cropping of hybrid varieties of chilli under a scheme sponsored by the National Horticulture Mission (NHM).
Jhajjar MC to light up streets
Jhajjar, November 29
The dusky nights of the town are set to strike a gleaming look. The Municipal Committee (MC) of Jhajjar has woken up to the need of lighting up the streets at night. It has decided to upgrade its 34-year-old street lighting, which is in a state of disrepair.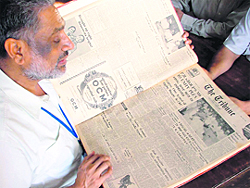 College's lasting love for The Tribune
Yamunanagar, November 29
Mukand Lal National College has maintained a library, where it has a collection of all copies of The Tribune since November 1, 1966, the day Haryana was made a separate state.


Mukand Lal National College, Yamunanagar, has maintained a record of all copies of The Tribune since November 1, 1966. — Tribune photo by Nishikant Dwivedi

Inside Babudom
Officers' rehabilitation process starts
Chandigarh, November 29
Finally, their wait is over. The process of rehabilitation of officers from among the bureaucracy, holding important portfolios in previous regimes but sidelined after the beginning of the Congress rule in the state, has begun.
Youth festival for technical institutions from Dec 1
Chandigarh, November 29
Ganpati Knowledge Temple, Bilaspur, in Yamunanagar district will host "Youth Festival-2007" for technical and professional institutions affiliated with Kurukshetra University from December 1 to 3.
Citizen's Grievance
Power connection, when?
A new three-phase electricity connection applied by M\s Unitek Industries, 55, Industrial Area, Ambala Cantt, is pending with SDO Babyal, Ambala, and has not been expedited despite repeated reminders and visits to SE and XEN, Ambala. The security was deposited on March 31, test report was submitted on May 22 and SCO was issued on June 25.
2 more units to celebrate 'gaurav diwas'
Faridabad, November 29
Two more organisations, the South Indian Congress and the Suryouday Purvanchal Sangathan, have decided to join hands with the nine social and socio-political organisations to celebrate December 9, the birthday of Congress chief Sonia Gandhi as "gaurav diwas".
Anganwadis to get facelift
Bhiwani, November 29
Being neglected for the past several years, the anganwadi centres of 16 villages, which were declared as "model villages" recently in the district, will get a facelift. In these villages, roads, streets, chupals etc. will also be given a new shape.