HUDA officers rapped for sloppy work
Chandigarh, December 6
Competence takes a back seat when it comes to appointing officers for the much sought after jobs of HUDA administrators in the National Capital Region (NCR).
Heritage Festival begins today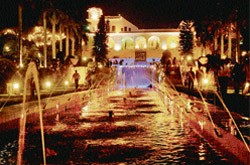 Chandigarh, December 6
A kaleidoscope of colour and revelry, a dash of vigour and enthusiasm and a touch of royalty to every visitor, Pinjore's second Heritage Festival which begins at the Yadavindra Garders amidst the beating of the dhols and the sound of conch shells gets underway tomorrow evening.
Illuminated Pinjore Gardens all set for the Heritage Festival. A Tribune photograph
'Hadwara' bane of Sonepat residents
Sonepat, December 6
A hadwara (ground used to dump carcasses) in front of Shani Temple here has become a bane of residents of the surrounding localities in general and of devotees coming to the temple in particular because of the emission of foul smell.
Humane police force in the making
Karnal, December 6
At the Haryana Police Academy (HTA), Madhuban, a humane police force is in the making - one that is academically inclined, sensitive to public grievances and alive to its social responsibilities.
Recruits at the Haryana Police Academy in Madhuban teach slum children as part of their curriculum and (right) recruits take part in the monthly shramdan programme.
Tribune photos: Ravi Kumar
Inside Babudom
KK stands for 'Kushal Kumar'
Chandigarh, December 6
When K.K Khandelwal was appointed additional principal secretary to the Chief Minister a few months ago, he was asked to look after the implementation of various announcements made by Bhupinder Singh Hooda from time to time.


MDU bids farewell to Dhankar
Rohtak, December 6
Finally, R.S. Dhankar laid down his job as Maharshi Dayanand University (MDU) vice-chancellor on December 3. Though Dhankar completed his term on September 13, he had been asked by the MDU chancellor, Dr A.R. Kidwai, to continue in the office until an alternate arrangement was made. As Dhankar continued as a caretaker vice-chancellor after the completion of his term, the MDU campus remained rife with speculations on who would succeed him.


Prof R.S. Dhankar
Polio fails to handicap her studies
Fatehabad, December 6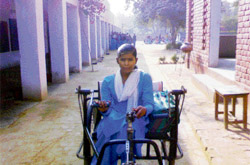 In a society where 40 out of every 100 females are illiterate, Poonam, a physically challenged girl from Dhangar village of this district, is braving all handicaps to get her the best of education.




Poonam, a physically challenged girl, goes to school on her tricycle in Dhangar village in Fatehabad. Photo: Sushil Manav
Scholarships for war widows
Panipat, December 6
Panipat Foundation, a one-year-old non-profit organisation, floated by a young IAS officer of Haryana cadre, is all set to institute a special scholarship programme for war widows.
Citizens' Grievances
Non-receipt of interest
I have not received the cheque for Rs 750 as interest/dividend for the period October 2006 to March 2007 in respect of HUDCO Infrastructure Bonds Series I (certificate no. 7914, distinctive nos. 241134 to 241143). I have written several letters for the same but got no reply. I request the authorities concerned to look into the matter and release the payment.
Deficient services in Mewat
Transport is just another of the lot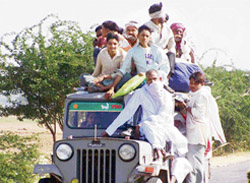 Mewat, December 6
Rekha commences her day by walking more than 5 km, not on the advise of her doctor, but to reach her place of work at Nuh in Mewat district, as no mode of transportation is available in her area or nearby.



CAN'T GET ENOUGH: An overloaded maxi cab in Mewat. The local population is left at the mercy of private transporters due to poor services by the state roadways. Photo: Sanjay Chauhan
Haryanavi delicacies
Rewri — the pride of Rohtak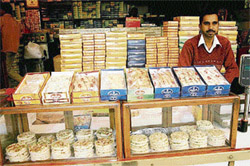 Rohtak, December 6
A mere mention of rewri, a mouth-watering delicacy of the region, reminds one of the historic town of Rohtak. This winter-special sweet made mainly in Rohtak is popular in many states of the country and even abroad. While the period between "Janmashtami" and "Basant Panchami" is considered as the peak rewri season, certain festivals like "Lohri" cannot be imagined without it in this part of the country.
Draft lists of BPL families prepared
Chandigarh, December 6
The district-wise draft lists of families living below the poverty line (BPL), based on door-to-door census conducted in all villages by the Haryana Ex-services League, have been finalised for placing them before each gram sabha in the state.
Manas Drain turns into nullah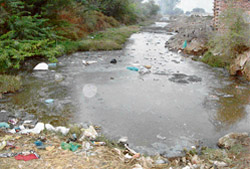 Kaithal, December 6
Manas Drain, which was constructed on the northern side of the town to save it from floods, has been converted into a dirty nullah.






The foul-smelling Manas Drain brings misery to residents of Kaithal town. Photo: Satish Seth
'Save Stray Cow' needs a saviour
Fatehabad, December 6
"Save Stray Cow", a project initiated by some social activists with the help of authorities here, has run into rough weather due to lukewarm response from social organisations and the alleged indifferent attitude of the municipal authorities.
Rewari villages, too, not well-connected
Rewari, December 6
Thousands of residents of over 50 out of 410 villages of the district have been facing hardships due to the non-availability of bus service in their villages.
Collecting old weapons his passion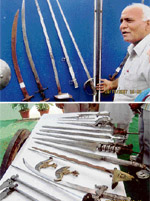 Jind, December 6
Arms and weapons have always charmed the humanity, be it a matter of safety or a mark of status and rank of a person in a defence set up. The weapons have also been a record of history, depicting the brave side of soldiers and power of any regime. If an automatic rifle like AK 47 could catch the fancy of youngsters, old and dilapidated weapons like swords could also make a person addicted to its charm.





Dev Raj Sirohiwal shows his collection of weapons. Photo by writer
Ambala wakes up to herbal parks
Ambala, December 6
The district, which is generally known for science apparatus and mixers, will now be acknowledged for its herbal parks.
International venue in blink of an eye
Panchkula, December 6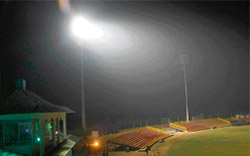 Thanks to the Essel group-launched Indian Cricket League in November end, Tau Devi Lal stadium in Panchkula can be dubbed as an international cricket venue, that too in the blink of an eye. Barely two months ago, the stadium resembled any other cricket venue situated in some remote district lying in disuse. Not a Test match or an ODI, the venue was not deemed fit to host even a first class game like Ranji Trophy match.
A view of Tau Devi Lal Stadium, Panchkula. A Tribune photograph
Registration of society flats
Owners say move defies group housing logic
Chandigarh, December 6
HUDA's decision to secure registry of individual flats by society owners has stirred a hornet's nest in the state and among residents of the housing societies.
Bishnois face daunting task ahead
Hisar, December 6
With Rohtak's Janhit Rally behind them and a new political outfit Haryana Janhit Congress (BL) in front of them, Kuldeep Bishnoi and Bhajan Lal find themselves at the beginning of a long nerve-wrecking political journey ahead.
'Rohtak ki chaudhar' remains intact
Rohtak, December 6
The historic town of Rohtak has had a unique identity of being the political capital of Haryana. Be it the reign of legendary farmer leader Devi Lal or tough taskmaster Bansi Lal, this town has always remained a hot spot of hectic political activity.