Housing research institute to come up in Gurgaon
Gurgaon, December 27
The Haryana Housing Board is planning to set up a training and research institute of housing and human settlement at Gurgaon. The institute would be set up on the pattern of Human Settlement Management Institute, New Delhi.
Senior citizens spice up their lives with computers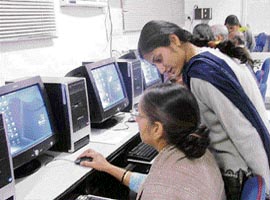 Yamunanagar, December 27
Few days ago, Maj Gulshan Lal Khanna (retd) (72) and his wife Meena Khanna (65) became computer literate. Like them 28 other men and women too picked up basic computer tips. Now, all these senior citizens from the twin towns of Jagadhri and Yamunanagar can email, chat and surf the Internet.


A senior citizen learns computer skills at the DAV College for Girls in Yamunanagar. —
Photo by writer

Campaign against foeticide
Bhiwani admn widens net to nab culprits
Chandigarh, December 27
The Bhiwani district administration's campaign against pre-natal sex determination is no less than a well-mounted intelligence operation. It has been able to set up a network of over 400 informers to keep a watch on those involved in the crime against the girl child.
14 yrs on, crores spent, auditorium far from ready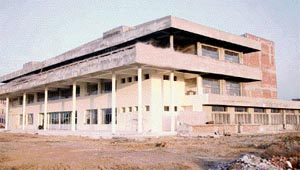 Rohtak, December 27
This can be termed as a hallmark of sloppy functioning. The authorities of Maharshi Dayanand University (MDU) here started constructing an auditorium in 1993 and have spent crores of rupees on it, yet the work has not been completed.

HALL OF SHAME: The incomplete building of the MDU auditorium, construction on which has been going on for the past 14 years. — Photo by Manoj Dhaka

RTI rap for official
Fined Rs 2,000 for delaying info
Jhajjar, December 27
The State Information Commission (SIC) has held a public information officer (PIO)-cum-senior medical officer of Bahadurgarh community health centre guilty of causing delay in providing information to an applicant under the Right to Information (RTI) Act. The PIO has been fined Rs 2,000 and also issued a warning against making such lapses in future.
Ancient village awaits overall development
Bhiwani, December 27
Kaliyana village under Charkhi Dadri subdivision in Bhiwani district is full of hills and greenery and endangered peacocks can attract anyone visiting this village.
NRI sets up 50-bed hospital
Chandigarh, December 27
NRIs have been known for their philanthropic acts in this region. The Sukhdev Raj Soin Hospital Trust at Banchari village in Hodal tehsil of Faridabad district is one such example where an NRI has set up a 50-bedded hospital in memory of his father with the objective of providing medical care to villagers of nearly 100 villages in the districts of Faridabad and Mewat.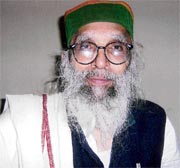 An ambassador of Indian fine arts
Chandigarh, December 27
Wisdom, rationality and intellectualism are the assets of great artists who approach their vocation like a calling and Gurgaon-based Dr Roop Chand falls in this rare category. A painter, sculptor, scholar, writer, poet and above all a fine human being Roop Chand, whose contribution in various fields of fine arts entitles him to be honoured as a complete artist and an ambassador of Indian fine arts heritage.
Dr Roop Chand

Inside Babudom
2008 to bring good news for '81 batch officers
Chandigarh, December 27
The coming year, which is barely five days away, is likely to bring good news for the Haryana cadre IAS officers of 1981 batch.
Gudha villagers make life worth living
Sonepat, December 27
Gudha, a small village with a population of 1,156, has set an example with its management of cleanliness and sanitation. In the village, which is situated outside the boundary limits of Gohana municipality, all 237 houses have a provision of toilet.
'Cow slaughter on rise in Mewat'
Mewat, December 27
The recent incident in which as many as 80 cows were reported to be slaughtered in Punhana of Mewat district has exposed the chinks in the steps taken by the state government for curbing the menace in the state.
CITIZEN'S GRIEVANCE
Service, BSNL style
I got my BSNL telephone and broadband connections disconnected on 27.7.06. Even then, BSNL is regularly sending the bills at my address without justifying the reason. In one such bill dated 05.12.07 while the units consumed are nil, the bill amounts to Rs 7,370. I have written several times to the BSNL authorities, but to no avail. I fail to understand when I have no telephone and broadband line at my home, why the company is sending me the bills?