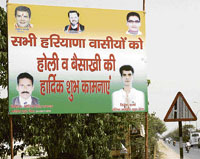 Banners stand tall in Panipat
Panipat, March 20
Despite highlighting the issue of political hoardings along the national highways in Haryana several times in these columns, it seems that nobody bothers to maintain beautification along the highways.


A political hoarding installed along National Highway No. 1 in Panipat. — Tribune photo by Ravi Kumar

First rural haat to come up in Jhajjar
Jhajjar, March 20
The rich tradition, folk art and delicious cuisine of Haryana will soon find a market place. The first rural haat (village market) of the state is being developed at Sankhol village of Jhajjar district along the National Highway no. 10.
Hotels under Factories Act
Owners term move as illogical
Chandigarh, March 20
The move the union government to bring hotels under the Factories Act, 1948, has raised heckles in the hotel industry, which feels that the step would be retrograde and restrictive for the trade, particularly when the nation is preparing to host the Commonwealth Games.

Deswal focuses on 'creative liberty'
Gurgaon, March 20
It is the responsibility of an artist and literary writer not to misuse his art or writing in the name of liberty, says Rajbir Deswal, a police official and an eminent writer. Rajbir Deswal
Villagers cautioned against genetic drain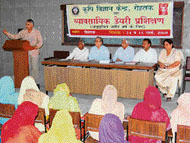 Rohtak, March 20
With a view to encouraging members of the Schedule Castes to adopt a comprehensive farming system approach to become self-reliant, the local chapter of the Krishi Vigyan Kendra (KVK) organised a special training programme on dairy farming here recently.


Women get tips on dairy farming at a camp organised by the Krishi Vigyan Kendra in Rohtak. — A Tribune photograph

Assembly Bypoll
Cong unlikely to benefit
Hisar, March 20
The expulsion of two Congress legislators, Dharampal Singh Malik and Rakesh Kamboj, and the subsequent resignation of Kuldeep Bishnoi from the Lok Sabha is unlikely to benefit the Congress.
Honour for NDRI scientist
Chandigarh, March 20
Dr R.S. Gandhi, principal scientist, Dairy Cattle Breeding Division, NDRI, Karnal, has been awarded Dr D. Sundrasen Award for pioneering research in the field of animal breeding during the golden jubilee celebrations of Dairy Science College, NDRI, a deemed university.
Old age home project hangs fire
Jagadhri, March 20
HUDA had earmarked one acre of land for the construction of an old age home in Sector 17 here about six years ago, but there is nothing that suggests that the construction will start soon.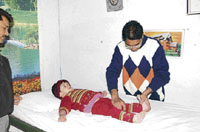 Serving special kids his motto
Fatehabad, March 20
Dr Davinder Singh, a Fatehabad-based physiotherapist, has been working for the cause of mentally and physically challenged children with missionary zeal for the past three years.

Dr Davinder Singh examines a child at Fatehabad.
— Photo by writer

Inside Babudom
Officers say no to finance dept
Chandigarh, March 20
The alacrity with which Haryana IAS officers get themselves shifted out of any posting in the finance department may appall their counterparts from some other states where getting an assignment with the finance department may not be necessarily considered a poor posting.
Over Rs 16 cr for Sirsa's development
Sirsa, March 20
A sum of Rs 16.42 crore has been recently sanctioned for this district for various developmental projects under the backward region grant funds. The money will be released by the central government before March 31.
Indifferent Weather
Decline in wheat output likely
Sonepat, March 20
After registering an increase in per hectare production of wheat in the past four years, the farmers in the district are estimated to witness a loss in the production up to three quintals per hectare due to indifferent weather conditions during this winter season.
Ambala moves ahead on education front
Ambala, March 20
The education scenario in Ambala is undergoing a sea change with the historical town emerging as a premier centre of academic as well as professional education.