Young at 96, oldest at Jagadhri Bar
Yamunanagar, March 13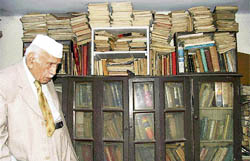 A 96-year-old advocate is practising at the District Bar Association (formerly Jagadhri Bar Association), which celebrated its centenary last week. He is presumably the oldest advocate practising in a court located in the state. The bar, which was founded in 1907 with five members, now has more than 750 members.
Brajraj Kaushik (96) is one of the oldest practising lawyers in the state. A Tribune photograph
Forget e-mail, Mewat even lacks postal services


Mewat, March 13
Satpal, a student of class X, residing in Raniyala village of the district, got panicky when he did not receive his roll number slip with just two days left for the commencement of his board examinations. He and his father hired a taxi by paying Rs 2,000 and went to the Haryana School Education Board's office in Bhiwani to get a duplicate slip issued. Satpal was informed that his roll number slip had been dispatched a fortnight ago at the postal address mentioned in his form.
Fatal accidents
Tipsy drivers infor a rough ride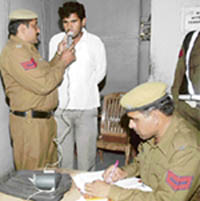 Panipat, March 13
Following the startling official revelations that out of the total causalities in road accidents in the state, nearly 80 per cent of them belonged to the crucial age group of 16-45 years, the state highways police has proposed to initiate strict legal proceedings against the drunken drivers on the NH-1. In a bid to tighten noose around these "risky drivers", the highway police has written to the state authorities to take strict view of the scenario while maintaining that they contribute considerably in fatal road accidents.

A policeman checks a motorist with an alcohol sensor at the toll plaza in Karnal. Tribune photo: Ravi Kumar
Wedding revelries spell doom for residents
Rewari, March 13
Thanks to the uninhibited and boisterous revelries of wedding parties, almost all 30-odd banquet halls of the town have virtually become a scourge of thousands of hapless citizens as well the student community. The on-going peak season of marriages has added to their woes.
College adopts novel way to help poor
Yamunanagar, March 13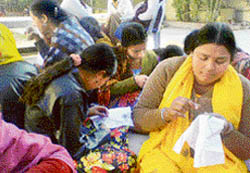 As many as 50 rural girls from the weaker sections of the society were adopted by DAV Girls College, Yamunanagar, and trained in cosmetology, cooking, tailoring and embroidery, and computers. Now, after three months stay in a hostel of the college, all these girls have become experts in their respective fields and they can now start their own venture or get employed.
Village girls attend classes in embroidery at DAV Girls College, Yamunanagar. A Tribune photograph
Inside Babudom
Irregular HCS appointments
Govt dithers on termination
Chandigarh, March 13
Congressmen in Haryana are these days busy highlighting the alleged irregularities committed by the Haryana Public Service Commission (HPSC) during the Chautala regime. But when it comes to setting the wrongs right, their government dithers, and dithers.
Citizens' Grievances
Paying dearly for freebies
I was offered a free Internet connection of Airtel on the purchase of an HCL computer. I deposited Rs 1,500 as security (refundable on surrendering the connection). However, the company started charging from the very first month by levying rent on the connection (no. 0184-4036426).
Industrial area in bad shape
Retirement dues not paid
A philanthropic genius
Garhi Balb (Rohtak), March 13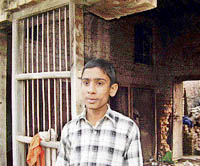 Most of us would be confident of knowing tables till 20 or 25. Some having a sound mathematical acumen may remember the tables till 50, while those of us who dreaded the subject might know only till 10 or 15. Meet Surender, a class IX student of Garhi Balb village in Rohtak district, who knows tables till - hold your breath - 11,000. Ask him any from between and he'll come up with the correct answer in a jiffy. Many a time, he is even faster than calculator. And on knowing the circumstances in which he lives and studies, one feels likes saluting the laborious lad.
Drive against social evils
Reaching masses through radio
Jind, March 13
There may be a sea change in the means of communication over the years, but certain traditional mediums like radio have not lost its relevance. Though a radio or a transistor set is not very commonly visible, this medium has, however, seems to have made inroads into our daily lives with the entry of FM stations and its availability on the mobile phone sets.
Rival groups agree to end bloody feud
Sonepat, March 13
The long efforts of Dahiya khap panchayat to strike a compromise between two rival groups of Jharonth village paid dividends when members of one group participated in the marriage of two daughters of a member of rival group in the village recently. Both groups jointly attended the ceremonies in a homely atmosphere.