Separate gurdwara panel
Itís now or never, says Nalvi


Chandigarh, March 6
Protagonists of a separate gurdwara prabhandhak committee for Haryana are getting disappointed over the dilly-dallying tactics adopted by the Congress government on the issue. Though the party had promised in its election manifesto to consider sympathetically the demand for a separate committee once it came to power, it developed cold feet on the issue, following opposition by the Amritsar-based SGPC and the Akali Dal.
Didar Singh Nalvi, general secretary, Haryana Sikh Gurdwara Parbandhak Committee
Yamunanagar tops in vasectomy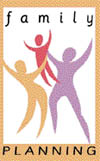 Yamunanagar, March 6
The local branch of the Family Planning Association (FPA) of India has created a record of sorts by performing 561 non-scalpel vasectomies (NSVs) in 2006 alone. The branch has so far motivated 912 men to go in for NSVs. In 2006, the local branch topped in NSVs with 561 cases, followed by Hyderabad (89) and Pune (51) branches. It is to be mentioned here that no NSV was performed in Panchkula, Solapur, North Kanara, Jabalpur, Kanpur, Dindigul, Dharwada, Chennai, Bijapur, Bidar, Bangalore and Ahmedabad branches of the FPA.
History backs HC bench in Rewari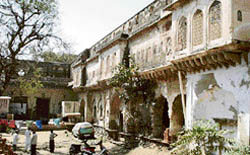 Rewari, March 6
The demand for the establishment of a permanent Bench of the Punjab and Haryana High Court in Rewari, which is popularly known as London of the Ahirwal region, has been gaining momentum. Simultaneously, this is something significant that certain existing determinants, too, tend to lend credence to the validity and feasibility of the demand.
Mufti ki Haveli (mansion of Islamic jurists) in Mohalla Muftiwara in Rewari. Photo by writer
Special occasion for special kids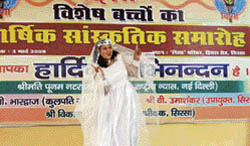 Sirsa, March 6
It was a cultural programme with a difference where special children, suffering from autism, cerebral palsy, mental retardation and multiple disabilities, performed before an admiring audience.

A special child presents an item during the annual function of Disha, an institute for special children, in Sirsa. Photo by writer
Strict norms to check vector-borne diseases
Panchkula, March 6
The state government is in the process of amending certain municipal byelaws so as to make them more stringent on the pattern of New Delhi to check the spread of vector-borne diseases.
Inside Babudom
Central jobs beckon IPS officers
Chandigarh, March 6
Top cops, including two very senior officers of Haryana, have shown interest in leaving the state and going on central deputation. G.S. Malhi, commandant-general, Home Guards, and S.C. Sinha, director, State Vigilance Bureau, are the two DGP-rank officers who are among 12 IPS officers interested in going on central deputation.
Ambala without power, water
Anticipated posts of HCS
Synthetic milk products
More funds sought for sainik schools
Rewari, March 6
Hailing a hiked allocation of Rs 105,600 crore for defence, the Rezang La Shaurya Samiti (RLSS) has sent a communication to union finance minister P. Chidambaram seeking an enhanced allocation of at least Rs 1,000 crore for the 22 sainik schools of the country.
Loan waiver dates back to 1980s
Hisar, March 6
The INLD has failed to politically capitalise on the Rs 60,000 crore farm loan waiver announced by the centre despite the fact that it was late Devi Lal who first raised the demand in the late eighties while the Congress had vehemently opposed him on this issue.
Remains of Indus age found in Jhajjar
Jhajjar, March 6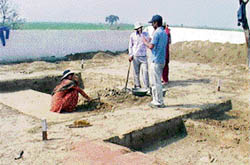 Traces of about thousand-year-old human civilisation have been found at a site near Badli village in the district during excavation by a team of archaeologists from Maharshi Dayanand University, Rohtak, and Delhi University.




A team of archaeologists excavates a site near Badli village in Jhajjar. Photo: Manoj Dhaka
Ambala MC loses battle against stray cattle
Ambala, March 6
The Ambala Sadar municipal council has miserably failed to check the menace of stray cattle in the cantonment area, which is posing a threat to the lives of local residents. More than 24 persons most of them elderly and children got injured in the accidents caused due to stray cattle during the past few months.
RTI Act simplified
Gurgaon, March 6
Two years ago, the country received the gift of a right to information law. The right was in fact granted about six decades ago with the Constitution, but remained largely on paper. Dr Abhe Singh Yadav, additional deputy commissioner, Gurgaon, has tried to simplify the law for the common man by writing a book titled "Right to Information Act 2005 - An Analysis". The book is available in both English as well as Hindi languages. While talking to the Tribune, Yadav, a student of law, revealed that he found it very strange that even though the RTI Act had come into force, government machinery and citizens were not utilising it properly.


Dr Abhe Singh Yadav
Samiti to form society on Indian warriors
Kurukshetra, March 6
Founder members of the Rashtriya Yodha Samarak Samiti at a meeting held under the chairmanship of Panna Lal, an industrialist, here decided to form a society to perpetuate the achievements of medieval period Indian warriors like King Prithvi Raj Chauhan, Samrat Hem Chander Vikramaditya, alias Hemu Vikramaditya, and Sadashiv Rao Bhau, who fought against foreign invaders in the battles of Panipat and Tarawari.