Getting innovators their due
Rohtak, February 14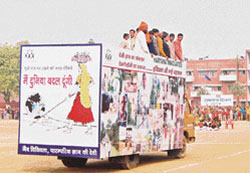 Sudda Khan, an illiterate ironsmith of Mandola village in Mahendragarh district, developed a working model in which he operates 10 water-sprinkler nozzles with the help of a camel. This model is a big energy-saver, as even the electric-powered engine normally used for the purpose can run seven nozzles.



The newly christened vehicle, SAKSHAM II, of the Srishti Gyan Kendra.
Roundabouts turn Ambala City ugly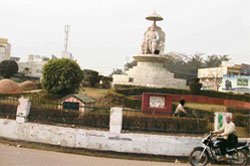 Ambala, February 14
The district administration has announced a number of times to beautify the roundabouts of Ambala City, but nothing has been done so far. Except one, most of the roundabouts are poorly maintained that gives an ugly look to the city.




A view of the Aggarsain Chowk in Ambala City
Starved, monkeys desert Kalesar forests


Yamunanagar, February 14
The population of monkeys has almost reduced to naught in Kalesar forests spread over 12,000 acres having common boundaries with Himachal Pradesh, Uttarakhand and Uttar Pradesh. Due to the lack of fruit-bearing trees in the forests, the monkeys have come out on roads and stationed themselves on trees alongside in the search of food and water where they are dying of malnutrition and in road accidents.
Rohtak no. 1 exporter of 'black gold'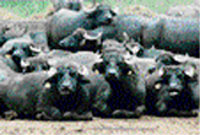 Chandigarh, February 14
It is Rohtak's claim to fame, but for once, it has nothing to do with being Chief Minister Bhupinder Singh Hooda's constituency. The district along with Jhajjar has earned the distinction of being the biggest exporter of "black gold" in the state and the country. As many as 70,000 Murrah buffaloes, also referred to as "black gold", have found their way into homes in Andhra Pradesh straight from the villages of Rohtak.
Philanthropic way to win over rural electorate
Chandigarh, February 14
Congress MP from Kurukshetra Naveen Jindal has floated a voluntary organisation in the name of his late father Om Prakash Jindal, through which he looks after the rural electorate of his constituency, which was once represented by his father.
State Cong takes party law for granted
Chandigarh, February 14
The constitution of the Congress party has gone for a toss over the Bhajan Lal affair. Even after one month of the suspension of Bhajan Lal, Dharampal Malik and Rakesh Kamboj from the party, none of the three have been officially intimated by the AICC. Nor any explanation has been sought from them for initiating further action.
Inside Babudom
Reshuffle: 'Tainted' officers not affected
Chandigarh, February 14
Those who had been hoping that the state government would soon remove those HCS officers whose names figure in the PIL filed by Congress MLA from Palwal Karan Singh Dalal challenging their selection before the Punjab and Haryana High Court, from key posts, have been left disappointed by the reshuffle of officers last evening.
Citizens' Grievances
Demand for bus service
The residents of Shahabad require direct bus service from the town to Hardwar. Shahabad is situated on the GT Road and commuters from surrounding 50 villages come at local bus stand to board buses for different destinations. A sufficient number of passengers go to Hardwar daily but no direct bus facility is available to them. For this the commuters have to go to Ambala or Pipli and they have to face a lot of incontinences.


Poet of the masses
Famous as the Punjabi poet of the masses, Dr Rajinder Singh Bhatti has recently been awarded with the Bhai Santokh Singh Award 2007, which carries a cash prize of Rs 1 lakh. "It is indeed elevating to see my literary contribution to Punjabi literature duly recognised with the highest Punjabi literary award," says an elated Dr Bhatti, on being selected for the coveted award. Sharing his views with The Tribune, humble and modest Bhatti (50), a professor at Kurukshetra University, maintains that there has been a burst of activity in Punjabi writing in Haryana with substantial publications


Dr Rajinder Singh Bhatt
Streetlights that save energy, earn money!
Panchkula, February 14
The city will switch over to energy saving bulbs for its street and road lights within a couple of weeks. The Haryana Renewable Energy Development Agency has decided to install the energy saving bulbs in two cities i.e. Panchkula and Hisar as pilot a project.

Bhattis' MAD comes calling
Chandigarh, February 14
Haryanavis beware! Jaspal Bhatti is coming to spread his "MADness" in the state. Mind it, there is no vaccination yet to protect you from Bhatti's "MADness". His wife Savita is the CEO of MAD (Media and Digital Arts), a film school set up by the Bhattis to train the youths for employment in the entertainment industry.
A comb that oils hair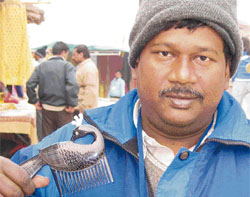 Chandigarh, February 14
Heard of a comb having a provision of storing 3 g of oil, which drips out slowly when one combs the hair. Such a comb, made of goat's horn is on display at the ongoing 22nd Surajkund Crafts Mela at Faridabad. The craftsperson who skillfully crafts such a combs, Basudan Baag, hails from East Midnapore in West Bengal. He has been awarded a national award last year as a recognition of his skill.
Basudan Baag at the Surajkund Crafts Mela.
Send in write-ups, not exceeding 200 words, to Haryana Plus, The Tribune, Sector 29, Chandigarh.
E-mail: adalat@tribunemail.com