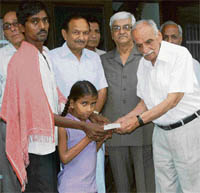 All for a cause
Karnal, May 22
It was a goodwill gesture by a group of local philanthropists that 12-year-old Jamuna could now hope to lead a normal life. Thanks to the initiative taken by the Karnal-based D.R. Vasudeva Charitable Trust that the underprivileged family was recently was provided a sum of Rs 90,000 for her treatment at PGI, Rohtak.

NOBLE DEED: Members of the DR Vasudeva Charitable Trust present a demand draft of Rs 90,000 to Jamuna for her treatment. — Photo by Ravi Kumar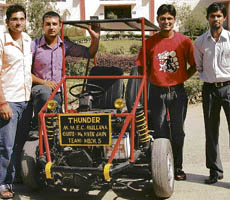 Designing dream vehicle
Ambala, May 22
As many as six students of Maulana Engineering College have proved where there is a will, there is a way. Final year mechanical engineering students of the college, Anjum Jain, Anubhav Kochhar, Moninder Singh, Chetan Dhiman and Nikhil Dhawan have done their institute proud by assembling a Sports Utility Vehicle (SUV) recently.

FOUR MUSKETEERS: The achievers stand tall with their trophy vehicle. — Photo by Kamal Sachar

Inside Babudom
HS post divides bureaucracy
Chandigarh, May 22
It is a common saying if you want to know all unpleasant facts about your family, contest elections. These days, the Haryana bureaucracy is saying if an officer wants to relive all his past controversies, he should get his name sponsored for the post of home secretary of the union territory of Chandigarh. In both cases, opponents would dig out facts.

Dr Mittal takes over as VC
Chandigarh, May 22
At last, Bhagat Phool Singh Mahila Vishwavidyalaya, Khanpur Kalan, in Sonepat district got its first regular vice-chancellor (VC) when Dr Pankaj Mittal took over as the VC of the state's first and only all-woman university three days ago. So far the university was being run by woman bureaucrats, to be exact two, Promila Issar and Anuradha Gupta. Dr Pankaj Mittal
From maths to civil service
Chandigarh, May 22
An Ambala boy, Rahul Jain, left a promising career of being an international mathematician to successfully compete in the Indian civil service examination, the results of which were out early this week. Among the boys belonging to the Jain community, Rahul has topped the list.