Catch 22 situation for Dura Ram
Fatehabad, May 15
Adampur byelection has put Dura Ram, a parliamentary secretary in the state government and MLA from Fatehabad assembly constituency, in a quandary.
Sunny side up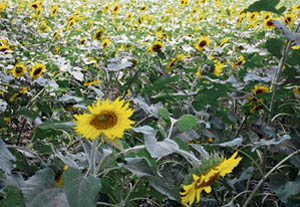 Yamunanagar, May 15
Sunflower plantation is fast catching up with the farmers of the district. Majestic yellow flowers could be seen blooming all over the district. The crop area of sunflower in Yamunanagar has tripled this season as compared to the last year. Farmers, who planted sunflower, are happy as their blooming crop is now ready to be harvested. They are hoping of getting Rs 2,000 per quintal.

Crop area of sunflower in Yamunanagar has crossed 4,500 hectare as against 1,500 hectare last year. — A Tribune photo
Inside Babudom
IAS-IPS tensions come to fore
Chandigarh, May 15
The IPS officers of the state have put up a united front as show of strength against the injustice meted out to them by the sixth pay commission.
MDU: Loopholes in examination system
Chandigarh, May 15
Master of Business Administration (MBA) students of the institutions affiliated to Maharshi Dayanand University (MDU), Rohtak, are facing a number of problems, particularly because of unduly late declaration of results.
Together forever
Sonepat, May 15
Till death do us part, this cliche was proven wrong by a couple, who decided to retire from the world on the same day. 70-year old Dharam Singh and his 65-year old wife Bharpai, created history of sorts on May 5 when they were cremated on the same pyre.