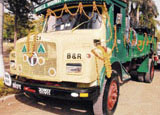 Road damage? Mobile help is on the way
Chandigarh, April 17
The manifold increase in the density of traffic and
the need for quick patchwork has prompted the
Haryana PWD (B&R) department to fabricate a
mobile highway maintenance van that carries
men, material and equipment for this job.
Adampur Bypoll
Cong in fix over candidate against Bhajan Lal
Hisar, April 17
Political rhetoric notwithstanding, the Congress is certain to find it hard to choose a candidate to seriously pose a challenge to former Chief Minister Bhajan Lal in the forthcoming byelection from Adampur constituency of this district.
Evening college for women in Yamunanagar
Yamunanagar, April 17
DAV Girls College here will start an evening college for women. There are several other colleges affiliated with Kurukshetra University that have also applied for starting evening classes.
Youths get training in flood relief
Kurukshetra, April 17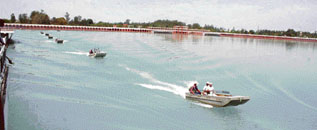 A six-day flood relief training camp was organised here recently. The state revenue and disaster management finance commissioner and principal secretary, K.S. Bhoria said the main objective of organising these training camps was to ensure that maximum people could be saved during floods.
Participants learn boating in the holy Brahamsarovar in Kurukshetra. — Photo by writer
Inside Babudom
Home secy's post: New panel stuns many
Chandigarh, April 17
The panel of IAS officers sent by the Haryana government to the union territory of Chandigarh for filling the post of home secretary has become a talking point for the state's bureaucracy.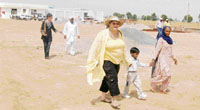 Turning vision into reality
Fatehabad, April 17
When the first child walked into Gilly Mundy Community School in Leherian village in this district early this month, it is like translation into reality the vision of late Gurpreet Singh Mundy, a Leamington-born anti-racism campaigner.

Margaret Margrave, a trustee of the Buwan Kothi International Trust, takes a child to the newly set up Gilly Mundy Community School in Leherian in Fatehabad. — Photo by writer
Shifting of dairies
Yamunanagar, Jagadhri MCs to act tough
Yamunanagar, April 17
The process started during the INLD government in 2004 to make the twin towns of Jagadhri and Yamunanagar neat and clean by shifting dairies out of these towns is yet to be completed.
Now, grow mushrooms round the year
Sonepat, April 17
Now, mushroom growers can have round the year cultivation of the crop after the introduction of its new variety Oyster (dhingri).

Doc who administers overdose of literature
Chandigarh, April 17
The Rohtak-based medical practitioner, Dr S.S. Moudgil, aka Shyam Sakha Shyam, is endowed with a vision, passion and resolute resolve to further enrich the family tradition of literary love.
Dr Shyam Sakha Shyam
Free books for 1.15 lakh schoolchildren
Kaithal, April 17
The Sarv Shiksha Abhiyan (SSA) already in force in this district will be given a new direction and every effort will be made to ensure that no child up to 14 years of age is left out without education.
Citizens' Grievances
SCs betrayed in HCS (Judicial)