Fire a daily affair in Fatehabad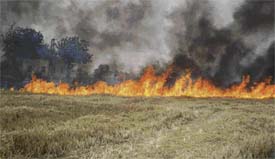 Fatehabad, May 1
The incidents of fire in the agriculture fields during this harvesting season are happening with unflinching regularity in this district. Standing crops in hundreds of acres of land have been reduced to ashes during these incidents of fire. Besides the crop, wheat straw lying in the fields has been gutted in these incidents. This Sunday's incident in which wheat in 40 acres and wheat straw in 800 acres of land was gutted on the outskirts of the town on Majra road was the biggest incident of fire in the district in the current season.
Governance
Unrecognised schools make hay
Sonepat, May 1
Notwithstanding the fact that the government has opened schools, mainly primary and middle ones in every village of the district, there has been a mushroom growth of schools, which are neither recognised by the government nor have trained teachers on their roll. The sad fact is that parents are all too keen to get their children admitted to these schools, the foremost reason for this being the low standard of education in the government primary schools.
Sarva IHM ties up with IGNOU


Panchkula, May 1
The Indira Gandhi National Open University, New Delhi (IGNOU) has approved the Panchkula-based Sarva Institute of Hotel Management (Sarva IHM) as its programme centre for Bachelor of Art (BA) in International Hospitality Administration (IHA) from the next academic session commencing from July 2008.
Malini Dahiya
Mini metro in the making
Ambala, May 1
With so many brands making their foray, little wonder, in coming years, Ambala will soon be a mini metro city. Companies such as Reliance Fresh, Big Bazar, Super Market, 6 Ten, Charlie Outlaw, Spencer and many others, have found a niche market in otherwise conventional city.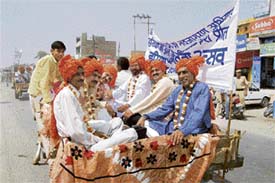 Marching ahead, literally
Chandigarh, May 2
It's an attempt to connect the masses to literature, take it to their doorstep and bridge the distance that separates the two. In doing so, the Haryana Sahitya Akademi wants to deliver the twin objective of weeding out social evils like dowry and female foeticide as well by striking a chord with the rural public.


In Narnaund village, poets participating in the recently organised kavi sammelan by the Haryana Sahitya Akademi, arrived in bullock carts at the venue after passing through the village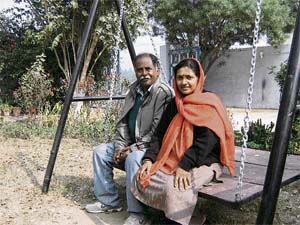 United Christians of Jind
Jind/Kaithal, May 1
Santokh Majra, a sleepy hamlet on the boundary of Jind and Kaithal districts, is not just another typical village of this agriculture-dominated state. It has a uniqueness attached with it, which makes it stand apart from the majority of the villages in Haryana. It is perhaps the only village, which has Christian population in majority, and the lifestyle here presents a unique blend of traditional and western culture in a complete harmony.

Suresh Chauhan with his wife Jyotsna at their house in Santokh Majra village. — Photo by writer
Overloaded trucks: a cause of worry
Faridabad, May 1
The authorities have relented to allow passage of heavy vehicles carrying stones from Sirohi mines on Sohna-Ballabgarh road to Dhoj crusher zone, having about 70 stone crushing units, after putting embargo on them for full one week.
Inside Babudom
CM's office getting bigger and bigger
Chandigarh, May 1
The already "heavyweight" Chief Minister's office (CMO) has just put on more weight with the latest addition of Yudhvir Singh Malik who was recently appointed special secretary to Chief Minister.
Institutes bag laurel
Kurukshetra, May 1
Recognising the services of Indira Gandhi National College (Dhanora), Ladwa and Sanjay Gandhi Memorial Sr. Sec. School, Ladwa, in spreading education in rural areas, the Citizen Integration Peace Society, New Delhi, honoured the college president, Pawan Garg and the school president, Parveen Gupta with the much coveted "Rashtriya rattan award".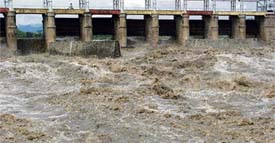 Water table plummets on Yamuna banks
Yamunanagar, May 1
The mighty Yamuna river is fast drying up. Before 1995, the average discharge in the river during the rainy seasons used to be more than 5 lakh cusecs. But during the last 13 rainy seasons, the river never swelled beyond 5 lakh cusecs.

Water discharge in the Yamuna river recorded at Hathnikund barrage near Yamunanagar never exceeded more than five lakh cusecs after 1995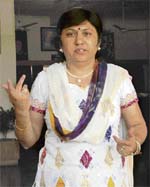 An author with a mission
Chandigarh, May 1
While the kids of her age talked of opting medical, engineering or business as their profession in life, the unassuming, innocent yet brilliant child prodigy Anju always dreamt of becoming a 'great writer' and always repeated her rare resolute resolve, much to the concern of her discerning schoolmates in general and her parents in particular. Accordingly she, taking it as her calling, invested her best efforts to be reckoned as an author of admirable competence.
ON RIGHT TRACK: Reaching out to people in need. — Photo by Pradeep Tewari
Small dams to save rain water
Sonepat, May 1
Haryana's irrigation department has commenced a pilot project on diversion drain no. 8 not only to supplement irrigational supplies in agriculture fields of Sonepat, Rohtak, Panipat and Jind districts, but also to check the dipping of water table in these areas. The project was approved in the flood control meeting at Chandigarh in November last year.
Was LPG shortage for real?
Faridabad, May 1
A probe by the district administration into the shortage of domestic LPG cylinders in Ballabgarh subdivision has revealed large-scale fake LPG connections.
Movie of the week
Mr White Mr Black
Revised pension

Money matters