Capitalising on sunny days
Chandigarh, April 24
Solar power generation is set to see the light of the day. In response to bids invited by the Haryana Renewable Energy Development Agency (HAREDA), the department has received proposals for 127 MW. Twenty proposals have been received for setting up of solar energy projects in the state.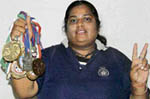 Malika gets 'power punch'
Yamunanagar, April 24
"Sports in our country is meant for those who are financially sound or have contacts who can arrange funds for preparation and travel arrangements".
Inside Babudom
Shortage of HCS officers
Chandigarh, April 24
Due to the ongoing tussle between the government and the Haryana Public Service Commission (HPCC), the state is facing a serious shortage of HCS officers. This has adversely affected public services in many departments where the HCS officers head field offices.
Kunal Bhadoo on a mission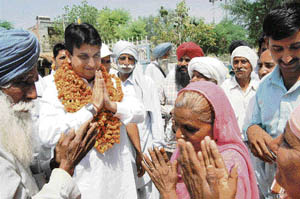 Fatehabad, April 24
Haryana Chief Minister Bhupinder Singh Hooda's son-in-law Kunal Bhadoo's new found love for Fatehabad is being keenly watched in political circles here. Kunal visited Fatehabad for the first time in December last year just before the January 12 Vikas Rally of the chief minister and developed a liking for the place. He has been visiting this place at least twice in a month since then.

Kunal Bhadoo being greeted by villagers in Fatehabad during one of his recent visits. — Photo by writer
DAV Trust a public body, says HC
Liable under the RTI Act
Hisar, April 24
An attempt by the New Delhi-based DAV College Trust and Management Society, which runs several colleges and schools all over the country, to be kept outside the purview of the Right to Information Act (RTI), has failed.


Mathematically correct
Panchkula, April 24
The increasing use of abacus, an ancient Chinese calculation aid, is virtually transforming children in the age group of 5-14 years into computers as far as mathematical calculations are concerned.
Toffees as substitute of coins
Jhajjar, April 24
While traveling in a Haryana Roadways bus, you ask for ticket and hand over a 50 or 100-rupee note to conductor. Don't be surprised if the man returns you a ticket, remaining balance and a fistful of toffees! No, it's not a "sweet" marketing gesture from the HR staff for a change, but instead the toffees have replaced the change.
More check posts to nab drunk drivers
Panipat, April 24
Encouraged with the overwhelming results from the first sobriety post in Karnal, the state police has now planned to install more permanent posts to detect drunken driving on the state roads, particularly the national highways.
Panchkula to have country's first agro mall
Panchkula, April 24
The first of its kind agro mall in the country would be ready within next nine months at Panchkula. The air-conditioned mall, to be constructed at acost of Rs 30 crore by the state agriculture marketing board in Sector 20 adjoining wholesale vegetable and fruit market on the Zirakpur-Shimla highway, would have world-class interiors, power backup, escalators, landscaped plaza and earth quake resistant design as well.
Citizen's Grievance
Astroturf not for boys