Jatropha drives farmer crazy
Karnal, May 8
Vikas Sharma, a resident of Phoosgarh, is a disappointed man. His plan to manufacture and market bio-diesel has come a cropper. Nearly a year after he ventured into this much-publicised initiative of the Haryana Renewable Energy Development Agency (HAREDA), he has to shut shop for non-availability of the jatropha seed, the mainstay of this bio-oil extraction project.
Jungle fires cause concern
Chandigarh, May 8
Come summer and it is time for jungle fires. And this year it is no exception. Already the state has witnessed a number of forest fires, including two major ones in Panchkula district, where help from the Army had to be sought to extinguish at least one of them.
The state has already witnessed a number of forest fires, including two major ones in Panchkula district, this summer. ó Photos by Kamal Sachar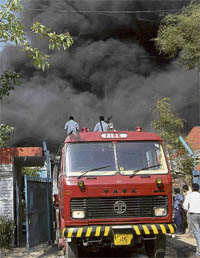 Fighting odds to douse flames
Panipat, May 8
In an age of a complete range of latest fire fighting equipments, the Panipat fire department is fighting all odds to douse flames and that even with the technologies which have long been declared conventional. Manufactures in the country itself are producing all types of portable and mobile fire extinguishers, including water spray system, carbon dioxide extinguishers, dry powder fire extinguishers, mechanical foam fire extinguishers and halon-1211-BCF fire extinguishers that are suitable to tackle fire spread over different articles including petrol, chemicals woods and other such material.

Keeping in view the growing incidents of fire in the city, modern fire-fighting equipment is the need of the hour

New look for Ambala station
Ambala, May 8
The Ambala Division of the Northern Railways is one of the most important divisions. It is extremely important because of it being a gateway to the regions of Punjab, Himachal Pradesh, Chandigarh, Uttar Pradesh and Rajasthan. This financial year too the division has outshone its performance.
An overview of Ambala railway station. ó Photo by Kamal Sachar
Food for thought
Ambala, May 8
Hunger pangs? No need to look around for a fancy eating joint or any fast food corner. Housewives and working women, if you are in no mood to cook food at home and tired of this monotonous routine, you can walk down to Pandit ji ka dhaba located on the railway road in Ambala City.

Photos by Kamal Sachar
Inside Babudom
Waiting for reshuffle
Chandigarh, May 8
The coming months will see a number of IAS officers shifting between Haryana and the centre, necessitating an administrative reshuffle. In any case, the administrative reshuffle is long planned but has remained on hold for reasons known only to the powers that be.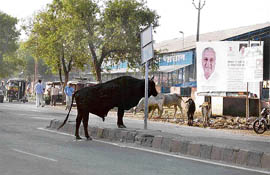 Clean Fatehabad a far cry
Fatehabad, May 8
Notwithstanding the claims of the authorities regarding the successful implementation of the Total Sanitation Campaign (TSC) in this district, cleanliness is a casualty in Fatehabad.


Heaps of garbage and stray animals make a mockery of a hoarding erected by the state government highlighting its development schemes at Fatehabad. ó Photo by writer

Central status for KU demanded
Kurukshetra, May 8
Consequent upon the decision of central government to establish thirty Central Universities in the country, the fast growing state of Haryana is going to have one such university. And as things stand today, the Kurukshetra University (KU) is much more ahead of all other universities in the state in matters of growth, development and achievements and deserves to be designated as a central university.
Car thefts on a high in millennium city
Gurgaon, May 8
Want of adequate parking space is one of the main reasons that has made the millennium city a perfect destination for the criminals involved in thefts of vehicles. At least this is what the police authorities here believe has made their task difficult in effectively curbing the increasing rate of vehicle thefts.