Now choupals for women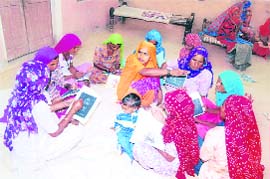 Fatehabad, June 19
Discussing politics and other affairs over puffs of 'hookah' at village choupals will no more remain the exclusive prerogative of men in rural Haryana now. The women will soon have their own "women choupals", where they will be able to meet and discuss issues ranging from families to, may be, world politics.
Women taking their daily lessons under the literacy campaign in a Fatehabad village will soon have their own choupals. —Photo by the writer
Caring for the needy elders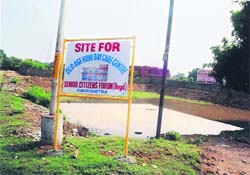 Kurukshetra, June 19
Following the Haryana government's failure to fulfil its commitment to build an old-age home on one acre land at every district headquarters in Haryana, the Senior Citizens Forum, Kurukshetra (SCFK) (regd.), has taken this task to fulfil the government's dream to help the needy elders.
A hoarding displaying the project site for the old age centre to be constructed by the Senior Citizens Forum, Kurukshetra. —Photo by D.R.Vij
Commuting to be convenient in city
Sirsa, June 19
The city residents are all set to enjoy commuting across the city at minimum fare as the district administration would soon start four buses for local city transport.
Experts stress on judicious use of water

Fatehabad, June 19
Worried over the possible drying up of water resources, several organisations have been actively campaigning for judicious use of fresh water. They reason that if we want our future generations to live in comfort and not face the catastrophe of extinction for want of water, our withdrawal of water from the eco-system must not be more than its natural replacement rate.
Promoting the cause of water conservation
Inside Babudom
State slow on HCS officials' reversion
Chandigarh, June 19
For reasons best known to it, the Haryana Government is going slow in reverting those HCS officers who were nominated to the state civil service against the posts, which were abolished after the Congress regained power in 2005.
Governance
Civil hospital needs treatment
Ambala, June 19
The Ambala Cantt Civil Hospital is a lifeline for many who come from all over the district. Almost all accident cases, which occur on the state highway connecting Ambala with Yamunanagar or on National Highway-1, are brought here.
Agriculture becomes an expensive affair
Fatehabad, June 19
The reports of bumper crop of wheat may sound good but the farmers here are worried about the fast depleting water table. Owing to a sharp depletion in the ground water resources in the area, farmers are facing an acute problem of water for irrigation purposes. The ground water in this area has gone down by more than 60 to 100 feet during the past two decades. Water table in most of the villages of this district is 250 to 300 feet.
Governance
Development projects lie unfinished
Ambala, June 19
Many important development projects have been lying unfinished due to the pathetic follow-up of the concerned authorities in the Ambala City. Interestingly, the state government had already provided sufficient funds for those projects.
DANGER ZONE: The abandoned railway crossing near Aggarsain chowk gives liberty to the commuters to cross the tracks at will. —Photos by Kamal Sacchar
Men in khaki in the dock
Faridabad, June 19
The police here appears to be fighting hard to restore its lost image, what with its inability to crack some criminal cases involving murders that took place in the district in the recent past.
Grow mushroom for good returns, farmers advised
Rohtak, June 19
Rohtak deputy commissioner P.C. Meena has advised the farmers of the district to go in for mushroom cultivation to get remunerative price for their produce.
Hooda's bid to storm Bhajan's bastion
Hisar, June 19
Congress candidate Ranjit Singh's defeat in the Adampur bypoll notwithstanding, Chief Minister Bhupinder Singh Hooda has not given up his relentless campaign to create chinks in former Chief Minister and bete noire Bhajan Lal's political fortress.
Rohtak NGO to train farmers
Joins hands with Hafed in contract farming project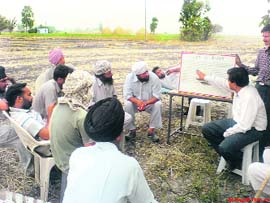 Rohtak, June 19
Rohtak-based NGO Sristi Gyan Kendra, which has been engaged in promoting innovators at grassroots level, is now spreading its wings in the farming sector. The NGO, working as part of Honeybee Network, is actively involved in talent scouting, apart from documentation, validation, value-addition and IPR protection of country's traditional knowledge.
A session on the cultivation of CSR-30 basmati variety is on Photo by the writer
Hindi-isation of revenue terms
Panchkula, June 19
In order to make it perusable and accessible for a common man, the Panchkula District Revenue Department has claimed to have compiled the record of village administration and customs, giving it a shape of book, after translating all the records from Urdu and English to Hindi. The book would be available to everybody against the payment of Rs 1,000, said the district revenue officer, K K Amrohi.
NDRI trains women in dairy farming
Karnal, June 19
The Krishi Vigyan Kendra (KVK) of the National Dairy Research Institute (NDRI) here is imparting training in scientific dairy farming to farm-women. Early this week, the KVK held a training programme for the beneficiaries of the Agricultural Technology Management Agency (ATMA) from Rupnagar district of Punjab. A.K. Srivastava, director, NDRI, told the visiting group that scientific dairy had enormous potential for increasing income in the rural areas.
Khushboo

De Taali

Haal-e-Dil