Don't panic over oxytocin use, says expert
Chandigarh, June 12
Milk consumers should not panic if their supplier administers oxytocin hormone in the milch animals. Oxytocin is denatured after the milk is boiled and it does not get absorbed from the gastro-intestinal tract.
Inside Babudom
Officials tizzy over likely reshuffle
Chandigarh, June 12
While ministers await the Cabinet reshuffle and possible expansion to fill the "one vacancy" with bated breath, the state's babus too are in a tizzy. Transfers are in the air even as curiosity reigns in the corridors of powers, both at the headquarters and in the field. The anxiety of the officers is palpable.
Water table dips in Gurgaon
Gurgaon, June 12
The alarming rate of decline in the level of underground water in Gurgaon, especially after the beginning of massive construction activity, has become a cause of concern. And the district administration believes sensitising general public about its effects can check this.
Save-planet plans go up in smoke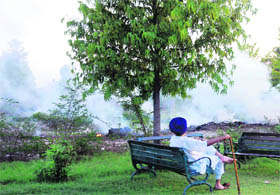 Karnal, June 12
Steps taken to protect environment in Haryana are restricted to catchy slogans and discussions in air-conditioned halls. When it comes to polluting the environment, rules cease to exist for the government agencies. Owing to the lackadaisical attitude of the Karnal district authorities, the rampant burning of dried fallen leaves; plastic and other waste material by the HUDA workers, go unchecked in many parts of the town.

A smoky view like this at the park in Sector 12 is a common scene in Karnal. — A Tribune photo: Ravi Kumar

Poppy makes way for drugs
Fatehabad, June 12
Trafficking of poppy husk and other forms of narcotics, particularly in areas near Punjab and Rajasthan borders, has been on the decline due to various factors. Drug trafficking has been one of the biggest crimes in these districts and areas like Ratia, Jakhal and Tohana have been particularly notorious for the illicit trade of poppy husk, mainly due to their geographical location.
'Lakhpati' Jenab Hakim Ajmal Khan
Winner of the Haryana Urdu Akademy's Hali Award-2007'

Chandigarh, June 12
"Known for its felicity and compelling charm, Urdu literature, especially poetry, is hailed as a curious artistic work, the verses interwoven like cobwebs glistening with dew. None of the poets has elicited such an adulation and popularity like the celebrated Urdu poets including Mirza Ghalib and others," opines Jenab Hakim Ajmal Khan, winner of the Haryana Urdu Akademi's Hali award.
Jenab Hakim Ajmal Khan (L) being honourd by the Governor Dr AR Kidwai

Citizens' Grievances
Risky driving
In view of the inefficient public support system, the passengers have to travel in poorly maintained unauthorised LPG-kit fitted Maruti vans here. The passengers are always at the mercy of the arrogant and unruly drivers. They drive rashly and fill the vehicles more than double the capacity.
Delay in Haryana Police Act
n Movie of the week
Mere Baap… Pehle Aap