Fatehabad lacks good educational facilities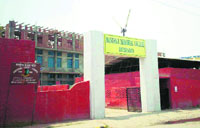 Fatehabad, June 5
When Rajiv Kataria's school-going son passed his matriculation examination last year, he decided to shift to Chandigarh for better education prospects. So did Rajiv Batra, when his daughter completed
her schooling.
A view of the Manohar Memorial College, Fatehabad, which will start some new courses from the coming session. — Photo by the writer

Inside Babudom
Babus in news for wrong reasons
Chandigarh, June 5
The Haryana bureaucracy had been in the news during the last week, and for all the wrong reasons.

Neem your way to bank
Chandigarh, June 5
It has come as an employment opportunity for the locals of Mewat and could earn them some quick bucks without having to make any investment.


FRUIT OF LABOUR: Neem fruits are to become a source of income for the poor in Mewat. — Tribune photo by Manoj Mahajan

Teachers to be spared from mid-day meal duty
Yamunanagar, June 5
In a significant move, the district administration will free head teachers of government primary schools in the district from the responsibility of supervising cooking and distribution of mid-day meal.
IOC's Panipat refinery in for major expansion
Panipat, June 5
With the upgradation and expansion of the Indian Oil Corporation's (IOC) Panipat refinery, it is all set to become a major oil refinery of the country.
Economics made easy
Chandigarh, June 5
Economics is generally considered as a "dry" subject by students. Its teachers face a challenge in generating interest among their students for economics.
Citizens' Grievances
Transfer of pension fund
Duped by Maruti dealer
Readers, write in
Movie of the week
Sarkar Raj