Oral polio vaccine for kids of migrant labour
Bathinda, July 6
The district health department today immunised about 12,000 children of migrant labour during the second phase of its three-day pulse polio drive held in the district here today. Ajitpal Singh, district immunization officer, called a meeting of medical officers here on July 5.
Side-effects of development: Residents at receiving end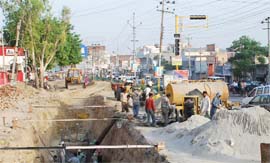 Bathinda, July 6
The Hanuman Chowk area in the heart of Bathinda town, where work on laying sewer line is progressing at a snail's pace, has become a big nuisance for the people. With a 100 metre long trench dug up for laying the pipeline and debris dumped along the road, the people have nowhere to go.
30 metres in 3 months: A view of the dug up patch between Hanuman Chowk and Fauji Chowk in Bathinda. —Tribune photo by Kulbir Beera
Gold stolen
Bathinda, July 6
Seema Rani, a resident of Seriana Wala colony, in a complaint to the Kotwali police, has alleged that an unidentified person had cheated her and stolen gold ornaments worth Rs 42,000. Police, after registering a case against unknown persons under sections of the IPC, has started a probe. — TNS


Beat the Heat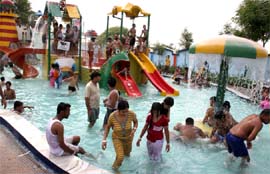 LEISURE TIME: People enjoying at a water park on the outskirts of Bathinda on Sunday. —Tribune photo by Kulbir Beera
PU stand leaves students in lurch
University refuses to recognise M.Phil through distant education
Bathinda, July 6
Thousands of students, who have done M.Phil through distant education, have been left in the lurch following the refusal of Panjab University, Chandigarh, to recognise their degrees. Most of these students did their M.Phil from Annamalai, Algappa, Periyar, Vinayak Mission and Madurai Kamraj universities in the South.
Students constitute union, threaten to intensify agitation
Malout, July 6
Peeved over the adamant attitude of the Panjab University not recognizing the M.Phil degree acquired through distance education, the affected students today formally constituted the Distance Education Union.
Canal breach creates havoc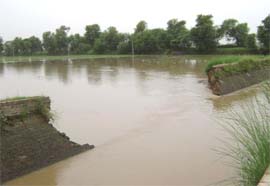 Abohar, July 6
Nearly 70 feet wide breach in the Malukpura distributory flooded cotton and paddy crops spread over 300 acres in Dhaba Kokrian village today. Some miscreants had played a mischief, officials present at the site told reporters in the afternoon.
A 70 feet breach in the Malukpura distributory canal near Abohar flooded 300 acres of land in village Dhaba Kokrian on Sunday. — Photo by Raj Sadosh
Dera followers in BJP fold
Abohar, July 6
The Bharatiya Janata Party (BJP) has captured the panchayat in village Gobindgarh today for the first time since its inception. It also brought hundreds of followers of the Dera Sacha Sauda to its fold.
MC polls face revocation
Violation of law in reservation of seats
Fazilka, July 6
The newly elected councillors are celebrating their win in the recently concluded municipal council polls but their joy could be short-lived as the whole election process could be stalled due to negligence and omission in reservation of seats for women in the elections. According to the Punjab Municipal Act, it is mandatory to reserve one- third of seats for women candidates in municipal elections. But the election office of local government department in these elections has not fulfilled this condition.
Foes turn friends
Keetu, Virk join hands
Barnala, July 6
Politics has no permanent enemies and friends. This could be well gauged from today's development here as two arch-rivals in the local politics belonging to the Shiromani Akali Dal (Badal), former MLA and now SAD assembly in- charge Malkeet Singh Keetu and vice-president, SAD, Bhola Singh Virk, joined hands for the municipal committee presidentship.
Rs 14-cr for Moga facelift
Moga, July 6
The state government has sanctioned a sum of over Rs 14 crore for many development works through various departments and government agencies.
DRDA staff to stage protest
Bathinda, July 6
Employees of the District Rural Development Agency (DRDA) from all over the country will stage a dharna outside the Parliament on July 11 to protest against the failure of the state governments to regularize their services and improve their working conditions.