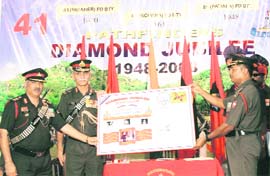 Lt-Gen Z.U. Shah, deputy chief of the Army Staff, Colonel Commandant, releasing the special cover to commemorate an event in honour of 60 years' of glorious and dedicated services of the 41 Field Artillery Regiment in Satwari at Jammu. —A Tribune photograph
Gupta disputes govt claims of progress
Jammu, July 15
Former union minister and senior BJP leader Prof Chaman Lal Gupta today disputed claims of progress and prosperity made by the government in the state.
NC hails Vohra's statement
Jammu, July 15
The National Conference has welcomed announcement made by Governor NN Vohra to hold assembly elections in time.
APHC may not accept offer for talks
Jammu, July 15
Senior leaders of the All-Party Hurriyat Conference (APHC) have said they would not treat N.N. Vohra as the Government of India's chief interlocutor on Kashmir affairs anymore as he has been appointed the Governor of the state.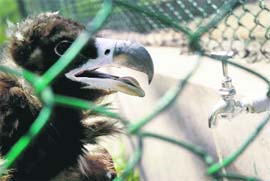 A vulture appears contemplating whether it can do without water on such a hot day at the Manda Zoological Park in Jammu on Tuesday. Possibly, it cannot. —Tribune photo by Anand Sharma
Vohra wants board to end water crisis at Katra
Udhampur, July 15
Governor N.N. Vohra has asked the authorities of the Shri Mata Vaishno Devi Shrine Board (SMVSB) to prepare a comprehensive plan to solve the problem of shortage of drinking water at Katra and on 14 km track.
500 down with gastro in Anantnag
Srinagar, July 15
At least 500 persons have been taken ill with gastroenteritis during the past few days. The patients are getting treatment at the local hospital in Beijbehara town in Anantnag district.
Omar to attend leadership conference in Pak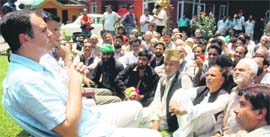 Srinagar, July 15
National Conference president Omar Abdullah would be visiting Pakistan on August 7 on the invitation of the Kashmir Institute of International Relations to participate in the first Kashmiri leadership conference.
National Conference leader Omar Abdullah addressing party workers at his residence in Srinagar on Tuesday. — A Tribune photograph
NC defers decision on trust vote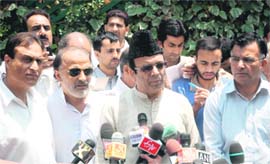 Srinagar, July 15
The National Conference today deferred a decision on its stand on whether to support the UPA government or not in July 22 trust vote. The party has two MPs in Parliament.

NC leaders address mediapersons after a meeting of the core group of the party in Srinagar on Tuesday. —Tribune photo by Mohd Amin War
Cong leaders want polls to be put off
Jammu, July 15
Majority of Congress leaders and workers favour postponement of Assembly polls in the state on the plea that the atmosphere was not yet conducive for holding the election. Their argument is that since the dust over the controversy on land revocation order had not yet settled down, the polls needed to be postponed.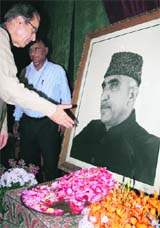 Union Minister for Water Resources Saif-Ud-Din Soz and state Congress party president pays floral tributes to former Jammu and Kashmir chief minister Ghulam Mohammed Bakshi at his 36th death anniversary at Congress headquarters in Srinagar on Tuesday. — A Tribune photo
PDP clears first list of election candidates
Srinagar, July 15
The PDP Parliamentary Board has cleared its first list of 10 candidates from north Kashmir for the Assembly elections due to be held in the state later this year.
No clear stand on ceasefire violations
Jammu, July 15
Despite several incidents of ceasefire violation from across the border in the past two months, the Centre has yet to take a clear stand on the issue. "The issue is discussed at higher levels between the top officers of both the nations, however, you cannot drag these abrasions to such an extent that the relations between the two nations come on the brink of war," said a Army officer, requesting anonymity.
Gujjars seek minority status
Jammu, July 15
A delegation of Gujjar community under the banner of JK Gujjars United Front today met Governor N.N. Vohra here and demanded that they should be categorised as "religious minority" in Jammu region and "ethno-linguistic minority" in the Kashmir valley.
Rs 105 cr under development schemes
Srinagar, July 15
An amount of Rs 698.54 crore has been spent on various schemes under the Border Area Development Programme (BADP) since its inception in 2006, while Rs 105 crore has been allocated for completion of projects during the last fiscal year.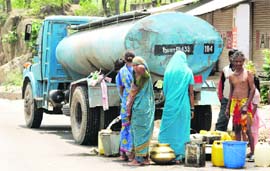 People draw water from a tanker to perform domestic chores at Domel in outskirts of Jammu on Tuesday. —Tribune photo by Anand Sharma
Jawan commits suicide
Jammu, July 15
A jawan allegedly shot himself to dead with his service rifle in an Army camp in Nagrota this morning, official sources said.
2 ultras held
Srinagar, July 15
The police in Bandipore district has arrested a Hizbul Mujahiddin commander, Ali Lone alias Azad, who hails from Bandipore, from Kota forests. The police said it received a tip-off regarding his presence in the forest and surrounded him. One AK-47 rifle, six AK rounds and one wireless set were recovered from his possession.