Day after clash at Dabwali
Uneasy calm prevails, bandh on July 23
Rajay Deep
Tribune News Service
Doomwali/Bathinda, July 19
On the day after the clash between Dera followers and Sikh activists that took place at Dabwali, an uneasy calm prevailed in Bathinda district. Shops and schools remained partially closed. Police remained vigilant near the Haryana border and at all deras of the Sacha Sauda sect in the district.
Sensing the tense atmosphere, the district police called in reinforcements from Faridkot and Kapurthala to beef up security arrangements. The five deras of the sect, at Salabatpura, Maur, Lehra Mohabbat, Kaile Bandar and at Malout road, were cordoned off by the police.
Meanwhile in Bathinda, as a precautionary measure, a number of schools and shops remained closed. To instill a sense of security among people, the district police carried out a flag march thrice during the day.
Besides deras, security was increased at the Doomwali barrier, the border between Punjab and Haryana. Police officers deputed at the border were observed to be focused on the entry and exit of hardliner and radical Sikh leaders and as their movement was under the scanner. Except for the heavy deployment of police force, roads leading to Dabwali wore a deserted look.
The uneasy calm affected toll collection at the requisite posts, petrol pumps and other business on the Bathinda-Dabwali road. Naveen Kumar, an employee working at a toll collection centre at Doomwali in Punjab said, "On any day, till noon, we have an average of over 300 trucks passing from here. But due to the tension, till 1 pm, hardly 100 trucks have passed."
Arvinder Singh, owner of Chaudhary Enterprises, a fuel pump located some distance away from the barrier said, "On a normal day, we have a sale of more than 22,000 litres of diesel but on these two days, it has been restricted to only 5,000 litres."
Stopping at the Doomwali barrier, Simranjeet Singh Mann, the SAD (A) chief and a hardline Sikh religious leader Baljeet Singh Dadu Sahib Wale confirmed to the TNS the call for Punjab and Haryana bandh given by the Sant Samaj on July 23.
Baljeet Singh also alleged that the Punjab Police was harassing Sikh activists en route to Dabwali to attend the cremation of the Sikh activist, who was killed in the clash on Friday.
Accusing the state and central governments of not being interested in booking the Dera chief for his alleged role in clashes, the Sikh leaders demanded his arrest by booking him under section 120-B of the IPC.
The leaders also appealed to all political and religious leaders to forget personal grudges and join the movement against the Dera for its alleged controversial activities.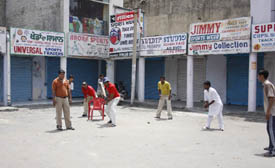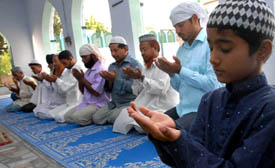 Members of the Muslim community (above) praying for peace in the aftermath of Dera-Sikh clash at the Haji Rattan mosque in Bathinda on Saturday; youngsters (left) playing cricket as markets remained partially closed. — Tribune photos by Malkiat Singh/Kulbir Beera