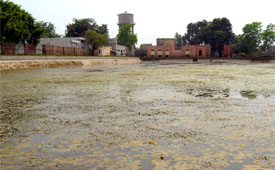 Reservoirs pose health hazards
Muktsar, July 8
Despite being well aware of water-borne diseases spreading rapidly this season, the authorities concerned are showing callous attitude towards the filthy reservoirs of water works located near residences of the ADC and DC on Kotkapura road here in the city.
The unhygienic condition of main water works reservoir in Muktsar poses threat to health. — Tribune photo by Kulbir Beera

Encroachment on panchayat lands
Flow of income adversely affected
Mansa, July 8
The main aim of panchayat lands was to provide income to panchayats but encroachments on these lands had been negating the aim. The shamlat land of village Mansa Khurd could be cited as example of this, said former sarpanch of the village, Daljeet Singh Mansahia. This village had about 30 acres of panchayat lands but due to illegal occupations, the panchayat practically had only 3 acres land at its disposal, he added.
Court nod to school with rider
Bathinda, July 8
The St. Joseph School Lower KG admission case was finally disposed of by the Additional District Judge (Civil) Baljinder Singh, with directions to the principal "not to make any fresh admission to LKG without prior permission of the court" during the 2008-09 session.
Veerpal felicitated
Mansa, July 8
DC Mansa, Surjeet Singh Dhillon, honoured Veerpal Kaur, a student of the Government High School, Jogga, who has brought laurels for the country by playing football at the international level.
Proposal to replace park with parking lot
NGOs seek intervention of health minister
Barnala, July 8
Agitated over the proposed replacement of the only park with a parking lot in the Civil Hospital, Barnala, the NGOs have sought the intervention of health minister Laxmi Kanta Chawla to take stock of the situation.
Rly pensioners threaten stir
Bathinda, July 8
Widespread resentment is brewing among railway pensioners here over poor medical care and health facilities.
Save power, avoid outage, says PSEB
Bathinda, July 8
Save electricity is the only way to escape power cuts or at least cut them down by a few hours. This is the message that the Punjab State Electricity Board (PSEB) has for the residents when queried about the increasing power cuts in the city.
Man drowns in Dharamkot canal
Moga, July 8
A middle-aged person drowned in a canal near Dharamkot here last evening. His body was recovered from the water channel by the police today.
Manoeuvring for mayorship on
Bathinda, July 8
Despite authorising party chief Sukhbir Badal for selecting mayor of the Bathinda Municipal Corporation, the SAD aspirants for mayor are still busy in manoeuvring.
Race for MC president kicks off
Mansa, July 8
Race for the presidentship of the municipal council has begun. Till now, five persons are considered to be strong contenders for the post.
One killed in train, car collision
Bathinda, July 8
The driver of a car died after a collision with a train near Pathrala village in the district today. According to sources, Amritpal Singh, a resident of Basant Bihar, Bathinda, was returning from Sirsa by car, when a train coming from Dabwali collided with it at an unmanned railway crossing.