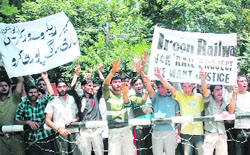 Employees of the Ircon rail project hold a demonstration in support of their demands in Srinagar on Friday. Tribune photo: Mohd Amin War
Partial shutdown in Srinagar
Srinagar, August 1
Srinagar observed a partial shutdown today on a call given by a little-known separatist outfit whose president was put behind bars for his oral attack on outsiders and warnings that they leave the valley.
PDD grapples with power crisis
Jammu, August 1
Even as people in Jammu have been wondering about mysterious disappearance of "surplus" power in the backdrop of the ongoing shutdown over the land row, the Power Development Department (PDD) is a harried lot trying to meet the severe crisis.
NC leaders parting ways
Jammu, August 1
Even as the National Conference (NC) has been pondering over damage-control exercise in the backdrop of party president Omar Abdullah's 'fiery' speech during the UPA government's trust vote on July 22, Jammu-based party leaders feel like walking on razor's edge.
Srinagar airport to be ready in a month: Patel
Srinagar, August 1
After missing two deadlines-- April 15 and June 30, the Srinagar International Airport is expected to be made operational in less than a month, with Air India scheduled to operate the first overseas commercial flight from here to Dubai.
Kashmir under hot spell
Srinagar, August 1
The cool climes of Kashmir, which have always attracted people sweltering in the plains, are not really cool these days. The temperature is hovering around 35°C and the rise in humidity has sent people looking for covers, literally.


'Outsiders fanning violence in Jammu'
Srinagar, August 1
Jammu and Kashmir Liberation Front president Yasin Malik alleged today that the government was fanning the agitation in Jammu and exploiting the situation to harass Kashmiris. Addressing a press conference, Malik said violent mobs were attacking Kashmiri drivers and vehicles everyday and the government was a mute spectator.


Yasin Malik
Ladakh council poll on Aug 30
Srinagar, August 1
The state government has notified the schedule for holding the second general election for Ladakh Autonomous Hill Development Council (LAHDC), Kargil.
Leopard kills girl
Srinagar, August 1
A leopard killed a four-year-old girl in north Kashmir, official sources said today.
Two dead, 20 hurt
Srinagar, August 1
Two persons, including a baby, were killed and about 20 others were injured in different road accidents in the Kashmir valley on Friday. Official sources said a passenger vehicle met with an accident at Krangsoo Mattan in Anantnag district in which one person was killed and 10 others were injured.
20 shops gutted
Srinagar, August 1
Twenty shops were gutted and property worth lakhs of rupees was destroyed in a devastating fire in Uri, about 100 km from here in North Kashmir, official sources said today.