Health scheme fails to benefit all ex-servicemen
Bathinda, August 8
The Ex-servicemen Contributory Health Scheme (ECHS) was launched to provide comprehensive and quality medical care (covering all possible diseases) to pensioners and their dependents, as well as to widows and family pensioners.
Singh is Kinng runs to full house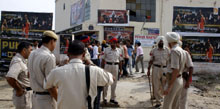 Bathinda, August 8
"Singh is Kinng" starring Akshay Kumar and
Katrina Kaif was released here today with a
bang in a local cinema hall where it was screened
amidst deployment of a strong contingent of
armed police.

Policemen stand outside the Pukhraj cinema in Bathinda on Friday when the controversial film "Singh is Kinng" was screened. Tribune photo: Kulbir Beera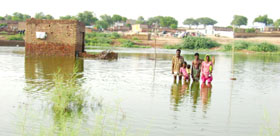 Abohar still in deep waters
Abohar, August 8
The rain that started amusing seasonal crop growers of the desert in the region since July 31 has virtually washed off
the euphoria that had emanated over
the change of guard in the municipal
council here.

Rain that started lashing Abohar on Thursday last week wreaked havoc in colonies located on the outskirts of the town. Photo: Raj Sadosh

Fresh diarrhoea cases detected in Lohara
Moga, August 8
Diarrhoea and gastroenteritis continue to haunt the rural folk of Lohara village near here. More than 65 fresh cases of diarrhoea and gastroenteritis have been detected by the health authorities in this village today, out of which, six people suffering from acute form of these diseases were admitted to the makeshift hospital for treatment.
Minor Dalit gangraped
Accused youth surrender, sent to judicial custody
Moga, August 8
Four youths accused of raping a minor Dalit girl surrendered before the police on Thursday. The police later produced them before a local court that has sent them to judicial custody.
Slain youth's kin protest police act


Bathinda, August 8
After blocking the bus stand crossing for some time, the kin of Surjeet Singh (22), of village Chak Hira Singh, who was allegedly shot dead on July 17, in the heat of the sarpanch elections at village Dann Singh Wala, lodged their protest outside the Mini-Secretariat in Bathinda today.

Kin of the deceased Surjeet Singh protesting outside the Mini-secretariat in Bathinda on Friday. Tribune photo: Malkiat Singh

Inebriated college clerk runs amok
Sent to judicial custody
Bathinda, August 8
Finding a clerk, Phulveer Singh of Mata Sahib Kaur Girls College, run by the Shiromani Gurudwara Parbandhak Committee (SGPC), in an inebriated condition and indulging in rowdy behaviour, a local court today sent him to judicial custody till August 11.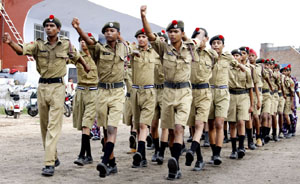 Left, right, left

: Rehearsal for the Independence Day parade is in full swing at the sports stadium in Bathinda on Friday. Tribune photo: Kulbir Beera
Woman kills husband
Bathinda, August 8
Accusing her husband of forcing her to have illicit relationships, Nirmal Kaur, a resident of Model Town quarters, killed her husband late on Thursday night.
Farmers get tips to tackle mealy bug
Bathinda, August 8
To keep the menace of the mealy
bug under control, Markfed organised
a camp for farmers at Burj Sema
village in Maur block of the district
here today.
'Right to abort should rest with the mother'
Ferozepur, August 8
The Philosophical Society of Dev Samaj College for Women, Ferozepur City,
organized a seminar on the topic of 'Contemporary debate on the moral rights
of foetus: Some Reflections.'
Mini-secretariat in the eye of a storm
Fazilka, August 8
The sub-divisional administrative complex here, which is popularly known as the Mini-secretariat, which has been in the eye of a storm ever since it was constructed by the Punjab Urban Development Authority (PUDA) at a cost of Rs 3.25 crore, is embroiled in another controversy.
Consumer court fines MC for negligence
Moga, August 8
The consumer court has imposed a fine of Rs 1,000 on the Municipal Council after it was found guilty of negligence in not issuing regular bills of water and sewerage facilities to the residents and asked the executive officer to award this fine as compensation to the complainants, which could be adjusted in their future bills.
ICFAI alumni felicitated
Bathinda, August 8
Rajvinder Singh, a product of ICFAI National College, Bathinda, had got the prestigious post as Business Development Manager in ABN-Amro Bank in Dubai.
PSPA flays rural health policies
Mansa, August 8
"Nearly 1,193 dispensaries situated in the rural areas in the state are not serving their purpose due to wrong policies adopted by the government," said the office-bearers of the Punjab State Pharmacist Association (PSPA).