When nature wields paint brush!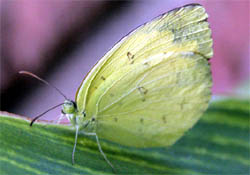 Butterfly appears in Bathinda as weather has recorded a slight change. — Tribune photo by Kulbir Beera
Admn cancels stationary contract
Barnala, July 30
The sustained struggle by the Sarkari Stationary Theka Radd Karao Committee has yielded result. Conceding the huge demand of farmers, labourers, student unions and employee organisations, the deputy commissioner R.L. Mehta today has cancelled the contract given to a private firm for selling government forms.
City to host national boxing championship
Bathinda, July 30
The 55th Senior National Boxing Championship would be organised in Bathinda from September 6 to 12. As many as 600 renowned pugilists of the country, grouped into 35 units, would challenge each other for the top honour at Sports Stadium here.
Dhindsa flays Centre's farmer policy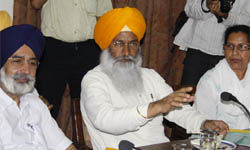 Bathinda, July 30
MP and senior leader of SAD, Sukhdev Singh Dhindsa, today during his visit to Bathinda criticised the Prime Minister Manmohan Singh for not living up to the expectation of people of Punjab.


MP Sukhdev Singh Dhindsa (centre) addressing a press meet inBathinda on Wednesday. — Tribune photo by Kulbir Beera

Annual Panj Pir Sawan Mela concludes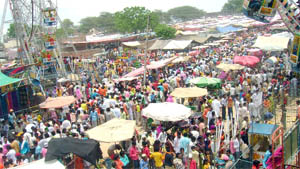 Abohar, July 30
Thousand of men, women and children, irrespective of caste, creed and religion thronged the mazaars (tombs), of Panj Pirs (five saints) to pay obeisance during the last three days on the eve of the annual Sawan Mela which concluded today.

Panj Pir Sawan Mela in full bloom on the last day in Abohar on Wednesday. — A Tribune photograph

Senior cops transferred
Bathinda, July 30
M.S.Farooqui, senior superintendent of police, Mansa, was today transferred as deputy director (Indoor), police academy Phillaur. His headquarter would be at Ludhiana.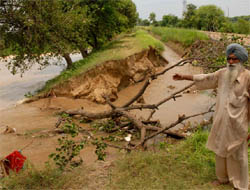 Canal breach damages crops
Bathinda, July 30
With a breach in the ITI canal distributary, the free flowing water today damaged the cotton crops sowing in around 60 acres piece of land near Jhutti Ke Patti village at the outskirts of the city. While talking to the media persons, villagers said that the breach took place in the early hours on Wednesday morning.
A farmer shows the breach in canal distributary and the damaged crops at the outskirts of Bathinda on Wednesday. — Tribune photo by Malkiat Singh

BSF seizes heroin
Ferozepur, July 30
The Border Security Force (BSF) today morning seized about 4 kilograms of heroin from area close of border outpost Daulat Ram Dina Nath (DRDN) near border pillar 215/5 along the Indo-Pakistan border.
Club adopts 3 orphan girls
Mansa, July 30
The Ashra Lok Sewa Club, Mansa today adopted three orphan girls and took responsibilities of their study and marriages.
Man held for possessing pistol, sent to judicial custody
Bathinda, July 30
The local courts today sent Randeep Singh alias Bony, a resident of village Manak Khana under Bathinda district, who was arrested by Maur police for illegally possessing .32 bore illegal pistol, for 14-day judicial custody.
Threat to blow train turns out a hoax
Bathinda, July 30
The alleged threat call to blow the Udhyan Abha Express - 3008, received by the RPF Sriganganagar on Tuesday, turned out to be a hoax as the security force did not find anything suspicious during the intensive search of the train at several stations en route.
MMM holds meet against rising prices
Mansa, July 30
The Mazdoor Mukti Morcha (MMM) today organised a district-level conference against rising prices. In this convention, martyrs Sahid Udham Singh and Baba Bujha Singh were remembered.