Malwa cultural carnival enthral all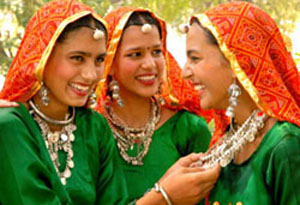 Bathinda, July 27
It was looking like a venue of inter-cultural discourse at Rajindra College here. Everybody was dressed in traditional attire, right from children to adults. The Diamond Welfare Society organised a cultural competition, where 300 students of around 30-35 schools of the Malwa region participated in the carnival.
Participants awaiting their turn to perform at Rajindra College in Bathinda on Sunday. — Tribune photo by Malkiat Singh

Literati discuss Bhagat Singh's philosophy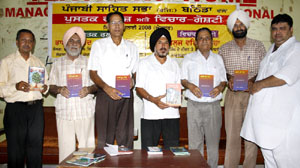 Bathinda, July 27
The local chapter of the Punjabi Sahit Sabha organised a function at the Teachers' Home here today where three books, namely 'Bhai Roop Chand', 'Chandan Rukh' and 'Chitte Khamba Da Bharam' authored by Bhai Harcharan Singh, Sukhdarshan Garg and Amrik Singh Kanda respectively, were released.

Dignitaries releasing books during a function organised by the local chapter of the Punjabi Sahit Sabha at the Teachers' Home in Bathinda on Sunday. — Tribune photo by Kulbir Beera

Panchayat struggles to find sarpanch
Barnala, July 27
In absence of a Schedule Caste (SC) panch, the village Bika Sooch Patti is facing difficulties in getting a sarpanch for it. The village has been accredited for five-member panchayat, comprising two women, two men and one member belonging to SC community, for the first time.
'Legislators of ruling alliance stalling polls for sarpanch'
Abohar, July 27
"Elections for sarpanch in more than six villages of the Abohar and Khuyiansarwar blocks is being delayed as legislators of the ruling SAD (B)-BJP alliance are adamant in getting elected the people of their choice by hook or crook," former Congress MLAs Mohinder Rinwa and Parkash Singh Bhatti said here today.
Shaheed Udham Singh Park cries for attention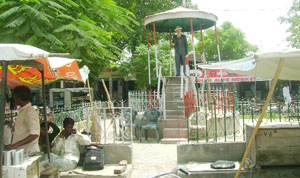 Abohar, July 27
Shaheed Udham Singh Park, located opposite to municipal bus stand here, remains in state of neglect even when the sub-divisional town gears up to observe the 68th "Balidan Divas" of the great national hero, falling on July 31.
Shaheed Udham Singh Memorial outside the Abohar bus stand in state of neglect. — Photo by Raj Sadosh



Seeking support!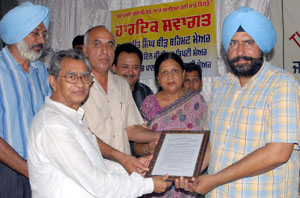 Patrons of the Public Library, Bathinda, presenting a memorandum of demands to city mayor Baljeet Singh Bir Behman on library premises on Sunday. It may be mentioned here that as a part of the freedom movement, Satpal Azad established the library in 1938 in a rented room at Kikar Bazaar here with just one table, two chairs and two newspapers. Today, it has grown to around 4500 square yard area and is housed adjacent to Gole Diggi, where it was shifted in 1960. The library boasts of books on almost every subject but the raunchy stuff. It has around 12000 books in English language and the same number of books in Hindi besides 9000 books in Punjabi and 6000 in Urdu language. Tribune photo: Malkiat Singh
'Rs 95 lakh allocated for rural projects'
Abohar, July 27
The state government had allocated Rs 95 lakh for different rural development projects in the Abohar Assembly segment, former MLA Ram Kumar Goyal said on Saturday.
ABVP condemns blasts
Bathinda, July 27
The Akhil Bhartiya Vidyarthi Parishad (ABVP), Bathinda has condemned bomb blasts that rocked Bangalore and Ahemdabad during the last 48 hours.
1984 riot victims' families vow to fight for justice
Bathinda, July 27
President of the All India Sikh Student Federation( AISSF), Karnail Singh Peer Mohammad said that there were 38,000 families in Punjab affected in the 1984 Sikh riots.
Escorts cardiac care reaches Bathinda
Bathinda, July 27
The Escorts Heart Institute and Research Centre Limited (EHIRCL), Delhi has decided to start monthly paediatric Out Patient Department (OPDs) at the Jindal Heart Institute and Infertility Centre in Bathinda.
Baba Farid Institute of Higher and Foreign Studies
On a mission to enlighten youth...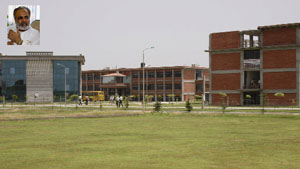 Bathinda, July 27
Having started a nursery school 15 years ago, Gurmeet Singh Dhaliwal has fulfilled his dream of establishing a hub of education in the outskirts of the city near village Deon on Mukatsar road.
A view of the Baba Farid colleges near Bathinda. (Inset) Gurmeet Singh Dhaliwal. — Tribune photo by Kulbir Beera