Congman appeals to Akalis for fresh look on nuclear pact
Moga, July 20
The General Secretary of the Punjab Pradesh Congress Committee (PPCC) and former MLA Vijay Sathi lauding the role of Prime Minister Manmohan Singh in the Indo-US nuclear deal said that it was the need of hour to bring the nation on the road of progress in every field.
Congress offers prayers for govt
Residents resent 'pace' of development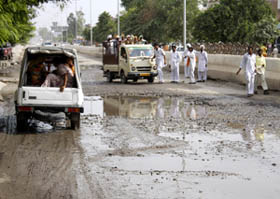 Bathinda, July 20
Due to the alleged careless attitude of the officials concerned, the development of Bathinda, the premier town of Malwa, is slowly becoming a mismanaged affair. In the name of development, the artery of the city, the Bathinda-Goniana road, has been dug up on both sides. Ignoring public inconvenience, the entry and exit points towards the Rose Garden have been closed.
STATE OF NEGLECT: The Bathinda-Goniana road where potholes continue to trouble motorists. — Tribune photo by Kulbir Beera
Circus continues to tickle tender hearts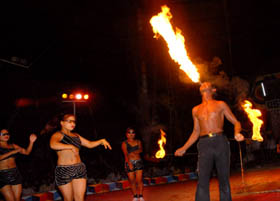 Bathinda, July 20
It was childhood revisited as one found oneself seated in the enclosure at the matinee show of the Asiad Circus that is in town now and proving to be a big draw. A quintessential part of growing up, circus has seen days of greater glory in India with Raj Kapoor's immortal classic "Mera Naam Joker" brilliantly revolving around one of its central characters, the joker.

A juggler performs at the Asiad Circus in Bathinda. — Tribune photo by Malkiat Singh
Pak-based doctor enters into India
Reason behind doc's act still unknown
Hindumalkot/Abohar, July 20
Even after a week-long interrogation, the sleuths from provincial as well as Central agencies have not been able to find out the reason as to why a Pakistan-born doctor took the risk of crossing the international border illegally to enter the Hindumalkot sector of the Indian territory last Sunday, sources indicated today.
Woman dies of burns
Mystery shrouds woman's death
Moga, July 20
Mystery shrouds the death of a married woman who reportedly died because of severe burn injuries at her residence in village Nihalsinghwala in the district on Saturday.
Triple murder
'Pressure on police to save BJP workers'
Abohar, July 20
Congress MLA Sunil Jakhar alleged that those in power were mounting pressure on the police to save some active BJP workers, who were part and parcel of the game plan that led to the dubious sale of the prime agricultural land and subsequent triple murder in Usmankhera village on Thursday night.
Couple flee with baby from railway station
Bathinda, July 20
A couple allegedly ran away with a 10-month-old baby boy at the Bathinda railway station here today.
Blood donation camp held
Bathinda, July 20
A blood donation camp was organised by the members of the Baba Farid Nagar Sports Club with the help of United Welfare Society.
Medical camp
Bathinda : A free medical camp was organised on Sunday in memory of former councillor Bachan Das at Vijay Public School, Amarpura. The chief guest was Jatindra Goel. Around 400 people turned up for check-up. Arrangements for the medicines were made by the family of Bachan Das.— TNS
M. Phil Distance Education Union
Body to boycott PU senators
Bathinda, July 20
The M. Phil Distance Education Union of Punjab held its meeting at Sri Guru Gobind Singh Park, Muktsar, and have decided to boycott sitting members of the Panjab University (PU) senate in the ensuing elections. The PU has termed them ineligible for lectureship, as their M. Phil degrees have been acquired through distance education. Most members of the union have acquired their degrees through Annamalai University, Algappa University, Madurai Kamraj University, Periyar University and the Indira Gandhi National Open University (IGNOU) etc.
'Bid' to defer action against polluting units draws flak
Abohar, July 20
The pressure allegedly mounted by the top leadership of Punjab BJP on CM Parkash Singh Badal to get action against about 24 Ludhiana-based industrial units deferred has evoked criticism from different quarters.
Eye hospital for poor comes up in Ferozepur
Ferozepur, July 20
In first of its kind initiative in this border region, the Radhe Radhe Welfare Society in collaboration with Dr. Om Parkash Satyam Hospital, Amritsar, opened a hospital here today for the poor and needy patients suffering from eye ailments.
'Pro-SAD sarpanches being elected'
Abohar, July 20
SAD (B) MLA Gurtej Singh Ghuriana has claimed that the newly-elected members of panchayats in 25 villages of his Assembly segment had elected pro-SAD (B) sarpanches.