Bachpan Ka Sawan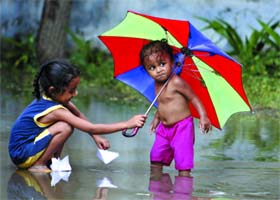 unforgettable moment: Waterlogged streets due to the rain in Bathinda on Monday may bother the grown ups but not these young ones who were out to have fun. — Tribune photo by Kulbir Beera
Ayurvedic docs seek pay parity with allopathy docs
Bathinda, July 21
The fight of superiority over allopathic doctors, by Ayurvedic practitioners, has been quite long in the state. The Punjab Ayurvedic Medical Services Association, under the leadership of Harmanjeet Singh, state president, has demanded total pay parity of ayurvedic medical officers with their counterparts in the Central Government Health Services.
First meeting of councillors tomorrow
Abohar, July 21
At least 11 newly-elected BJP members of the local municipal council have reached Shimla along with Shiv Raj Goyal, who had been projected as possible choice for the office of the president, well placed sources said.
Patwaris go on mass casual leave
A blow to special girdawari
Abohar, July 21
The special girdawari that was to be conducted to access the loss suffered by hundreds of farmers in more than dozen villages due to heavy rainfall and subsequent breaches in the sub-canals in the sub-division is likely to be postponed for an indefinite period as the members of the Revenue department's Patwar Union proceeded on mass casual leave beginning today.
Showers bring respite from heat, flood roads
Bathinda, July 21
A 45-minute shower that lashed the city and its adjoining areas today in the evening, however, gave the much-needed respite to the residents from the sultry weather, created a lot of inconvenience to the citizens, particularly commuters as several areas and roads here inundated with about 2-feet waters.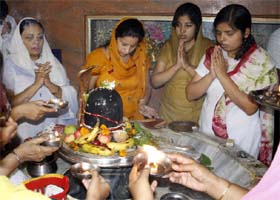 Devotees offering prayers to Lord Shiva at a temple in Bathinda on the first Monday of the month of Shrawan. — Tribune photo by Kulbir Beera
'Builders defy norms'
Abohar, July 21
The failure on the part of the PUDA and district authorities to initiate legal action against the promoters of 27 colonies, which were declared illegal in April this year, has apparently encouraged the developers of other colonies here, who have started defying the legal norms.
Two minors raped in 2 days
Ferozepur, July 21
Two cases of rape of minor girls have come to light in this border district during the past two days. A minor girl told the police that a woman Kashmir Kaur, her neighbour, took her along for nature's call in fields in the evening two days ago, where one Surjit Singh, a resident of Sona Sadar (Jalalabad) village, who was waiting for them, raped her.
5 booked in dowry case
Ferozepur, July 21
The Cantonment police registered a dowry case against five persons including two women. Sources said that Sharanjeet Kaur, a resident of the local Police Lines, said that she had got married to Jaswinder Singh some time ago. However, after the marriage, her in-laws started troubling her for dowry.
Three booked for sexually exploiting married woman
Kotkapura (Faridkot), July 21
The local police has booked three persons, including a woman, in a criminal case allegedly for exploiting a married woman sexually for over six months. The investigations in the case have begun but none of the accused has been arrested yet.
'Dabwali, related incidents unfortunate'
Abohar, July 21
While terming Dabwali incident and other related happening as most unfortunate, the Punjab Pradesh Congress vice-president Sajjan Kumar Jakhar has appealed all to observe restraint and ensure peace.
July 23 bandh
'Common man should not suffer'
Bathinda, July 21
Balwant Singh Nandgarh, jathedar of the Takht Damdama Sahib has urged the Sikh protesters to remain calm and quiet on Wednesday, when a call for Panjab bandh has been given.