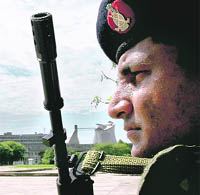 ON GUARD: A policeman keeps vigil around the capitol complex, a week ahead of the Independence Day, in Chandigarh on Saturday. — Tribune photo by Manoj Mahajan
Sim bought to make hoax call: Police
Chandigarh, August 9
Investigation by the UT police into the bomb hoax call made on Wednesday that claimed to blow up district courts complex revealed that the caller had purchased the sim card a few days ago and made only one call to the police control room (PCR) from that number.
PU Senate Poll
Many surprises in nomination list
Chandigarh, August 9
Panjab University's (PU) senate election scene is hotting up as the first phase of elections draws near. Election to six seats of senate from various faculties is scheduled for August 27. The nomination list sprung many a surprise after the last date for filling the forms, which was August 7.
PG accommodation helping govt: Residents' body
Mohali, August 9
The Greater Mohali Area Development Authority (GMADA) should listen to PG owners and involve them while making a policy in this regard, said members of the newly formed Mohali Residents and PG Owners Welfare Association here today.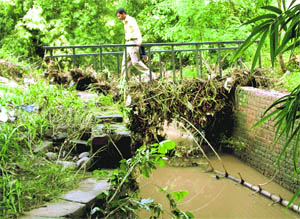 A view of a bridge at Leisure Valley, Sector 10, Chandigarh, with garbage blocking the flow of water. — Tribune photo by Karam Singh
Parking contractor at Sukhna slapped Rs 3,500 fine
Chandigarh, August 9
The parking contractor of Sukhna Lake was today issued a challan of Rs 3,500 for overcharging vehicle owners and misbehaving with them.
16-yr-old boy electrocuted in Ram Darbar
Chandigarh, August 9
Kanahiya Lal, a 16-year-old boy, was electrocuted after he came in contact with a live wire near a ground in Ram Darbar, here late evening.
Bitta's escort vehicle hits Innova
Chandigarh, August 9
Chairman of the All-India Anti-Terrorist Front Maninder Singh Bitta's escort vehicle met with a minor accident on the roundabout of Sectors 36, 37, 24 and 23 here this morning.
Book on self-care in pregnancy out
Chandigarh, August 9
"Earlier, elderly ladies in joint families used to guide women who became pregnant for the first time about maternity/child care and shared their experiences regarding various aspects of motherhood. With the breakdown of the joint family system, there is usually no one in the family to guide the women on these issues," said Avinash Rana during a book release function at the PGI here today.
Bank branch inaugurated
Chandigarh, August 9
Minister of state for finance Pawan Kumar Bansal inaugurated the branch of Oriental Bank of Commerce at new industrial area at Ram Darbar, Phase II, here today.
City girl all set for Bollywood flick
Chandigarh, August 9
After Yamini Sharma, Taniya Abrhol (Chak De India fame), Mita Vasisht (Kyunki Saas.. fame) it's the turn of the next city girl Harsimran Kaur to make a big name in the Bollywood. At present, she is pursuing her B.A IT, II year from Dev Samaj College, Sector 45 and has been recently selected for a lead role in a movie, "Life is nothing but a game" which is being directed by Aryan Kapoor who has worked with Ekta Kapoor and in a Bollywood movie "Khushboo" earlier.
Ecstatic Harsimran Kaur in a pose. A Tribune photograph
Letters
Save 'apni mandi'
The concept of apni mandi was introduced to develop direct relations between the producers and the consumers so that the consumers' interests were safeguarded and the producers were also benefited.


Chandigarh, August 9
To impart the practical knowledge of Fresco and other wall painting techniques, a workshop on Jaipur fresco is being organised from August 6 to 14 at Government College of Arts, Sector 10.



Dr Bhawani Shankar Sharma, a Padma Shri recipient, demonstrates the Jaipur fresco technique to students of Government College of Arts in Chandigarh on Saturday. — A Tribune photograph
Student alleges ragging, 4 suspended
Chandigarh, August 9
A first year student of Dr Ambedkar Institute of Hotel Management, Sector 42, alleged harassment by his seniors. Delhi-based Rahul Malhotra had submitted a complaint with the Sector 36 police station about the incident. His parents came down to the city to take him back after receiving an SMS from Rahul in this connection.


An exhibition with message
Mohali, August 9
Creativity of students in its various facets was beautifully depicted at the two-day annual exhibition, Xpressions'08, organised at manav mangal SMART SCHOOL here today. The whole atmosphere of the school seemed to be engulfed with the ingenious initiatives of the students, teachers and parents.
Students participate in "Xpressions '08", at manav mangal Smart School, Phase X, Mohali, on Saturday. — Tribune photo by Vicky Gharu
Students put up painting expo
Mohali, August 9
Mohali, which is an important town of the state and will become a world-class city, should have art galleries to promote culture of the area.
Rakhi celebrations at Doon
Panchkula, August 9
Rakhi festival was observed by the students of Doon Public School here today. The students of classes between III to IX tied rakhis in the festive spirit on the ocassion.
GMC graduate gets degree in UK
Chandigarh, August 9
Dr Gunjeet Dua a medical graduate from Government Medical College, Chandigarh, achieved a rare distinction of attaining the last degree available in her field (Anesthesia) in her first attempt in the UK. She has completed her M.B.B.S from the GMC and after obtaining her M.D and D.N.B left for the UK in 2003. — TNS


Youth gets life term for murder
Panchkula, August 9
Additional district and sessions judge Sanjeev Jindal sentenced Manish Puri, a cable operator of Sector 11, to life imprisonment for murdering a 24-year-old youth, Varun Nath, of Dhakoli in Zirakpur here today. The court also imposed a fine of Rs 10,000 on the convict.
Posts of Technician Grade III
CAT stays selection of candidates in railways
Chandigarh, August 9
The Central Administrative Tribunal (CAT) has stayed the selection of candidates to the posts of technician grade III in Northern Railway on the plea of eight applicants.
District Courts
Fake signatures on passport
Accused seeks bail
Chandigarh, August 9
Nigerian Otkhine David applied for bail in the court of judicial magistrate first class (JMIC) Rajinder Pal Singh here today. The court adjourned hearing on the bail application until Monday.