Day VIII: Life remains paralysed in valley
Srinagar, August 11
Life in the Kashmir valley remained crippled for the eighth day today due to high degree of tension, following deployment of a large number of security personnel, in view of the threat held by the both factions of the Hurriyat Conference (HC) and the Kashmir Fruit Growers Association (KFGA) to take fruits to Muzaffarabad.


2 boys roughed up for defying curfew
Jammu, August 11
The police allegedly fractured the forearm of a two-and-a-half-year-old boy for defying curfew here. The police reportedly stopped Vansh Babbar of Peer Mitha and his 16-year-old cousin Vishal, who were looking for milk near Hotel Taj in Rajinder Bazar on August 6, and thrashed both of them brutally.
Vansh (centre), who was beaten up in Jammu for violating the curfew. — A Tribune photograph
Shutdowns: People face cash crunch
Jammu, August 11
With the city reeling under a spell of shutdowns and curfews, the working class is facing immense hardships here. The people have been hit hard by "cash crunch" as they are unable to withdraw their salaries due to the closure of banks and non-functioning ATMs.
Curfew imposed in Srinagar
Srinagar, August 11
Curfew was imposed in all police stations areas of the city, following the death of Hurriyat Conference leader Sheikh Abdul Aziz today. At least five persons were injured in the day-long clashes that took place during the Muzaffarabad chalo march in the Kashmir valley.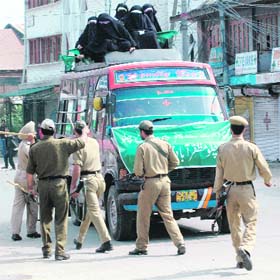 Policemen smash the windowpanes of a minibus carrying Kashmiri women agitators during a protest march to Muzaffarabad in Srinagar on Monday. — Tribune photo by Mohd Amin War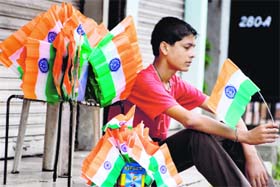 A vendor sells Tricolours ahead of the Independence Day in Jammu on Monday.
— Tribune photo by Anand Sharma
Pandit outfits reject Patil's statement
Jammu, August 11
The Panun Kashmir Movement (PKM) and the All-State Kashmiri Pandit Conference (ASKPC) today rejected Union Home Minister Shivraj Patil's statement that the Amarnath yatra would continue as earlier.
We were kept away from meet: Gujjars
Srinagar, August 11
The Gujjar community has alleged that the government did not allow a delegation of Muslim Gujjars to meet the all-party delegation headed by Union home minister Shivraj Patil.
Time for Farooq, Mehbooba to do some soul searching
Jammu, August 11
After three prominent Kashmiri leaders of the mainstream political parties of the state were forced to stay out of the all-party delegation here yesterday, people in Jammu say "their dubious stand caused their ouster and it is high time for them to do some soul searching."
All-party Meet
BJP, samiti stick to restoration of land
Jammu, August 11
When members of the Amarnath Sangharsh Samiti along with BJP leaders met the all-party delegation led by Union Home Minister Shivraj Patil here , they confined their arguments regarding restoration of the land to the Amarnath Shrine Board and did not discuss what they term a "raw deal" being meted out to the people of Jammu.
Trade bodies hail samiti stand
Jammu, August 11
Various trade organisations associated with tourism and pilgrimage today hailed the Amarnath Yatra Sangharsh Samiti for not holding talks with the central delegation in the presence of Kashmiri political leaders like Mehbooba Mufti, Farooq Abdullah and Saif-ud-Din Soz. Leaders of trade organisations said: "The culprits of the present situation cannot become mediators over the issue."
Trade on Uri-Muzaffarabad road from October likely
Srinagar, August 11
The central government as part of the series of confidence building measures with Pakistan is committed to opening trade on the Uri-Muzaffarabad road and other points. An official spokesperson here last evening said as part of this exercise, a list of large number of items of export had already been passed onto Pakistan and it was up to them to convey their agreement on the list of items to be traded on these routes.
Work allocated to Advisers
Srinagar, August 11
Governor N.N.Vohra has assigned departments to his Advisers. A Raj Bhavan spokesman said that H.H.Tyabji would look after the Departments of Agriculture Production, Floriculture, Co-operatives, Rural Development, Forests, Fisheries, Environment & Ecology, Animal/Sheep Husbandry, Industries and Commerce, Transport and Tourism.
Teachers threaten mass leave
Jammu, August 11
Threatening of a mass casual leave, different teachers' organisations have strongly castigated the administration for ordering opening of schools across Jammu region in the prevailing atmosphere of unrest.
Bhim Singh ends hunger strike
Jammu, August 11
Chairman of the Jammu and Kashmir National Panthers Party (JNKPP), Professor Bhim Singh, today ended his hunger strike after he was offered a glass of juice by Professor Amitabh Matoo, vice-chancellor, Jammu University, and Sudhanshu Panday, divisional commissioner, Jammu.
Amarnath yatra suspended
Jammu, August 11
The Amarnath yatra was today suspended due to bad weather in Baltal and Pahalgam areas in south Kashmir. "The yatra to the Amarnath shrine has been suspended today. No batch was sent from Jammu to the cave shrine," the police said.
BJP: Blockade charge a myth
Jammu, August 11
Senior BJP leader and former union minister Chaman Lal Gupta said there was no blockade of the national highway. The separatists in Kashmir were engaged in spreading lies about the economic blockade of the valley.