| | | |
| --- | --- | --- |
| | HARYANA | |
CHANDIGARH
Dept renamed: The Haryana government has renamed the legislative department as the law and legislative department with the legal remembrancer as its administrative secretary with immediate effect.
KAITHAL
University toppers: Two students of the RKSD College of Pharmacy have attained the first and the second position in the final year pharmacy exams, results of which were declared by Kurukshetra University on Friday. Principal of the college S.C. Arora on Sunday said Pooja Goyal had attained the first position and Priyanka Bindlish the second position in the university. Another student, Monica Garg had got sixth position the university.
REWARI
Girl abducted: A 17-year-old girl was allegedly abducted by two village youths, Sube Singh and Lalit, from Bakhapur village on August 19. Subsequently, when family members failed to find out her whereabouts, the girl's brother, Bir Singh, lodged a complaint, following which the police has registered a case of abduction coupled with seduction under Sections 363, 366 and 34 of the IPC against the accused.
SIRSA
6 hurt in accident: Six persons, including a couple, were injured when the car they were travelling in collided head-on with a truck near Dabwali town on Saturday. The truck driver fled with his vehicle after the accident. Jagtar Singh, a resident of Bathinda, along with his family members had gone to Goga Meri to pay obeisance there.
Office-bearers elected: Kulwant Rai Jindal was elected president of the Maharaja Aggarsen Charitable Trust here on Sunday. Defeating Ravi Parkash Jindal, Kunj Bihari Saraf was elected vice-president. Radhe Sham Gupta was elected secretary of the trust and Ved Parkash became the joint secretary. Gobind Kanda, Chander Mohan, Jugal Kishore, Bhim Sen Saraf, Raj Kumar Chaudhary, Rajinder Ratusaria, Vinod Mahipal, Shriniwas Saraf, Subhash Saraf and Sumer Chander Garg were elected executive members of the trust.
SONEPAT
Three booked: A case of torture for dowry has been registered against Sunita's husband Satpal, his elder brother Sumer and Sumer's wife, all residents of Bhatgaon village, on the directions of IG, Rohtak police range, V. Kamraja. However, no arrests have been made so far. Sunita had alleged that soon after she got married to Satpal on April 2, 2007, she was beaten and tortured by the accused to bring Rs 1 lakh.

| | | |
| --- | --- | --- |
| | HIMACHAL PRADESH | |
BILASPUR
Bodies found: The police has recovered the body of Lavi Kumar (18), who was washed away in Sunahani khud at Fatoh village. The boy was taking a bath in the khud with some other boys when the incident took place. In another incident, the body of Sanjeev Kumar (32) was found lying by the side of Ali khud near Jabbal bridge in the Kotla gram panchayat area. He had been missing since August 21. Earlier, his mother, Bimla Devi of Palyana village, had lodged a complaint with the police that her son had gone missing.
Lineman electrocuted: Ashwani Dogra (56), an assistant lineman posted at Bharadi, died after he came in contact with a live wire while working on an electricity pole at Kotala village in Salahon gram panchayat, near Ghumarwin. He was taken to the nearby community health centre. Later, he was referred to the regional hospital where he was declared brought dead. A case has been registered. The body was handed over to the family after a post-mortem examination.
Injured: Dhani Ram, a cook, was injured when an LPG cylinder burst while community lunch was being prepared at the house of one Bali Ram in Kotlu Tobka village, near Ghumarwin, on Saturday. He was taken to a hospital at Ghumarwin. His condition was said to be out of danger.
Workshop organised: The Department of Language, Art and Culture was performing a job of passing what is beneficial for our next generation in our heritage and culture in their original form efficiently by asking elderly folk artistes to participate in workshops and teach their traditional folk songs and heritage of rich culture to the present generation. This was said by additional district magistrate C.P. Verma, while presiding over a concluding function of a four-day district-level workshop organised jointly by the department and Him Kala Sangam, here on Friday.
KUMARHATTI
Woman sustains burns: Suman (23), wife of migrant labourer, sustained 70 per cent burns at Dattuwal village, near Nalagarh, on Sunday morning. The incident took place while she was preparing tea. Her husband, a painter by profession, and some neighbours doused the flames. She was rushed to the Civil Hospital, Nalagarh, from where she was referred to GMCH 32, Chandigarh. The couple hailed from Uttar Pradesh.
NAHAN
Suicide by woman: Neelam Kumari (28), a resident of Majra village under Paonta subdivision, died after consuming some poisonous substance at her residence on Sunday. The police has arrested her husband, Malkiat Singh. Neelam, a mother of three, had reportedly consumed "Celphos". Her father, Paras Ram of Singhpura village of the Paonta area, has lodged a complaint with the police holding Neelam's husband responsible for the death.

| | | |
| --- | --- | --- |
| | JAMMU & KASHMIR | |
Jammu
Ammunition seized: The Army aided by the police on Sunday seized a huge cache of ammunition from a militant hideout in border district of Poonch. Jammu-based PRO of the Ministry of Defence Lt. Col. S.D. Goswami said on a tip-off, the 19 Rajputana Rifles, 25 Infantry Division and the police recovered ammunition cache in the general area of Poonch. "The seized cache comprises of one PIKA belt with 99 rounds, one PIKA belt with 49 rounds and other miscellaneous stores," he said.
New Delhi
Borders can't be redrawn: The UPA government has asserted that the country's territorial integrity is non-negotiable and the borders cannot be redrawn. Minister of State for External Affairs Anand Sharma said here that any such talk was preposterous and in conflict with the Constitution and the law of the land. Sharma also lambasted Hurriyat Conference leaders for projecting themselves to be representatives of the people of Jammu and Kashmir, and added that they should test their popularity in the elections. His comments came in the backdrop of calls for secession of Jammu and Kashmir made by separatist leaders as well as a few prominent people like author Arundhuti Roy.
Srinagar
Take valley into confidence: The PDP and the CPM have warned the government against taking any decision on land row without taking the valley into confidence. A PDP spokesman said the government must take all sections of the Kashmiri society, including the newly constituted coordination committee, which was heading the separatist movement, into confidence before arriving at any decision. "The state must take responsibility of making arrangements for the Amarnath yatra, keeping in mind environmental and weather concerns, as pointed out by the Nitish Sengupta Committee," he said. M.Y. Tarigami, CPM's state secretary, demanded that having discussed the land use issue with the samiti, the government should take into confidence the Kashmiri civil society, particularly the coordination committee before taking any final decision.

Of a family given to humanitarian works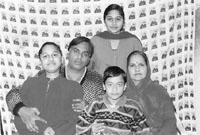 File photo of Biyani family (from left) Bhaskar, Narinder Biyani, Paritosh and Savita Biyani (sitting) and Yukti ( standing)
Narinder Biyani with his resources may not have been able to provide many creature comforts to his wife Savita and children Yukti, Bhaskar and Paritosh.
But,he has given them ,in good measure, an attitude which can feel pain and sufferings of others and being ready to work for a good cause.
Even when his elder son Bhaskar Biyani was dying of muscular dystrophy in 2002 he was concerned how his organs could be of use to others who needed these.
On knowing the lower part of the body of the son had been rendered useless by the disease but eyes were fine, he let these be transplanted to one who needed these.
Bhaskar died but his eyes must be enabling someone to see somewhere in this world.
When Yukti was to get married on November 27, 2004, she told her parents of her wish to organise a blood donation camp on the occasion, where the guests could donate blood.
Savita and Narinder, who used to donate blood occasionally were surprised to hear the daughter's wish .
"Our family friends tried to persuade Yukti to drop the idea and organise this camp on some other occasion thinking it would be strange asking guests coming to attend the marriage to donate blood. But the daughter was firm in her resolve ," said Savita Biyani.
Finally cards of Yukti's marriage were distributed with separate slips attached informing the guests that a blood donation camp was to be organised on the occasion of ladies sangeet on November 26, 2004 at Khazanchian dharamshala, Hisaria gate, Sirsa.
"Though parents always inspired us for humanitarian work but real inspiration came from my younger brother Bhaskar, who despite his pain and suffering was worried how his organs could be of use to humanity," said Yukti, married to a Naval officer.
"I chose the ladies sangeet for blood donation because ladies have misgivings regarding blood donation and I wanted to remove those doubts," she added. The camp was a success and 24 persons, including some friends of Yukti, donated blood on the occasion.
Brahma Kumaris tie rakhis on BSF men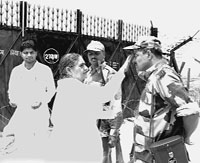 A Brahma Kumari applies vermillion on the forehead of a BSF jawan before tying rakhi near Indo-Pakistan border.
"It is a happy occasion for us as many people traversed long dusty passages to give us a feeling of home, said BSF men when Brahma Kumaris from the Abohar centre of the organisation reached there, for the first time, to tie rakhis on the wrists of those guarding border with Pakistan.
It was virtually a "sneh milan" to BSF DIG V. K. Sharma and his wife Ramesh Kumari Sharma.. The BSF has initiated an exercise to bring border area people closer to the force for useful feedback on strangers near the international line. This helps checking smuggling and infiltration from the other side besides redressing problems of border residents on our side, Sharma said.
Schoolchildren in colourful attires and women from border villages too reached the BoP (Border observation Post) complex. Most of the women and children carried sweets besides rakhis and bottles of cold milk. The BSF men too served the guests with snacks and sweets..
Songs in tune with Raksha Bandhan were played The gathering chanted "Om shanti" giving a message for peace. Yoga teachers Darshana and Sunita led the Abohar- based group and tied rakhis specially arranged from Mount Abu, headquarters of the organisation . They also distributed sweets prepared by them. They did not accept cash from the BSF men .
Eco-friendly NRI inspires farmers

Sucha Singh, an NRI, has helped rural youths of Machhiwara area become employable and inspired farmers. He set up a dairy farm , vermi-culture, hatchery and a green house in Shergarh village near Machhiwara, which inspired many farmers of the area also.
Sucha Singh, after return from the UAE, had not thought of adopting this line but purchase of barren buffaloes by Muslim traders for beef hurt him and he decided to purchase all barren buffaloes from animal purchase centres. Muslim traders hardly get barren buffaloes as Sucha Singh's men , in most of animal mandis, purchase these at higher price . He has set up a dairy farm where instead of artificial insemination, barren buffaloes are serviced by bulls and they start conceiving and producing milk. From buffalo dung , he started preparing organic manure by using earthworms. This manure is sold to green houses. He too started a green house, where using this manure he produces vegetables which are in great demand and fetch good price .
Sucha Singh has enabled more than 100 youths to get employed and encouraged farmers of the nearby area to set up such projects for prosperity without remaining dependent on paddy and wheat only.
Contributed by Sushil Manav, Raj Sadosh and Surinder Bhardwaj