Consumer Courts
Aeroflot penalised Rs 1 lakh for harassing couple
Ludhiana, August 27
A local family has won a yearlong battle against Russian airlines Aeroflot for causing delay in delivery of luggage to them.
PU Senate Poll
Papers of two local candidates rejected
Ludhiana, August 27
Panjab University, Chandigarh, has reportedly rejected the nomination papers of two candidates from the city representing lecturer/principal constituencies in the senate elections.
Monkeys make Dugri residents go bananas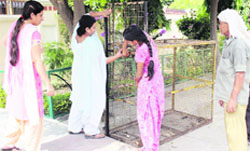 Ludhiana, August 27
Monkey menace continues to haunt residents of Phase I, Dugri, here. Even after 15 days of regular making complaints, the district forest department has failed to catch monkeys that have created a panic in the area.


Residents show the trap that was opened by two youths to help a monkey escape at Dugri, Ludhiana, on Wednesday. Photo: Rajesh Bhambi
K9 squad put on VIP duties
Khanna, August 27
The three trained dogs of the police department are only being deputed during VIP duties. Instead of being used to sniff out criminals, these dogs end up protecting VIPs during their visit to the city.
5 dera followers booked
Raikot, August 27
Five followers of Dera Sacha Sauda, including four women, have been booked under Sections 306 and 120 B of the IPC for allegedly abetting a girl to commit suicide.


City Concerns
Stricter laws key to tackling menace
The traffic chaos is a major stumbling block in the normal life of daily commuters, particularly office goers. Under the existing administrative and police eyes, there seems to be no solution in sight, at least, not in the near future. Drivers are careless about the lanes or traffic lights. The traffic police, which claims to be insufficient in numbers, claims helplessness in manning the burgeoning traffic. Lax traffic rules let the offenders get licences and continue to drive even after multiple offences.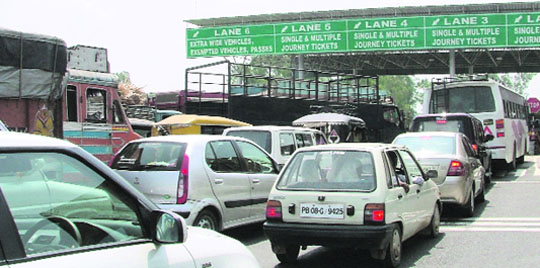 Workshop on childhood eye disorders at CMC
Ludhiana, August 27
The department of ophthalmology, Christian Medical College and Hospital, Ludhiana, conducted an orientation workshop on childhood eye disorders for the general practioners of the city.
At the Crossroads
Resolving identity crisis in Canada
Exactly four decades ago, I was shifted from Govt. College, Tanda to Govt. College, Faridkot, much to my consternation. But once there, I found a kindred soul in professor Manjit Singh Sidhu who invited me to stay with him till my family joined me. Like a commune, there were already two of his colleagues with him in a lonely bungalow, so we the foursome had a strange connection with one another. It was like tourists taking shelter under a shed, at a hill station, when the rain lashed around. Soon there developed a sort of fellowship, particularly when the sun was down and the spirits were high.


Prof Manjit Singh Sidhu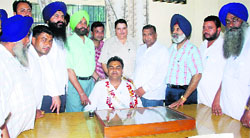 Vijay Jain elected MC chief
Raikot, August 27
Development works in this town, that had been put on halt for several months, are expected to restart with the election of municipal council president here today.


SAD and BJP leaders, along with councillors, flank president Vijay Jain at Raikot. A Tribune photograph
Women allege bid to grab land
Ludhiana, August 27
Two city-based women, claiming ownership of a 1,134 sq yd plot in Fatehpur Awana, today alleged that some land grabbers were trying to grab their plot.
Lecture on human rights
Ludhiana, August 27
In association with the All India Human Rights Association, NSS Unit of Khalsa College for Women organised a lecture cum discussion on human rights here today.
Seminar on female foeticide
Ludhiana, August 27
To create awareness on decreasing number of girls in the state, a seminar on female foeticide was organised today in Prakash Memorial School, Janakpuri.
Naina Devi Stampede
Rs 2 lakh given to kin
Mandi Ahmedgarh, August 27
Ludhiana deputy commissioner Sumer Singh Gurjar gave away a cheque for Rs 2 lakh as compensation to the family of Garja Singh, a victim of Naina Devi stampede.


Tata Motors launches Indica Vista
Ludhiana, August 27
Tata Motors today launched new generation of the country's first and fully indigenous car -- Indica Vista -- at a function here.
Educate next generation for competitive edge: Bharti MD
Ludhiana, August 27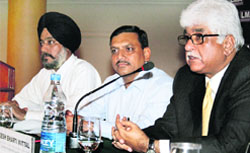 Managing director of Bharti Enterprises Rakesh Bharti Mittal advised industry to educate next generation in order to emerge competitive amid global competition. Addressing members of the Ludhiana Management Association (LMA) on ways to create a competitive edge, Mittal said over 300 million Indians between the age group of six and sixteen years needed to get education.
Rakesh Bharti Mittal during a question-answer session organised by the Ludhiana Management Association in Ludhiana. Photo: Rajesh Bhambi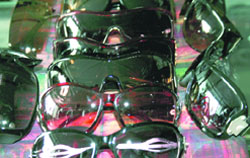 Retro sunglasses back in vogue
Ludhiana, August 27
The oversized retro look in sunglasses of 70s is back with a bang. Only few rays of sunlight strike and the fashion conscious people all over the city get out with their new big sized shades to go for a stroll on the sunny side of the street. Modern eyewear continues to be heavily inspired by the past even today.
Smart phones launched
Ludhiana, August 27
HTC Corporation today announced the launch of its new smart phones, HTC Touch and HTC P3400i phone here. According to the company, the launch is an initiative towards driving affordability for smart phones.