Teachers scramble for vacant posts
Ludhiana, August 30
In view of the rationalisation policy, teachers who had been issued transfer letters are joining their centres, despite a stay by the DPI (secondary education), Jagtar Singh Khatra.
Traffic Mess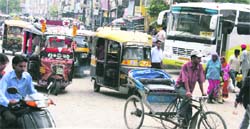 Drivers not using bus terminals
Ludhiana, August 30
Buses generally stop in front of the bus stand here, leading to traffic congestion. Autorickshaws and taxis are also parked there, further aggravating the problem.

The road in front of the bus stand in Ludhiana usually remain jampacked. A Tribune photograph
Forum decides against insurance co
Ludhiana, August 30
Insurance companies can't deny the claim of a consumer simply because he has obtained a no-claim bonus by making a wrong declaration at the time of taking an insurance policy.
Sloppy repair work damages water line
Ludhiana, August 30
Temporary arrangements by the Improvement Trust (LIT) to repair a part of the caved in road near Shaheed Bhagar Singh Nagar has created water shortage in the area.
Move to hike diesel rate upsets industry
Ludhiana, August 30
Proposal of the oil distribution companies to increase the price of diesel used by the industry has upset the local entrepreneurs. Already grappling with the increased costs on account of poor power supply and other hindrances, industrialists feel that the proposal is "unfair" and would cripple the industry if implemented.
Minor maid hangs herself
Ludhiana, August 30
A minor girl allegedly committed suicide by hanging herself from a ventilator of a room at Punjab Mata Nagar yesterday night. The victim identified as Mamti (11) was working as a maidservant at Kultar Singh's residence for the past one year. She was the native of West Bengal.
Railway passengers without ticket fined
Ludhiana, August 30
Passengers travelling without ticket are in for a tough time with the railway authorities getting stricter.
Arya College teachers hold protest
Ludhiana, August 30
The Arya College Teachers' Union today protested against the "callous" attitude of the college management in implementing their long pending demands. Sore over dilly-dallying tactics of the management, the union members said it had adopted a "step-motherly" treatment towards the teachers and non-teaching employees.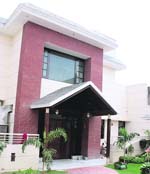 Making house a dream home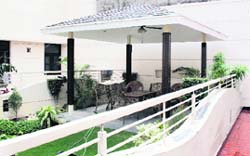 Ludhiana, August 30
Every few years, house design trends change in construction. Today, entire houses are undergoing a sea change. When it comes to Ludhiana, residents will do anything to make their house a dream home.
Rs 12 lakh donated to GNN College
Doraha, August 30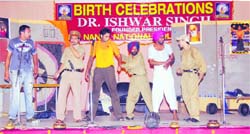 A sum of Rs 10 lakh was donated to Guru Nanak National College by Shiromani Gurdwara Parbandhak Committee president Avtar Singh and Rs 2 lakh by Mahesh Inder Singh Grewal, former cabinet minister and general secretary of SAD (B). The donation was made on the occasion of the birth anniversary of founder president Dr Ishwar Singh, in Dr Ishwar Singh Memorial Hall of the college today.
A play staged at Guru Nanak National College, Doraha, during the birth anniversary celebrations of Dr Ishwar Singh on Saturday. A Tribune photograph
New generation brings back old glory
Ludhiana, August 30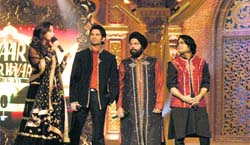 "Mana ki jahan ko na gulzaar hum kar sake kuch haar kam to kar gaye, guzare jidhar se hum ……" this couplet of Sahir Ludhianavi is just the right connotations for depicting the transition that's taking place in Ludhiana.


Haneet Taneja, Arvind Gujaral and Amit Sharma, who won the "Waar Pariwar" the singing contest on Sony TV. A Tribune photograph
Talk on India-US relations
Ludhiana, August 30
The Rotary Club arranged a talk on the "India-US Bilateral and Economic Relations" in Rotary Bhawan, Sarabha Nagar, here. Lisa Swenarski de Herrera, Editor-in-Chief of SPAN magazine and public diplomacy officer of the US Embassy in India, was the guest speaker.


Workshop on carbon credits for industry
Ludhiana, August 30
In order to generate awareness of issues related to climatic changes affecting the industry, the CII, Punjab state council, conducted a workshop on carbon credits here yesterday.