Refusal to withdraw complaint costs students dear
Ludhiana, September 1
As many as eight students of Air Hostess Academy (AHA) were not allowed to take their hospitality examination by the institute authorities here today.
Rise in Suicide Cases
Internet, TV making kids intolerant: Experts
Ludhiana, September 1
Suicide committed by the minor girl about two days ago has brought to the fore the growing intolerance among children which is ultimately forcing them to take such an extreme step. The autopsy report ascertained that Mamti (11), who was working as a maidservant at Kultar Singh's residence at Punjab Mata Nagar, committed suicide by hanging herself from the ventilator.
Acid Attack
Accused get interim bail Lawyers demand probe
Ludhiana, September 1
The Court of Additional Sessions Judge Ashok Kumar today granted interim anticipatory bail to Arun Kumar Khurmi, a city lawyer, and his father, Roshan Khurmi, in the acid attack case here yesterday.
3 held with 250-kg poppy husk
Raikot, September 1
The local police arrested three persons, including a father-son duo, for allegedly carrying and smuggling narcotics. Ten bags of poppy husk weighing about 250 kg and a Tata Sumo used in the crime were seized from the suspects.


Mall to replace Ahmedgarh bus stand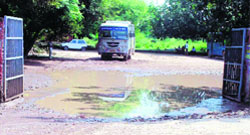 New bus stand to come near highway
Mandi Ahmedgarh, September 1
Travelling by bus will become more expensive and troublesome for residents of the town and surrounding villages as the state transport department has decided to shift the local bus stand near the Ludhiana-Malerkotla road.
SOON TO SHIFT: The dilapidated Ahmedgarh bus stand. Tribune photo: Mahesh Sharma

Sloppy patchwork: Rain god shows no mercy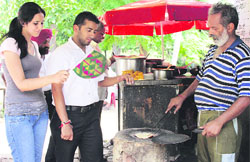 If the Municipal Corporation in the mega city remains under fire for poor maintenance of roads and making a mess of the occasional recarpeting or patchwork on the city roads, it is deservedly so if one goes by the pathetic condition of the roads. Then, at least for the last few months, the rain god has been mercilessly flogging the civic body as all patchworks carried out to fill the potholes had been washed away.
Gastro Outbreak
Vulnerable areas remain neglected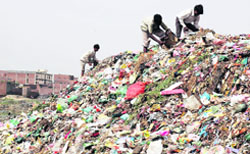 Ludhiana, September 1
Tall claims by the municipal corporation and the health department notwithstanding, the remote areas of the city, under the influence of gastroenteritis, remain neglected even as the authorities sent official notes saying that awareness lectures and cleanliness drives were carried out across the city.
Heaps of garbage lying unattended in Gyaspura locality of the city. Tribune photo: Sayeed Ahmed
Anti-dumping duty to hit exports: Industry
Ludhiana, September 1
Reacting to slashing of duty drawback rates on several items, including bicycle and bicycle parts , the Chamber of Industrial and Commercial Undertakings (CICU) today termed the decision as "anti-export".
Quacks thrive in absence of checks
Ludhiana, September 1
Increasing activities of quacks and self-styled medical practitioners are playing havoc with the health of illiterate and unaware masses living in the city slums and rural areas of the district.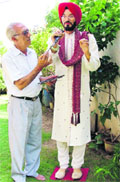 Unveiling of Ishmeet's wax replica today
Ludhiana, September 1
A 5.11-foot tall wax replica of Ishmeet Singh would be unveiled in the museum at Hardy's World to pay tributes to the singer on his birthday tomorrow. Having created the statue in a short span of one month, Chander Shekhar Prabhakar adds, "I worked for almost eight hours a day to do justice to Ishmeet's statue as it was my wish to complete it before his birthday."



An artist gives finishing touches to a wax statue of Ishmeet Singh a day before his birthday. Photo: Inderjeet Verma
Show for special children
Ludhiana, September 1
Waves Cinema, Ludhiana, celebrated its first anniversary by organising a special show for 175 children from Vocational Rehabilitation and Training Centre (VRTC), a school for deaf and dumb, Ashirwaad, Ek Prayas and Viklang kendre run by the Bharat Vikas Parishad, today.
Development projects worth Rs 10,000 cr launched
Ludhiana, September 1
Bikram Singh Majithia, minister for information and public relations, water and sanitation, Punjab, said development projects costing more than Rs 10,000 crore had been launched in the rural areas.
Villagers protest outside sub-registrar's office
Mandi Ahmedgarh, September 1
Residents of Pohir village in Ludhiana district, led by its panchayat, staged a protest in front of the sub-registrar's office at Dehlon today. They urged the sub-registrar to revoke the land deed, allegedly prepared by a villager, who was not legal owner of the land. According to the villagers, market value of the common land that was handed over to the public works department was Rs 22 lakh.
2 killed in mishap
Jagraon, September 1
Two persons were killed and one injured in separate road mishaps in Jagraon. Baljit Singh of Sadarpura village died when a car hit the motorcycle he was riding. A case has been registered. In another incident, constable Malkit Singh, a resident of Hissowal village, died when an unknown vehicle hit his scooter. No arrest has been made so far in both the cases.


2 booked for trespass
Jagraon, September 1
The police have booked Parmjit Singh alias Pamma, Gurmit Singh alias Miti, both residents of Tajpur village, for allegedly trespassing into the house of Jagdish Chander of the same village on Friday. They damaged a freezer, water tank and the windowpane of his car.


Budding designers at their creative best
Ludhiana, September 1
Inter National Institute of Fashion Design (INIFD) organised a glittering fashion show in which leading models of the country exhibited creations of the budding designers of the institute. It was a display of class, creativity and blend of style and spirit as the models walked on the ramp. It was a display of class, creativity and blend of style and spirit as the models walked on the ramp.


HIGH DESIGNS: Models showcase creations of INIFD students in Ludhiana on Monday. Tribune photos: Sayeed Ahmed