COLUMNS



THIS ABOVE ALL

TELEVISTA

GOOD MOTORING

AUDIO SCAN

MUSIC ZONE

WEBSIDE HUMOUR

FOR CHILDREN



CROSSWORD

RHYME TIME

ROOTS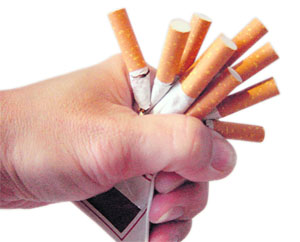 With more than 5,500 adolescents taking to tobacco everyday and an estimated one million deaths annually, the Union Ministry of Health is determined to extend the ban on smoking to all private and public workplaces from October 2.
Aditi Tandon reports on tobacco addiction in India
In the Herculean task of curbing the use of tobacco, every small effort counts. So when superstar Shah Rukh Khan recently announced his wish to quit smoking both on and off screen, the hopes of anti-tobacco campaigners were revived and their crusade against smoking gained momentum. The film iconís commitment meant several youngsters in the country would be inspired to stub it out. Tobacco is known to kill 104 Indians every hour.
Cycle of committees
Jagmohan Chopra
Roorkee University had a beautiful campus spread over an area of 350 acres. While the university office, departments and library were located in the centre of the campus, most hostels were on the periphery, making it necessary for students to have some kind of transport to move around.