High Court orders dumped
Budda Nullah continues to stink
Ludhiana, September 17
In contravention of the orders of the High Court and the District Magistrate over the dumping of garbage in Budda Nullah, the practice continues as hundreds of tonnes of litter is being thrown into it everyday in the Haibowal area.
| | |
| --- | --- |
| Rehris line up to throw garbage on the bank of Budda Nullah in Ludhiana on Wednesday. Photo: Inderjeet Verma | Roads flooded with water after Ludhiana received heavy rain on Wednesday. Photo: Inderjeet Verma |
8 commercial sites fetch Rs 11.5 cr
Ludhiana, September 17
The Greater Ludhiana Area Development Authority (GLADA) today realised Rs 11.50 crore by the sale of 8 free-hold commercial sites in Dugri Phase II, through an open auction. The auction was conducted at GLADA office on Ferozepur Road here under the supervision of additional chief administrator S.R. Kler.

Sena leader surrenders
Ludhiana, September 17
Suraj Ahluwalia, a Shiv Sena leader and the prime accused in the taxi driver murder case, surrendered at the SSP office this evening. Ahluwalia was on the run since September 5, after allegedly killing taxi driver Kamaljeet Singh in the Neelkanth taxi stand office in Upkar Nagar. After the surrender, the CIA authorities took him for interrogation. — TNS


Low demand pulls down veggies' prices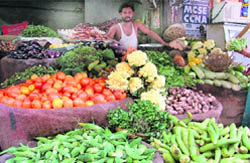 Ludhiana, September 17
The low demand has reduced vegetable rates by 20-25 per cent within the last two weeks. The downward trend, said traders, is expected to continue this month. In the wholesale markets, the price of potato, which was Rs 10-12 per kg nearly a fortnight back, has now declined to Rs 9, while onions have recorded a downfall from Rs 9 a kg to Rs 7-7.50.
Rain hits farm fair preparations
Ludhiana, September 17
Heavy rainfall in past few hours has played spoilsport in the preparations of farm fair, which is to be inaugurated at Punjab Agriculture University (PAU) tomorrow.
Anti-people decisions
PSEB staff threaten to step up stir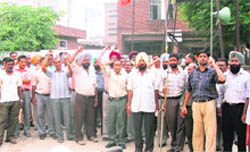 Ludhiana, September 17
Irked at the state government decision not to allow power connections in unauthorised colonies in Punjab, the Punjab State Electricity Board (PSEB) Workers Federation (INTUC) has threatened to intensify its agitation against the move which, it said, was against the people belonging to weaker sections, including employees, working classes and farmers.
PSEB Workers Federation president Swarn Singh addresses a rally at Model Town in Ludhiana on Wednesday. Photo: Inderjit Verma
Dengue stalks posh localities
Ludhiana, September 17
Pointing towards the dengue cases being reported in private hospitals across the city, a cross-section of doctors working in government and private hospitals revealed that a majority of the patients are from the upper middle section of the society.
Trader's Kidnapping
Cops close to crack the case
Ludhiana, September 17
Mystery surrounding the disappearance of industrialist Vinod Adya deepened today with the police claiming that he had gone missing more than a month ago.
From Schools and Colleges
Workshop on English teaching
Ludhiana, September 17
A workshop on effective teaching of English was organised at Darshan academy. About 30 teachers from the Darshan academies located at different places participated in the workshop. The resource person on the occasion was Illa Vij and Rajiv Verma from a publication house. The workshop was conducted in three sessions. Illa Vij discussed problems faced by the teachers while teaching grammar, poetry and prose. She introduced them with various effective techniques that could be employed in classrooms that would prove helpful to the students.
Mgmt-teachers row: MA students unable to attend classes
Ludhiana, September 17
The house examinations of undergraduate and postgraduate classes have started in various city colleges, but the postgraduate students of political science at Arya College here seem to be the worst sufferers. Due to the "adamant" attitude adopted by the management because of which the students have not been able to attend a single lecture at the college till date. They not only feel helpless, but are worried as to how will they cover such vast syllabus in limited time?
PAU Notes
Farmers should learn computer: Expert
Ludhiana, September 17
Department of extension education organised a 'Kisan Goshti' in village Dalla of Ludhiana district under the Identification of Farmers for Agricultural Development in Punjab scheme here yesterday.
Certificate of Teaching English
Teachers differ on issue
Ludhiana, September 17
Social science teachers of various government schools in the district seem to be divided on the issue of "Certificate of Teaching English" (CTE) test. While 42 teachers today appeared for the exam held under the Sarv Shiksha Abhiyan (SSA), 400 teachers remained absent even today sticking to their earlier stand of boycotting the exam.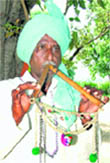 Renowned Algoza player, a lost entity now
Sanghol (Ludhiana), September 17
Having represented India at international festivals, Faquir Mohammad (61), a renowned Algoza player from Sanghol in Fatehgarh district is a lost entity as he works on daily wages to earn his livelihood. Popularly referred as Ashoka's pillar by his friends, who worked on excavation sites of Archeological Survey Of India (ASI) in Sanghol, Faquir Mohammad is robust even at the age of sixty one.



Faquir Mohammad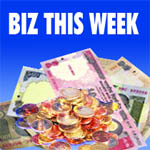 Biking to be more fun
It's no longer the made-in-China tag one looks for when it comes to attractive looking bicycles. As varied colours and attractive styles continue to capture the fascination of bike lovers, enterprising manufacturers of cycle are quick to cash in on this rage. The latest to mark its presence are bicycles for all segments by Hi-Bird. This market player, which came out with 10 new models only two months ago, now has launched four more.
Devotees pouring in even as mela ends
Mandi Ahmedgarh, September 17
Even after the formal conclusion of Chhapar Mela yesterday, thousands of devotees continued to visit Gugga Mari Mandir in Chhapar village, near here, today.

Leaders forget to pay obeisance at 'mari'
SAD men worried over factionalism
Mandi Ahmedgarh, September 17
Terming disclosure of factionalism among SAD leaders of the region at Chhapar Mela conference as deleterious for image of the party and its future, activists of the area have urged the party high command to take remedial steps in order to ensure success in ensuing Lok Sabha elections.
BJP leader condemns Delhi blasts
Khamano, September 17
Senior BJP leader and Punjab chief of the BJP investor cell, Sukhminderpal Singh Grewal, in a statement condemned serial bomb blasts in New Delhi in which, about 20 persons were killed and several others were injured.
Music of city lad's debut film released
Ludhiana, September 17
The music of the film "Kaash Mere Hote", starring local lad Kumar Sahil, was released following the Ganpati Puja at Ville Parle in Mumbai recently. The music was released by Eros International.


'Babbar Khalsa activist' booked for threatening SDO
Mandi Ahmedgarh, September 17
The Malaudh police has initiated a hunt for a power board lineman and self-styled Babbar Khalsa activist, Gurcharan Singh, who threatened to kidnap and eliminate his subdivision officer Ajay Garg and his newborn son.
Two brothers get life term for murder
Ludhiana, September 17
Additional sessions judge A K Mehta has convicted two brothers, Harjinder Singh and Lakhvir Singh of Rampur village, Jalandhar, in a murder case.


Rain plays spoilsport
Ludhiana, Chandigarh evenly poised
Ludhiana, September 17
The final match being played between Ludhiana and Chandigarh for the Katoch Shield was evenly poised as only 23 overs could be bowled and Ludhiana consumed two wickets after conceding 49 runs on a rain-affected day. The match was being played at the PCA stadium, Mohali.